Road trips are a fantastic way for families to get out and explore the world (even if it's just the next state over) while having quality time in the car together. But, even the most adventurous children can get a bit bored after a few hours of watching the trees go by. Next family road trip, why not try an entertaining and educational podcast the whole family can enjoy? Here are 10 Family Friendly Podcasts for Your Next Roadtrip.
You might also like:
Family Friendly Podcasts for Your Next Roadtrip
1.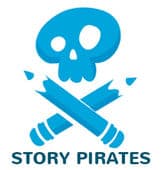 Story Pirates is a group of world-class actors, comedians, improvisers and musicians who adapt stories written by kids into sketch comedy and musical theater. Story Pirates Podcast features highlights from our weekly radio show on SiriusXM's Kids Place Live. Visit www.storypirates.org for more information on Story Pirates and how you can bring our live show to your school or town!
---
2. Story Time — Do your children like listening to bedtime stories? Story Time has lots of great stories for everyone to listen to.
Each story is usually less than 20 minutes long, hopefully just long enough to keep your toddler, preschoolers, and little ones engaged. Story Time is a free fortnightly audiobook podcast for children ages 2-13.
---
3. Tumble — Exploring stories of science discovery. Tumble is a science podcast created to be enjoyed by the entire family. Hosted & produced by Lindsay Patterson (science journalist) & Marshall Escamilla (teacher). Visit www.tumblepodcast.com for more information and educational content.
---
4. The Radio Adventures of Dr. Floyd — This family friendly new twist on "old time radio" features the adventures and exploits of the World's Most Brilliant Scientist, Dr. Floyd! Join Dr. Floyd as he tries to thwart the plans of his evil arch nemesis, Dr. Steve, all the while learning about the people and events that shaped the history of the Earth.
---
5. OWTK Kid's Music Monthly — This podcast showcases the best kindie songs past, present, and future. Hosted by Jeff Bogle, the OWTK Kid's Music Monthly is your family's gateway into the current Golden Age of Family Music.
---
6. The Saturday Morning Cereal Bowl — If your kids have listened to every Kidz Bop that exists (14 times) and they're growling for new beats – SMCB is a great choice. Granted, these aren't remakes of big time hits, so mom and dad might not groove along as much. But kids will dig the silly songs by bands with names like Jelly of the Month Club.
---
7. Brains On! — Brains On! is a science podcast for curious kids and adults. Co-hosted each week by kid scientists and reporters from public radio, they ask fun science questions, and go wherever the answers take them.
---
8. Book Club for Kids — The place where young readers meet to talk about books. The show includes children talking about their favorite books with a celebrity reader and an interview with the author. The host is award winning public radio journalist Kitty Felde. Book Club won the Literacy in Media Award. With over 70 episodes, and new ones released weekly, there's plenty for little ears to explore.
---
9. WOW in the World — Wow in the World is a podcast from NPR that gets families to connect, look up and discover the wonders in the world around them. Every episode, hosts Mindy and Guy guide curious kids and their grown-ups away from their screens and on a journey. Through a combination of careful scientific research and fun, we'll go inside our brains, out into space, and deep into the coolest new stories in science and technology.
---
10. Dream Big — This delightful podcast inspires kids (and adults!) to pursue their passions in life and take action to make their dreams a reality. 7 year old Eva Karpman and her mom, Olga, interview stars who have made their wishes come true ( such as Olympians like Scott Hamilton, celebrity animal trainers like Zak George, other top podcasters like Dan Carlin and John Lee Dumas, grammy-winning musicians like Taylor Swift and Lady Gaga). Each episode features free personalized discussion sheets that you can download and print at home to have a thought-provoking discussion as a family about what you learned listening to that week's episode.
What are your family's favorite podcasts? Share them on our Facebook Page