DIY Fruit Facials are easy to make, in-expensive, and you can totally customize them to what you have on hand!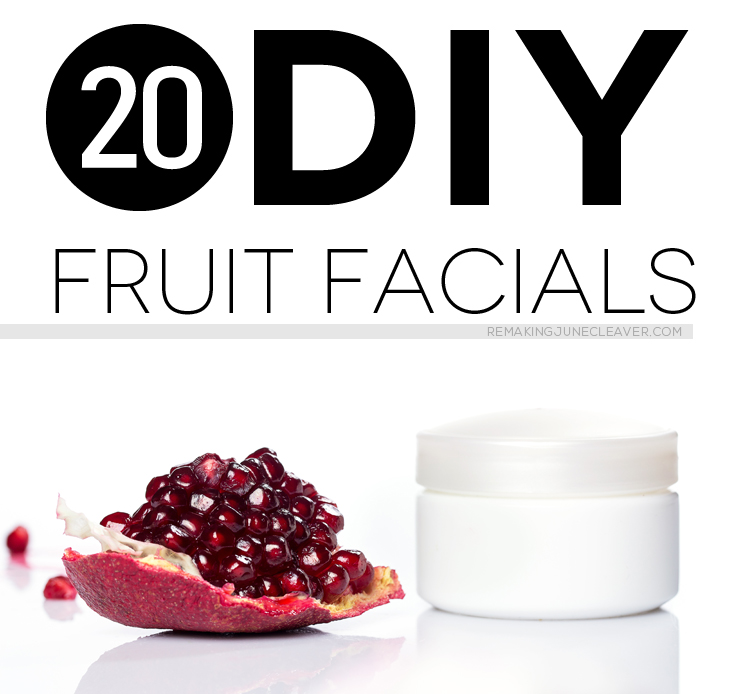 If you want to nurture your skin, a facial mask is the way to go.
Masks and scrubs can deep cleanse, stimulate, soothe, refine or even pull out impurities that cause breakouts.
Unfortunately, store bought skin treatments can not only be expensive, but sometimes they contain harsh, unnatural chemicals your face doesn't need. Luckily, you can make a therapeutic, DIY, all natural mask for any skin type just from what you have in the kitchen or at your local grocery store.
Peach Tightening Mask
Did you know… Peaches contain alpha-hydroxy which helps rejuvenate the skin while egg whites make your face tighter and more firm.
1 Ripe, peeled peach + 1 egg white. Place in the blender and pulse until smooth. Spread the paste over your face and let dry for 30 min. Rinse with cool water.
Apple Clarifying Mask
Did you know… Apple contains vitamins A, B and C which provide your skin with antioxidants and help refresh sun-worn skin. Honey has natural antibacterial properties that help clear away bacterial deposits found in your pores.
1/2 of an apple, peeled + 1 tsp honey + 1 tsp lemon juice. Place in blender until smooth. Refrigerate for approximately 10 minutes and then apply to your face with a patting motion. Continue to pat until it becomes tacky. Leave on for 30 minutes and then rinse with warm water.
Strawberry Acne Mask
Did you know…strawberries contain salicylic acid -the same ingredient in acne medication. The cornstarch in this mask also helps draw out the extra oil in your pores.
1/2 cup of RIPE strawberries + 1/4 cup of cornstarch. Place in blender until smooth. Apply to your face or problem areas and leave on for 30 minutes. Rinse with cool water.
Tomato & Oatmeal Blemish Mask
Did you know…The acid in the tomato, paired with the lemon juice gently help balance oily skin while the oatmeal exfoliates and soothes.
1 Tomato (chopped) + 1 tablespoon lemon juice + instant oatmeal or rolled oats (as needed for consistency). Place ingredients in the blender and pulse GENTLY. Do not blend the mixture too much or it won't cling to your face. If the mask becomes too thin or watery, add more oatmeal. Apply to your face and leave on for 10 minutes. Then gently scrub with warm water and a washcloth. Rinse with warm water.
More DIY Fruit Facials