8 Easy Steps To Declutter Your Kitchen
Post contains affiliate links. Purchases made through links provide us with a small commission. As an Amazon Associate I earn from qualifying purchases. Please refer to our disclosure policy for more information.
Decluttering your kitchen helps to reduce pests, creates space, reduces stress, saves time, and make your neighbors jealous.
8 EASY STEPS TO DECLUTTER YOUR KITCHEN
While it is easy to daydream about how stunning your kitchen will look, when the clutter is gone, it's not that easy to achieve it. Unless you check out these cool kitchen declutter ideas of course.
Create Mini Stations
This method works because it helps to keep related items in one common space area. For example, if you love coffee, you can create your own refreshment station on a side with everything you need to make coffee – like your favorite Keurig Brewer – sitting close together. This way, you won't need to turn the kitchen upside down every time you want to make coffee in your favorite mug.
Invest In Baskets
Baskets are the good guys that make it possible for you declutter your kitchen in a smart and attractive way. You can store plastics or any other items in them before putting them in the deep cabinet, or go more artistic with hanging baskets full of fruit, beautiful tea cups, or anything you like. One good thing about baskets is how easy they are for quick access to the things you need.
Get Rid of Extra Appliances
No, not all the appliances, of course not. You need most of them. But those appliances you find out you don't use often are just taking up space. Fancy appliances may give your kitchen a futuristic appeal, but if you harbor too much of them, you might end up losing the battle for your counter top. Relocate appliances in the basement or other storage area away from the kitchen. Make a deal with yourself that, if you haven't used them within 3 months, it's time to donate them.
Do That Hanging Thing
If you have enough space you should consider hanging pots and pans. This makes them easy to access, clean and reuse. You should also consider hanging items on the pantry door and the back of the cabinet. With some no damage hooks or cup-holder screws, you can neatly hang just about anything.
Make Your "Lazy" Space Work
It will surprise you that a lot of space in your kitchen are wasting away and you don't even notice it e.g. the space between the ceiling and the cabinet. Put this space to use by constructing your cabinet all the way to the ceiling. If you don't have the budget for that, you could fill them up with baskets instead.
Organize Those Shelves. Yes, All Of Them.
If you have a shelve in your kitchen, you might want to do a bit of rearranging to help improve your declutter plans. You can have a shelve for dinner food, for cereals and another for paper products – giving each item it's own "zone". This way, everyone can walk into the kitchen and find what they are looking for.
Install Sliding Shelf Organizers
While these shelves might cost you a bit more than a basket, they provide everyone using your kitchen the easiest and most productive way of accessing frequently used items.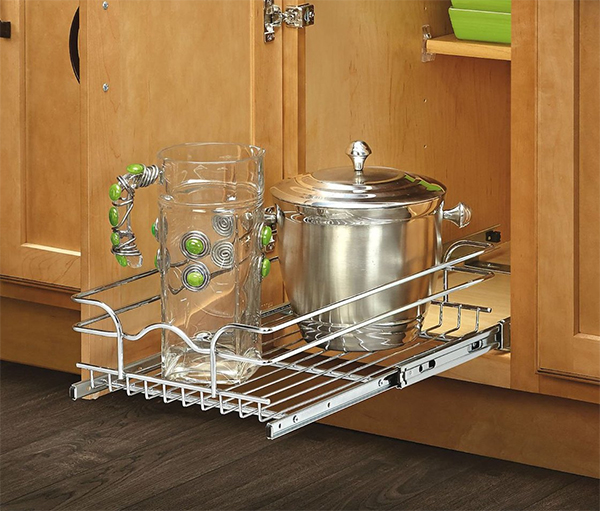 Give Lids Their Own Home
It is a common drama in the kitchen to open the cabinet and a lid falls out. The best way to put an end to this is to store the lids to pans and pots separately, so you can access them when you need them. You can place them in their own drawer, or make use of cabinet or pantry door space with a hanging lid organizer.
When you declutter your kitchen, it gives you not only more space, but also mental freedom. No more bumping into each other, no more spending minutes looking for something that is there. A stress-free kitchen is a great step toward a more stress free life. Ready to get started? Check out a few more recommended items that might help you get on your way.
Make sure to pin this now so you'll have it for later!