ALEVE DIRECT THERAPY TENS DEVICE : IF YOU SUFFER FROM LOWER BACK PAIN, YOU HAVE TO TRY THIS. TRUST ME.
Post contains affiliate links. Purchases made through links provide us with a small commission. As an Amazon Associate I earn from qualifying purchases. Please refer to our disclosure policy for more information.
SPONSORED - This post was created in partnership with the brand mentioned below.
Aleve, a trusted name in pain management, recently introduced their newest innovation – Aleve Direct Therapy, an at-home version of the highly relied on TENS pain management method.
This type of system has been used by medical professions for years, and now you can do it in the comfort of your own home.
This post was developed in partnership with Bayer, as part of an Influencer Activation for Influence Central. I received the Aleve® Direct Therapy™ TENS Device and compensation to facilitate my review.
I can remember being able to just jump out of bed, run for miles, run up the stairs instead of walking, take care of household and work activities, and so much more. Now? Well, today I put together a cabinet for my office and my back, due to strain, screamed so hard that I'm sure the neighbors heard it.
Lower back pain as well as sore and aching muscles stinks. It can affect your entire day and whatever plans you had.
When my lower back pain flares up, it's difficult for me to do even the most normal, everyday things like playing with Legos on the floor with my seven year old and quiet simply live my day.
So, when Aleve asked if I'd like to partner with them and try out their Direct Therapy TENS Device, I was excited. If this device worked half as well as promised, my days just got so much better, especially since it's drug free.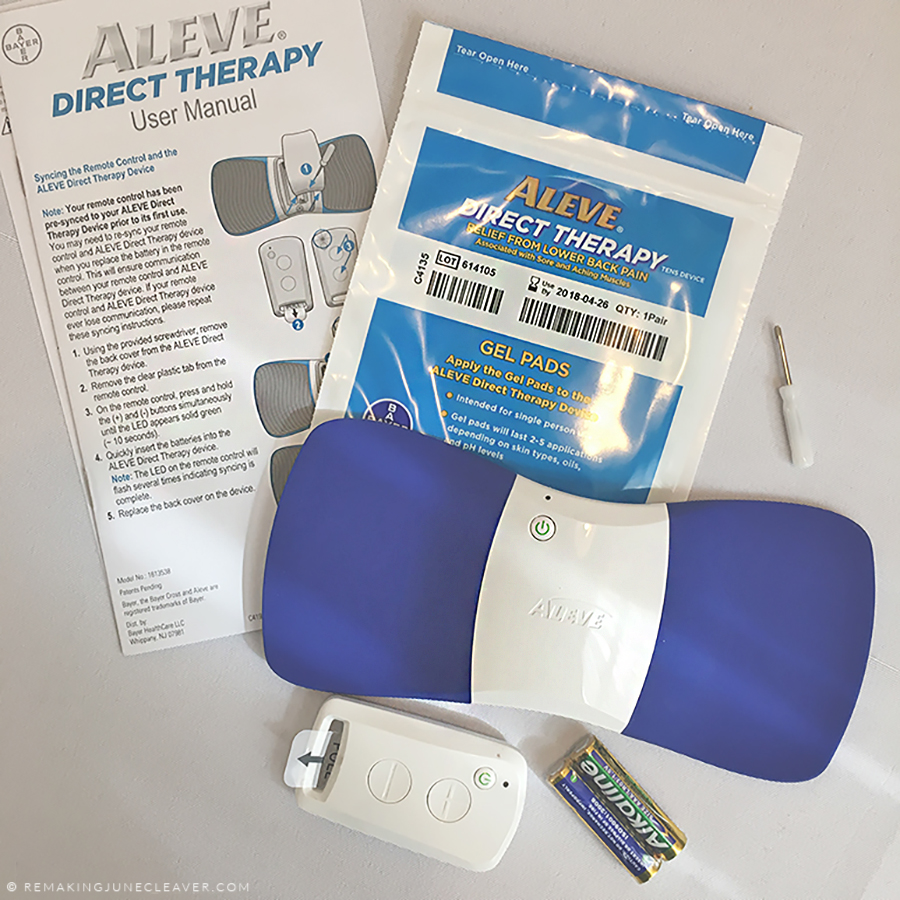 amzn_assoc_placement = "adunit0";
amzn_assoc_tracking_id = "momskoop20e-20";
amzn_assoc_ad_mode = "manual";
amzn_assoc_ad_type = "smart";
amzn_assoc_marketplace = "amazon";
amzn_assoc_region = "US";
amzn_assoc_linkid = "5895a4e056d6e9fb58ffc707ee0423b4";
amzn_assoc_asins = "B075GM532K,B073Z1LKVJ";
amzn_assoc_design = "in_content";
What Is TENS?
Transcutaneous Electrical Nerve Stimulation, aka TENS, is a pain management therapy that uses electrical stimulation and the clinical theories of how it works are that it blocks pain signals and stimulates the nerves to produce endorphins – further reducing your sensitivity to lower back pain.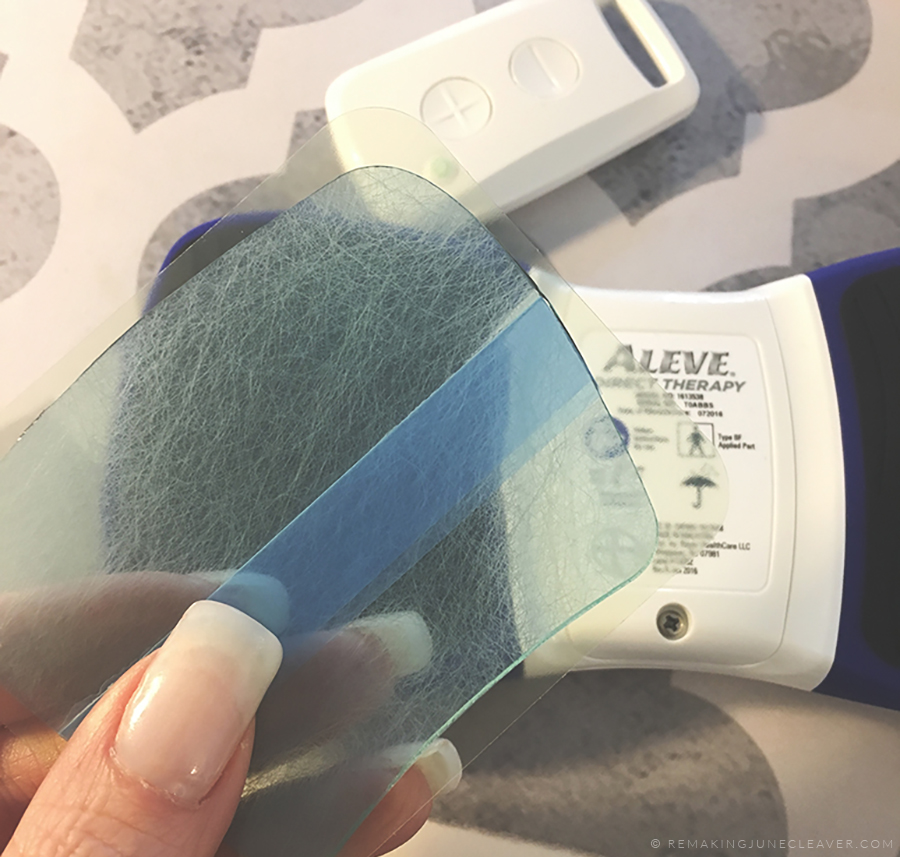 I was a little worried when first trying the Aleve® Direct Therapy, but I have to say – it is very easy to use. It comes with a remote and gel pads. The pads are reusable (up to 5 times depending on personal use factors) and help the TENS unit stay put on your back.  The remote allows you to adjust your treatment with ease as you go along.
Aleve Direct Therapy works in 3 phases that last 30 minutes total. You'll start with high frequency pulses (5 minutes), then phase into low frequency (20 min), and then go back up to high frequency for the last 5 minutes. You can adjust your intensity to get the most effective treatment and make sure you are comfortable. You can also use the remote to stop the treatment at any time.
First Use
I was nervous. Electricity? On my back? But, once I started my treatment, I couldn't believe how awesome it felt. It was like rapid vibration with an overall tingly feeling that spread through my lower back. It's different. I can't deny that. And, you'll want to prepare yourself before you push the + button to increase your frequency. It does NOT hurt, but it's surprising. I almost wish I'd taken video of the first time I pushed that button because all of the "WOW! OH MY GOSH…OH THAT IS NICE" would have been hilarious to watch.
During the 3 cycles, I could feel the intensity and frequency of pulses change. The unit varied in different rhythms as well – sometimes fast, other times slow. Always relaxing.
Both placing and removing the TENS unit is very easy. Just make sure you do not place the side gel pads ON your spine, lining them up on either side instead.
You can also wear this through the day, under your clothes, to make it easier to do several treatments. Wear at home, work, on the go, etc. Just avoid activities like driving or operating equipment, and wait 30 minutes between each treatment.
My Verdict
The Aleve Direct Therapy TENS Device is wonderful for my lower back pain. It's a great external method to temporarily relieve my symptoms caused by housework, physical activity, and – as of today – building furniture.  This product will definitely get a lot of use in my home. I think I may have to fight my husband for it…he's already been asking. And the fact that it has a remote control, makes it even better.
Aleve Direct Therapy TENS Device is available at several retailers including Amazon. You can find more information on how you can reduce your lower back pain online: https://www.aleve.com/aleve-direct-therapy/.