Post contains Amazon affiliate links.As an Amazon Associate I earn from qualifying purchases. Please refer to our disclosure policy for more information.
No doubt, you've heard about shapewear. You might already have a few pieces in your closet, or maybe you've been window shopping.
I've been through quite a few brands and styles over the years. They aren't all created equal.
The best first step is finding a brand that you can count on to deliver what they promise: quality, effective product with helpful customer assistance. All About Shapewear claimed to be just that. They sent me a garment (I was able to pick!) to try out for myself.
My Pick: FAJAS COLOMBIANAS FULL BODY GIRDLE KNEE LENGTH STYLE WITH BACK COVERAGE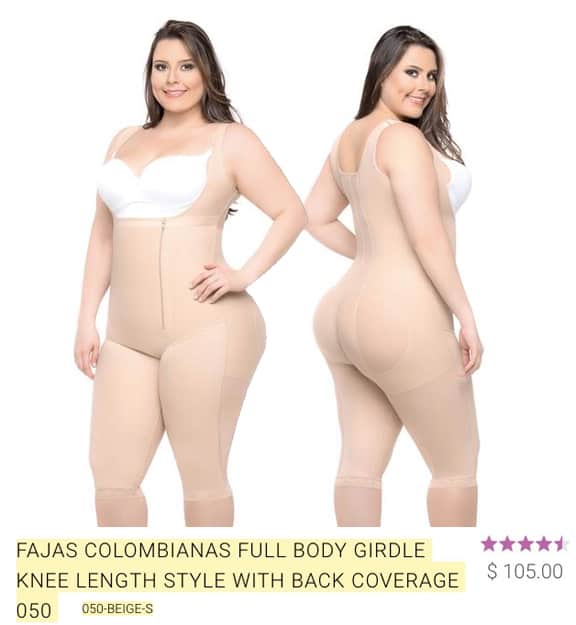 In the past I always purchased control garments that covered just the stomach. Unfortunately, they just squished everything to another area. They didn't really solve my problem. This time I decided to go all the way and try the full body shapewear to smooth and sculpt everything from my back to my knees.
*Full body not your style? Take a peek at all the options on the All About Shapewear website
The experts at All About Shapewear are extremely helpful. They have a sizing guide on the website, but if you still aren't sure which size you need you can send them your measurements and get a sizing recommendation. Because of the firm control of this garment, my best fit was XL – two sizes up from my normal clothing.
BEFORE:
I've lost quite a bit of weight over the years and I'm super proud of it. However, I am NOT in love with the extra weight I still carry around the middle. While I can slide into smaller jeans and tops now – that extra bit always sticks out and ruins my waistline. This is a prime example of trouble spots All About Shapewear can help with.
AFTER:
I was especially impressed with how natural the control appeared. I've tried other control garments that were just too obvious: lumpy, stiff, seams showing, etc. Some were so thick I ended up looking like a human burrito. Others didn't offer enough support to make any difference at all. All About Shapewear's full body control looks and feels great.
Smooths and contains without a "flat" appearance
curves at hip and thigh are defined, not erased – so you keep your hourglass
lifts chest and rear for more shape
moves easily with your body so you don't feel restrained
practically invisible under tight clothing
Note: I don't advise a full body control garment in the summer or warmer months. While All About Shapewear products feel like they are far more breathable than other brands, it's still a constricting garment that will hold in body heat. I knew fall and winter were coming, so I feel confident I'll get use out of this in the months ahead. It may even help me stay warm! But, wearing this during hot weather would be very uncomfortable. I may purchase one of their short cuts for the springtime so I can rock all of the cute sundresses.
---