Post contains Amazon affiliate links.As an Amazon Associate I earn from qualifying purchases. Please refer to our disclosure policy for more information.
Our Easy Alphabet Craft Idea for Kids is a great way to keep your little ones minds fresh and keep them occupied so you won't hear, "What can we do".
A is for Alligator – a super Easy Craft Idea For Kids
Something about this letter A craft looks different in the moonlight, like it's opening wide for a midnight snack. Cut up some shapes and make this cute letter A alligator with your child, and she'll always remember this first letter of the alphabet!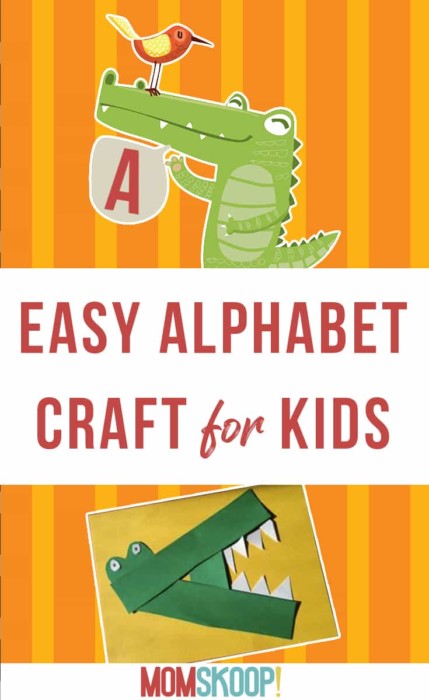 Brain Power Questions:
Can you think of any other animals that start with A?
What do you think the alligator would like for lunch?
What sound do you think an alligator makes? (hint: here's a sound clip to listen to!)
What would you name your alligator – starting with the letter A? (Alice, Albert, etc)
Then, see if they can come up with other alphabet animals to make!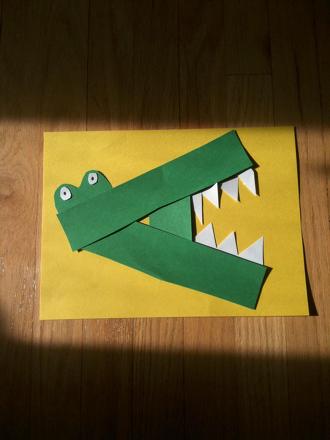 Easy Alphabet Craft Idea For Kids: A is for Alligator
What You Need:
Large sheet of paper
Construction paper in green and white
Scissors
Glue
Markers
What You Do:
Have your child measure and cut out three strips of green paper about a foot long and two inches wide.
Now have her cut one of the strips in half.
Glue two long strips and one of the shorter strips to the large sheet of paper, in the shape of an A.
Turn the sheet to the side.
Cut ten small triangles out of white paper, for teeth.
Now she can glue the triangles to the inside of the legs of the A.
With the remaining short strip of green paper, draw two bumps (or the letter B!) and cut this shape out.
Glue this B shape above the point of the A, for the alligator's eyes.
Now your child can cut out eyeballs, or draw them in with marker.
Get really creative and decorate the alligator with a bow, a hat or eyelashes!
Check out Education.com for more craft ideas, free printables, and learning resources.
Grab Supplies!
Looking for more fun Summer time craft inspiration? Make sure to check out our fun Maleficent Slime recipe.