Benefits of Having a Family Dog
Post contains affiliate links. Purchases made through links provide us with a small commission. As an Amazon Associate I earn from qualifying purchases. Please refer to our disclosure policy for more information.
The benefits of having a family dog are definitely more positive than not. Dogs provide unconditional love and teach your kids responsibility.
Whether you have a family do or are thinking about getting a family dog, I'm here to tell you that there are some amazing benefits of having a family dog.
This decision isn't one to take lightly, should you be searching for a family dog. A family dog requires a lot of time and attention. A dog is much like having another child in the home.
Below you'll find my favorite benefits of having a family dog. Hopefully, this will inspire you to show gratitude towards your current family dog or make a good decision to bring a family dog into your home when the time is right.
These are just some of the top benefits of having a family dog. Whether you're in the market to adopt, buy, or already own a dog,
REASONS FOR OWNING a Family Dog
Natural Stress Relief
Dogs have a way of being loyal to their family and knowing when a family member may need a little love. The simple act of petting your family dog can reduce stress and anxiety. This is why there are so many emotional support dogs out there, they simply work as a natural stress reliever for humans.
Teaches Responsibility
Dogs teach your entire family some responsibility. Kids of all ages can help feed and water your family dog. Older kids may be able to take the family dog for daily walks and let them outdoors when they have to go to the bathroom. Owing a family dog provides your family with a new way to teach responsibility so that your kids learn how the steps involved with caring for a family dog.
Encourages Activity
A family dog will need daily walks and outdoor time to get exercise. This will help encourage activity with your kids who will be more than willing to venture into the yard to play with the family dog. Running around outdoors with the family dog will provide joy and exercise to your entire family without stressing over the idea of exercising.
Provide Safety
A family dog can help your family feel safe. Since most dogs have a keen sense of when something isn't right, they can help save a family member or warn you should danger be near no matter where you're at.
Depending on which breed of dog you get or have as a family dog, they're able to be guard dogs for their family and in turn, providing you with the safety you desire in this world.
If you are making the decision to buy a new puppy for your family, you may be wondering what all you need to buy! Head over to our New Puppy Shopping List for great suggestions!
I've put together a list of a few things that you may also want to pick up for your new family member! I have personally used these items and I think they work great!
For Grooming:
Hands On Grooming/Bathing Gloves
The gloves gently cleans sensitive areas like their ears and bodies. Our lab will lay down when she sees the gloves get put on. She even rolls from side to side when we are grooming her. She loves them! The fur comes off of the gloves easily. We use them when we bath her too and she likes them. If you haven't picked up a pair of these yet, you definitely need to!
These gloves work great on dogs, cats, and horses.
Musher's Secret
Did you know that your dog's paws need a lot of care too? Think about the abuse our own feet take when we go around barefoot. Now imagine your pup's paws. This lotion is 100% natural food grade wax that creates a nice barrier for your furry family member's paws.
Treats and Food
We started using Chewy.com a couple of years ago to get our pet food and treats delivered right to our door. It's normally delivered within a few days after ordering it. It makes lugging that big bag of dog food so much easier! Now I just have to take it from our porch to our garage. If you haven't checked out Chewy yet, definitely take a look!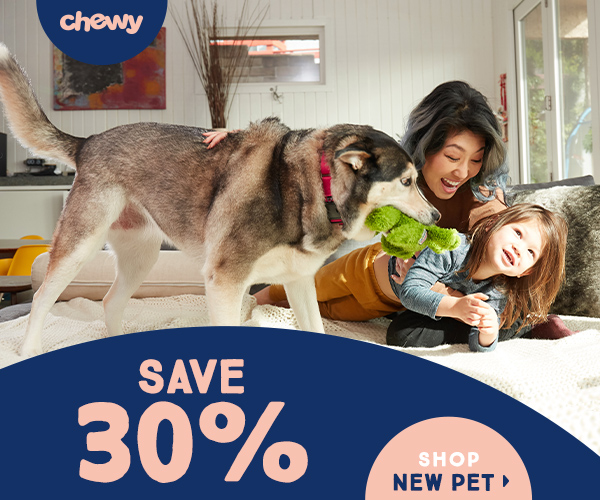 I hope that you can appreciate these top reasons that having a family dog is an amazing choice. Family dogs can truly help solidify the family with a little furry family member who brings love each day, regardless of what's going on in the outside world.
*The featured image is courtesy of Canva