SPONSORED - This post was created in partnership with the brand mentioned below.
Finding the best olive oil to use in cooking can be a daunting ordeal. However, we've put together some tips to make that search easier.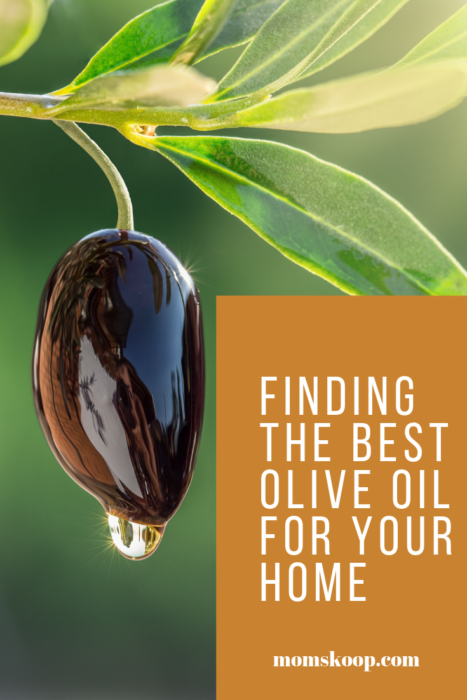 I have been using EVOO (extra virgin olive oil) in my kitchen daily. I like using extra virgin olive oils since it's better to use and the unique flavors that it brings to the dishes.
I'm sure you've heard of EVOO quite frequently if you watch any of the cooking shows, however, do you know that the process they use to make EVOO involves cold pressing? So, what does cold pressing olive oil mean? Cold pressing olives and pits mean that there are no chemicals or heat used to extract olive oil. And only the oil from the first mechanical pressing is used.
Do you use olive oil in your home? If you haven't been but are thinking about it, here are some answers to questions you may have.
What Type of Olive Oil Should I Buy?
Before we get to deciding which olive oil you should buy, let's talk about the different types of olive oil.
The different types of oil are:
EVOO (extra virgin olive oil)
Virgin Olive Oil
Lampante Oil
Now that you know what types of olive oil are available, what purpose are you buying it for?
If you are buying the oil to burn in a lamp, then Lampante Oil would be what you are looking for. This oil has a higher acidity so therefore is only to be used in an olive oil lamp.
Extra virgin olive oil, since it has a lower burning point, is great for regular cooking as well as using unheated like for drizzling over salads or dipping bread in. However, it doesn't have a high enough burn point to deep fry with.
Virgin olive oil has a higher burning point so this would be the good one to use for deep frying with.
CAN YOU SUBSTITUTE OLIVE OIL FOR OTHER OIL WHEN BAKING?
Yes, you can. Normally you can use the same amount of olive oil as other oils when you are cooking and baking. HOWEVER, if your recipe though will have a creaming process (like when you are mixing butter and sugar together for frosting), you will need to stick with butter.
HOW AM I SUPPOSE TO PROPERLY STORE OLIVE OIL?
Keep it in a cool, dark area in your cupboard or pantry. I also keep mine in a dark glass bottle with a spout on it, so it pours out slower.
DOES OLIVE OIL GO BAD?
Yes, eventually it will. From what I've seen and read, it's normally about a two year shelf life if stored properly.
You may be wondering how you go about finding the best olive oil in your local store or online. May I suggest talking to the experts. The olive growers whose passion is making the absolute best olive oil out there.
SECOLARI® is one of those companies. Their mission is quite simple. "To take the mundane and make it exceptional".
What makes this company stand out over the others? The owners, Bart and Mary DeRosa only choose a product after a personal visit to the particular producer.
Secolari doesn't just focus on olive oils, they also have a fantastic variety of Balsamic vinegars! They offer both California and Italian Balsamics. Their traditional 18 years aged balsamic vinegar of Modena is the absolute best for any other aged balsamic vinegar out there.
To help get you started on your olive oil cooking journey, make sure to check out these delicious recipes .
More About This Gourmet Brand
Secolari, which is situated in an old-world Tuscan farmhouse environment, is based out of Ellicott City Maryland. In addition to their olive oil, balsamics, and vinegar, they also offer honeys, local artwork, salts, spices, mustards, pastas, and spreads. You can visit their store in person or order online and have it delivered right to your door.