CLOSET ORGANIZATION IDEAS
Post contains affiliate links. Purchases made through links provide us with a small commission. As an Amazon Associate I earn from qualifying purchases. Please refer to our disclosure policy for more information.
Closet organization is a goal that every parent wants to have in place before the beginning of school. This way the mornings are a little more organized.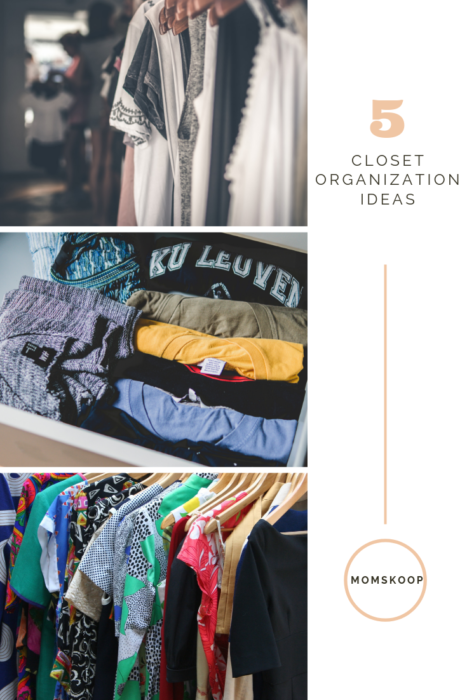 When I was a Senior in high school, I was voted the most organized girl in my class.
Looking back now, that is pretty funny ironic. Now that I am the most disorganized, disheveled, chaotic mess. I blame it on being married for over 27 years and having two kids. One accumulates a lot after being married for a long time.
With the kids' schedules, our schedules and life, it's really easy to toss things in, mix things up and have no defined methods of organizing it whatsoever. Even my handy little t-shirt box hanger is full, instead, of everything from scarves to sweater dresses. I'm usually in a rush not only when I get ready to go somewhere but what I am putting away as well. Usually, I don't pay much attention to what I'm riffling through 20 minutes before I have to leave. The result: a total mess.
I know I'm not the only one who suffers from a highly unorganized closet and have no closet organization!
We start with a perfect system and the best intentions – but fail to maintain it when our days get hectic. Things are shuffled around, tossed in the wrong area and eventually we lose track of them. Often the biggest problems are having too much clutter we never use and having a large space with no designated areas to work with.
Now that the kids are heading back to school in a few weeks, I know it's time for some major closet organization; both theirs and ours!
Here is my plan for going through our closets and making them organized and efficient.
STEP 1 – KNOW WHAT YOU NEED AND WHAT YOU HAVE
Start this step off by gathering up three large boxes. Mark one donate, one keep, one sell/resale.
Next, start pulling everything out of the closet…ugh. This will be easy for my youngest's closet as she has the smallest closet out of all of us. For my husband and I's closet; let's just say it will take a while. Place everything in a separate pile; clothes, shoes, bags, miscellaneous.
Look at each item and ask yourself when was the last time you wore it/used it. Unless it's a seasonal item, if you haven't worn it in the last year, it's time to discard it. For the kids closet, use the same method; especially since they grow like weeds and several items probably won't fit. If you aren't going to keep the item, add it to the donate or sell box. If you are going to keep it, add it to the keep box.
Another thing to sort through is socks. How many single pairs of socks do you have where there isn't a mate? Now's also the time to finally say good-bye to those and buy new socks.
This is also when our Back to School Clothes Shopping List will come in handy to help with your closet organization plan. After you have decided on what you will keep, write down what you will need to purchase. Keep the list with you so when you are out shopping or ordering online, you will know exactly what you need.
STEP 2 – PLAN YOUR SPACE
When you've gone through your 'inventory' and decided what you'll be keeping, it's then time to plan how you'll sort and store it. Now is the time to think about "How to organize a closet".
What items will be hanging? What can be folded? What can be placed in boxes or storage bags? Does anything need floor space? Knowing what types of storage you'll need will help you best decide how to arrange your space.
STEP 3 – MULTIPLY YOUR SPACE
There are different ways you can create new space just by adjusting the space you already have. The best example is your hanging rod. Most closets have one single rod that goes all the way across. Just adding a second, lower rod for slacks, scarves, and bags can double your closet space.
Using bins, baskets and small side shelves can also help you create new levels and store more in a smaller space. I already use bins on some of the shelves I have. It does give you more space.
STEP 4 – ORGANIZE YOUR CLOSET ACCORDING TO YOUR LIFESTYLE
If you go to your closet for a sweater more often than to pick a dress, make sure your sweaters are more easily accessible. If you are like me and wear more activewear then other types of clothing, have that at the front to grab.
Have more shoes than slacks? Give your sneakers and heels the lion's share of shelf space. Make sure you won't have to dig through just to get to the items you use daily. Place seasonal stuff either in the back of the closet or in a storage box on the top shelf.
STEP 5 – CONSIDER BUYING A CLOSET ORGANIZER SYSTEM
This is eventually one of my goals! A few weeks ago, while we were at IKEA, I just walked around looking at all of the possibilities. There are so many great ideas out there! Granted, the one system I saw would require a closet about three times bigger then our walk-in closet now, however, it's something to dream about, right?
Here are a couple of DIY closet organization ideas on a budget tips for more inspiration:
Small Closet Shoe Organization with Curtain Rods
Have you ever bought a closet organizer system before? Have you ever completed a full closet make over? If so, share you photos and comments! I'd love to see what you've done!
Shop This Post
Closet Organization Ideas