This post is sponsored by BabbleBoxx.com on behalf of Palm Bay.  For this post, we received three bottles of wine from Portillo Wines.  We received a bottle of Malbec, Rosé, as well as Sauvignon Blanc.
One of my goals as a Mom/wife is to create fun food memories for my kids and husband. I want to introduce new cultures to our home, create portals to amazing destinations right in our own backyard, and I want them to realize that meals can be extraordinary without a lot of effort!
Have you ever visited the majestic snow-covered Andes Mountains before? I have not yet had the pleasure of marking that off my bucket list, however I can only image how breathtaking those gorgeous mountains look like.
Unfortunately, since I don't foresee a trip there anytime soon, the only way I can get a taste of what it would be like to visit the Andes and to introduce the culture to our home, I decided to create an affordable Portillo Party to the Andes!
When I was doing research for this article and studying about the Uco Valley, the types of food they enjoy in Argentina, and what type of animals you will find there, I tried to picture what it would be like sitting at the base of those picturesque mountains and just taking everything in.
So, since my goal was to create fun food memories for my husband while bringing the food and essence of Argentina into our home over the past weekend, I created a couple of food events for my us.
To kick our weekend off when the kids were at their Grandparents,  I decided to create this little light snack for my husband and myself. I attempted to recreate a simple Argentinian Picada plate with simply just meat and cheese and for our adult beverage, we enjoyed a bottle of Rosé by Portillo Wines.
FACT:  The Picada is a staple in many eateries in Argentina. It can be as little or as large as you would like. You can fill it with a variety of meats, cheeses, and olives. So, our food and wine combination worked out perfectly; not because of the research we did, but because of how easy Portillo Wines make pairing food and wine together a cinch because on each bottle, they actually put food pairing suggestions on the labels! They make figuring out what to serve so easy for those of us who have no idea what goes with what wine!
For our second dining event, we decided to create a bit more of an unique event and set up a Llama themed party featuring enchiladas (in lieu of empanadas because someone forgot the pie crust), chips and salsa and a larger Picada plate, this time featuring olives.
FACT: Again, this doesn't have to be a big expensive affair, just a few simple food selections and you are good to go!  When we are trying to create fun food memories with your friends and family, it doesn't have to cost a lot of money!  That is why Portillo Wines are affordable! Their Malbec is the only Uco Valley Estate Bottled Malbec at the great price point of $9-$11!  That makes it a great wine choice that doesn't break the bank!
With this meal, we chose Portillo's Malbec Wine. Malbec wine is a staple in Argentina as they have the largest Malbec acreage in the world! So that is why I knew this was the one we definitely need to par with this meal.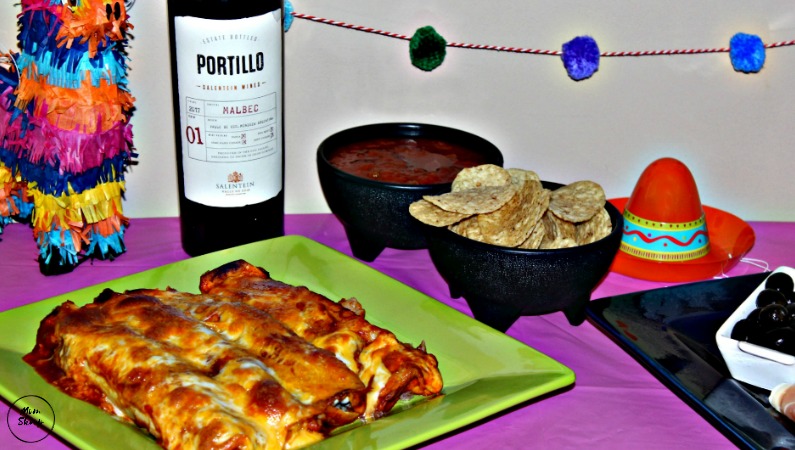 Here is more "Skoop" about our sponsor, Portillo Wines!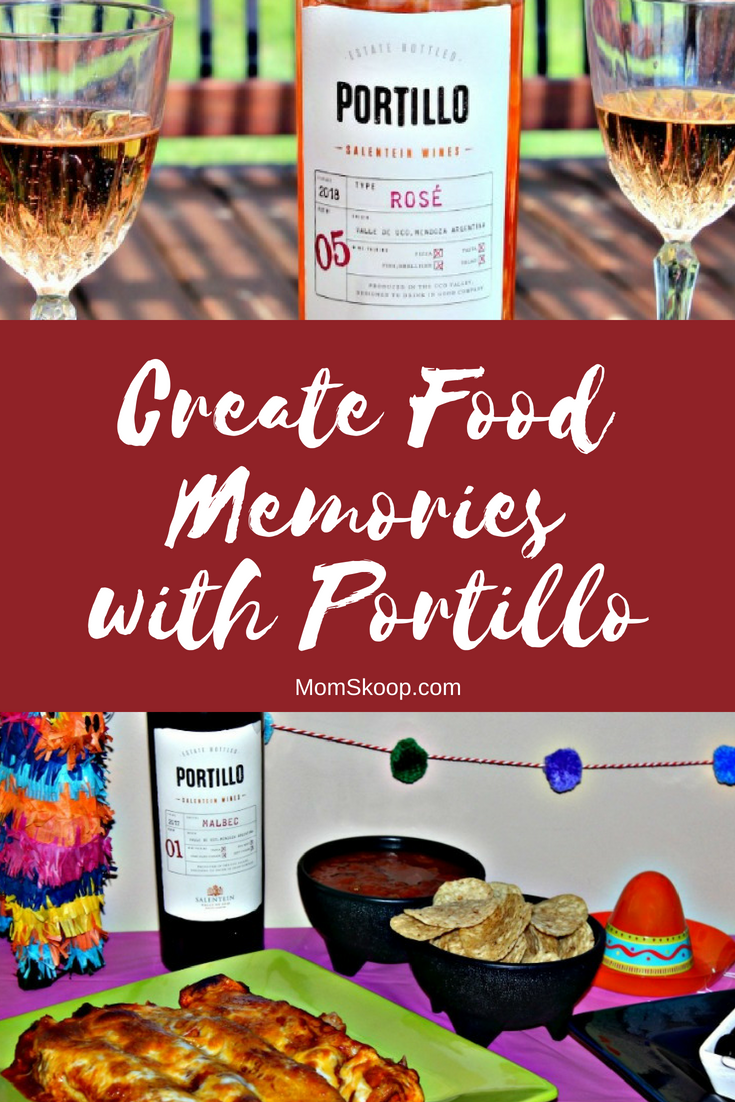 Grown in the Uco Valley of Argentina's Mendoza winemaking region at the foot of the majestic, snow- covered Andes, Portillo brings a remarkable collection of wines grown at some of the highest elevations on the planet. At this altitude, the sun is closer, the nights cooler, and the vineyards are irrigated by melted glacier water from the Andes. This produces easy-to drink, fresh and fruit forward wines with uncommon quality and concentration.  The name "Portillo", Spanish for gateway or portal, was inspired by a high elevation mountain pass in the Andes Mountains, which opens a path to the Salentein Vineyards.
Portillo is also the  first winery in Argentina to obtain a certification given by The Carbon Trust, an international leader in carbon reduction.