Dolittle Family Movie Night PLUS Giveaway!!
Post contains Amazon Affiliate links. As an Amazon Associate I earn from qualifying purchases. Please refer to our disclosure policy for more information.
SPONSORED - This post was created in partnership with the brand mentioned below.
A Dolittle Family Movie Night is an essential must do with your family! Pop up some popcorn, make some snacks, unplug from the electronics and have fun.
Family movie nights are really an important part of spending time together as a family!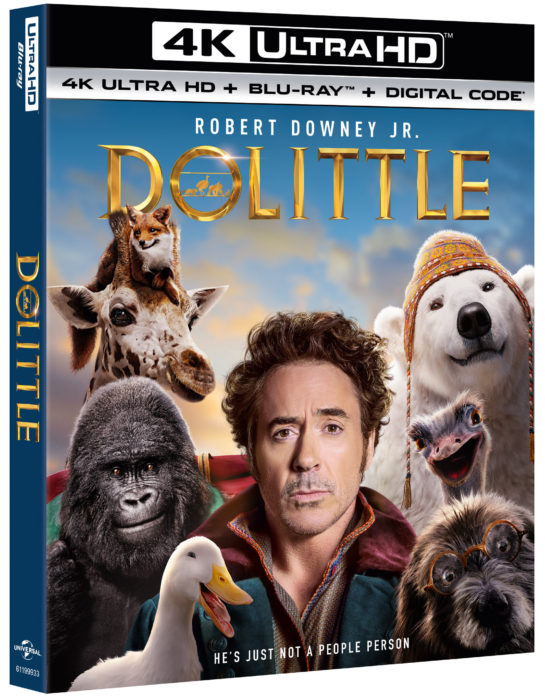 One of our family's favorite things to do is to watch movies together! All of the electronics get turned off and we spend time together. The kids love doing it. My youngest even closes the curtains to give it a "theatre" feel.
To help create a true movie night experience for your family, Universal is giving one of our readers their very own Dolittle Family Movie Night Kit! Make sure to enter the giveaway below!
This kit will include:
A set of 3 plush characters from the film
A custom Bingo Activity game
Themed recipe card for "Yoshi pops"
Microwave popcorn
Themed popcorn boxes
Party supplies (plates, napkins, cups)
Target gift-card to purchase additional movie snacks
Voyages of Dolittle book
Dolittle branded blanket
Latest Skoop about the movie
Robert Downey Jr. electrifies as the man who could talk to animals: DOLITTLE. After losing his wife, he hermits himself away behind the high wall of his manor but is forced to set sail on an epic adventure when the queen falls gravely ill. Helping Dolittle in search of a rare cure are his rambunctious animal friends—including Chee-Chee (Malek), an anxious, self-conscious gorilla; Dab-Dab (Octavia Spencer, The Help), an enthusiastic but bird-brained duck; the bickering duo of cynical, neurotic ostrich Plimpton (Kumail Nanjiani, The Big Sick, "Silicon Valley") and chilly-but-chill polar bear Yoshi (Cena); as well as a headstrong parrot named Polynesia (Thompson).
The adventurous tale is brought to life with an all-star cast that includes the voice talents of Academy® Award winner Emma Thompson (Last Christmas, Late Night), Academy® Award winner Rami Malek (Bohemian Rhapsody, "Mr. Robot"), Selena Gomez ("Wizards of Waverly Place"), John Cena ("WWE"), and Tom Holland (Spider-Man: Homecoming) and more. The film is directed by Stephen Gaghan (Syriana) and produced by Robert Downey Jr. and Susan Downey.
DOLITTLE will be arriving at a store near you on April 7, 2020. Own the movie all the animals are talking about and go an epic journey with a hilarious always cold bear, an anxious gorilla, a lovable giraffe, a ferocious tiger, and more!
Our thoughts about Dolittle
We had the opportunity to watch the movie last weekend. Robert Downey Jr did a terrific job as the eccentric Doctor. One of my favorite things to do is guess which actor is voicing the different characters. I have to admit the one that threw me was Ralph Finnes. I hadn't realized he was going to be in the movie. I'm a fan of his work so it was nice to see he was in this family movie as well.
Our family gave it a 7 out of 8 thumbs up.
amzn_assoc_tracking_id = "momskoop20e-20";
amzn_assoc_ad_mode = "manual";
amzn_assoc_ad_type = "smart";
amzn_assoc_marketplace = "amazon";
amzn_assoc_region = "US";
amzn_assoc_design = "enhanced_links";
amzn_assoc_asins = "B083L55199";
amzn_assoc_placement = "adunit";
amzn_assoc_linkid = "15955f55f17899cb4804d868383c4d32";
Looking for additional family activities to do together during movie night? How about these fun activity sheets about the movie?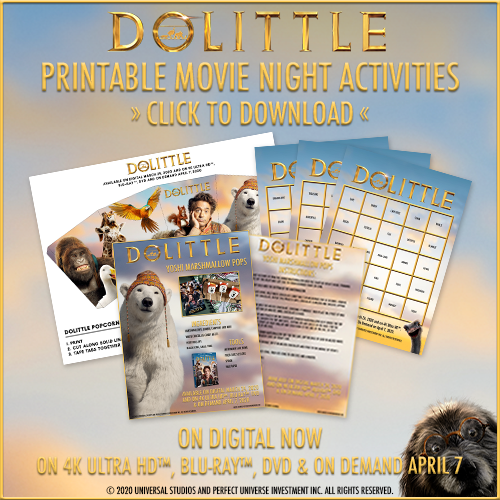 Information about our Dolittle Family Movie Night Kit Giveaway!
"Due to current world events, shipping of all non-essential product has been temporarily suspended for the near future and we have been told we'll be advised when that has lifted and shipping can resume. Winners of physical product will receive their prize when it is determined when shipping can begin again. Thank you for your patience and we hope you'll enjoy the Movie Night Kit when it arrives!"
You must be 18 years or older to enter the giveaway as well as a resident of the US. MomSkoop, Transplanted Buckeye Media, or people associated with the company are not responsible for the delivery of the giveaway items. Once you are notified the product will be shipping, please allow 4 to 6 weeks for the product to arrive.
Good Luck!
Dolittle Movie Night Kit Giveaway