Post contains Amazon affiliate links.As an Amazon Associate I earn from qualifying purchases. Please refer to our disclosure policy for more information.
Family thankfulness projects are a fun way to bring your loved ones together with joy, creativity, and a true appreciation for each other.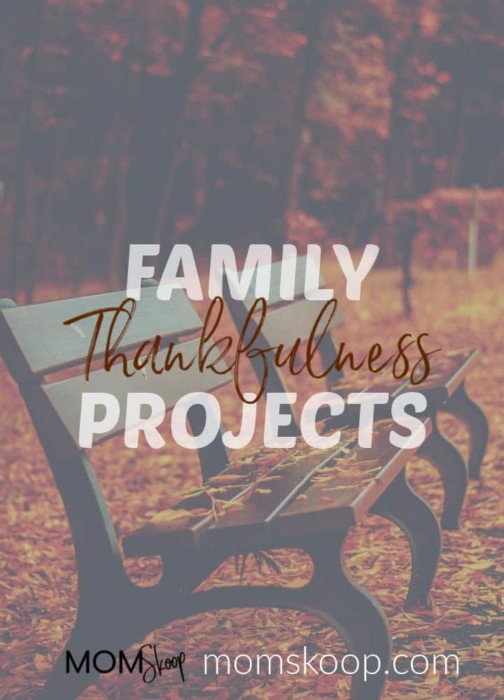 This time of year it's easy to get caught up in food and festivities. But, gratitude doesn't have to be without fun. Here are some fun projects to do with your family.
FAMILY THANKFULNESS PROJECTS
GRATITUDE QUESTIONS
This wonderful dinner table conversation starter, is sure to become a family tradition. Each family member can share with others thanks to thoughtful prompts.
"GROW" A GRATITUDE TREE
This month-long project is sure to excite even the smallest family members into participating. Family members can take turns adding leaves that represent what they are thankful for. How big will your tree grow? Check out this one by The Modest Mom blog!
THANKSGIVING PRAYER FLAGS
"A craft for kids that's fun to make, looks beautiful and sends out positive wishes to the world." This project from Nuture Store uses apple printing to decorate your flags and wish happiness and health to others.
GRATITUDE PUMPKINS
With supplies you probably have in abundance at home, The Joys of Boys shows us how crafting can lead to thankfulness in the most fun ways.
THANKFULNESS TURKEY
This adorable little guy from Happiness Is Homemade is a fun and heartwarming way to help your children celebrate everything they are thankful for. Perfect for placing on your holiday mantel or giving to family as a thoughtful gift.
GRATITUDE ROCKS
Are you thankful for those closest to you? Friends, family, coworkers and more. Show them this year with a Gratitude Rock from Jedi Craft Girl. Adorn these decorative stones with everything you admire and appreciate about the people you love.
BAKE SOMETHING TASTY
What better way to say "I'm thankful for you!" than delivering some warm, homemade goodies? Grab these beautiful Thanksgiving Gift Tags from She Wears Many Hats as the final touch to a perfect gift.
THUMBPRINT TREE
"Assign each member of the family their own thumbprint color to fill in the leaves of the tree. Have everyone share something they're grateful for each time they add a leaf to the tree." Find directions and even more fall crafts at Little Page Turners.
DON'T TOSS THAT HALLOWEEN PUMPKIN
Instead, Yellow Prairie Interiors suggests using it to display all the things your family is thankful for this year.
THANKFUL QUOTES
If you are looking for quotes to share as a family at dinner, make sure to check out these quotes.