Do you seek out ways to be happier during the day? You definitely wouldn't be alone. According to a 2015 Harris Poll study, only 33% of Americans said they were "very happy" with 50% saying they were "somewhat happy". Sometimes it's hard to find that ray of sunshine in an otherwise hectic day. Work piles up, you fuss with the kids about chores, the store is out of your favorite treat, then a button on your shirt breaks… what gives?! While we can't dodge every curveball life throws us, there are simple things we can do each day to elevate our mood.
I also created 6 Free Motivational Printables with an elegant black and gold theme – perfect for your office, home, or anywhere. Click HERE to jump to the download!
50 Ways To Feel Happier Every Day
Smile – even when no one is watching.
Go Outside – just 5 minutes in the sun makes a difference.
Do Something that Makes You Laugh – that funny cat video everyone is sharing? Watch it …again.
Wear Your Favorite Perfume – do it for YOU.
Text a Friend for No Reason – pick someone who isn't expecting it.
Sing Your Favorite Song – if someone can hear you, sing even louder.
Trash Your Worry – pick a problem you CAN'T solve today. Write it down, read it, then crumple it up and throw it in the trashcan.
Do one thing that helps you reach a goal.
Make the Most of Social Media Time – pick the people who actually inspire you, skip everyone else.
Clean Your Desk – Is it a mess? Pick one area, drawer, etc.
Write yourself a love note – and put it somewhere you'll see it all day.
Think on the good – Close your eyes and think about a happy memory for 5 minutes.
Doodle – it doesn't matter if you're not an "artist". Draw a funny face, a puppy, rainbow…anything fun.
Change things up – Always take the same route home from work? Pick a (safe) side street and explore.
Stop Second Guessing Yourself – at least once during the day, go with your gut.
Keep a One-Line Journal – Limit yourself to 1 sentence and it MUST be positive. Buy a daily journal or just use a notebook


Indulge – it could be having an extra spoon of caramel in your coffee, or buying the shoes you've wanted all season. Treat yourself!
Avoid Drama – make a point to remove yourself from negative conversations or gossip.
Say No – Just do it. It feels soooo good.
Listen to a Motivational Podcast – grab an audio pick-me-up during your lunch break
Your Favorite Color – always have something that is your favorite color. It could be a bracelet, pen, scarf…anything.
Make a Point To Be Aware – don't just glance around; really SEE what's going on.
Do Something You Haven't Done in Years – that bike in the garage? Time to dust it off.
Do Something You Loved as a Child – blow bubbles, jump rope, skip to your car.
Eat Alone – You heard me: go to lunch, at a new spot, all by yourself. You'll be surprised how awesome your own company can be.
Unplug…at least for a While –  pick a time during the day (30 minutes, 3 hours, whatever you can do) and get away from all electronics.
Be Lazy – drop what you're doing and just lay on the couch for 10 minutes, daydreaming.
Restart an old project or dream – Remember that thing you wanted to do that day? Do it.
Compliment Yourself – Stand in front of the mirror and – out loud – say what you love about yourself.
Take a Silly Selfie – No filters, no duck face, just make a silly face – snap – and save it (or share it, if you dare!)
Pick a Motivational Quote for your Daily Mantra – find a quote that inspires you and repeat it to yourself throughout the day.
Minimize One Area of Home or Work – It doesn't have to be a whole room. Pick one spot (maybe a shelf) and get rid of what you don't need.
Tell Someone Thank You and Mean It – pick someone who may not hear it often, look them in the eyes, and say "Thank you."
Acknowledge Your Good Choices – When you do something that you're proud of, congratulate yourself. "Hey…good job, Me!"
Offer To Help Someone
Accept Help From Others
Make a Travel Wish Book – start keeping a journal of places you want to go and what you'll do when you go there.
Find a Beautiful View – then sit there and actually enjoy it.
Say Hello to a Stranger – the lady in the checkout line, the man holding the door at the DMV, it could be anyone. A hello may result in smiles all around.
Go 24 hours without comparing yourself to anyone else – I challenge you!
Forgive yourself for a past mistake
Hug Your Partner, child, or pet – make it last
Set Your Alarm 10 minutes earlier – it gives you time to wake, stretch, and just "be" before you get moving
Stretch More Often – stand up, bend around, wiggle your toes, stick out your tongue
Make Your Worries Stick to the Schedule – If you have something stressful coming up in the future, and you can't do anything about it right now: stop dwelling on it.
Listen More, Talk Less
If It Doesn't Apply To You, Let it Go – it's so easy to get upset about anything and everything. Let go of things that don't concern you.
Enhance Your Morning Routine – find one way to make your morning routine more efficient
Focus – tackle one task at a time, celebrate accomplishing one thing before moving on to the next.
Remember Tomorrow is a Brand New Day – everyone loves a do-over!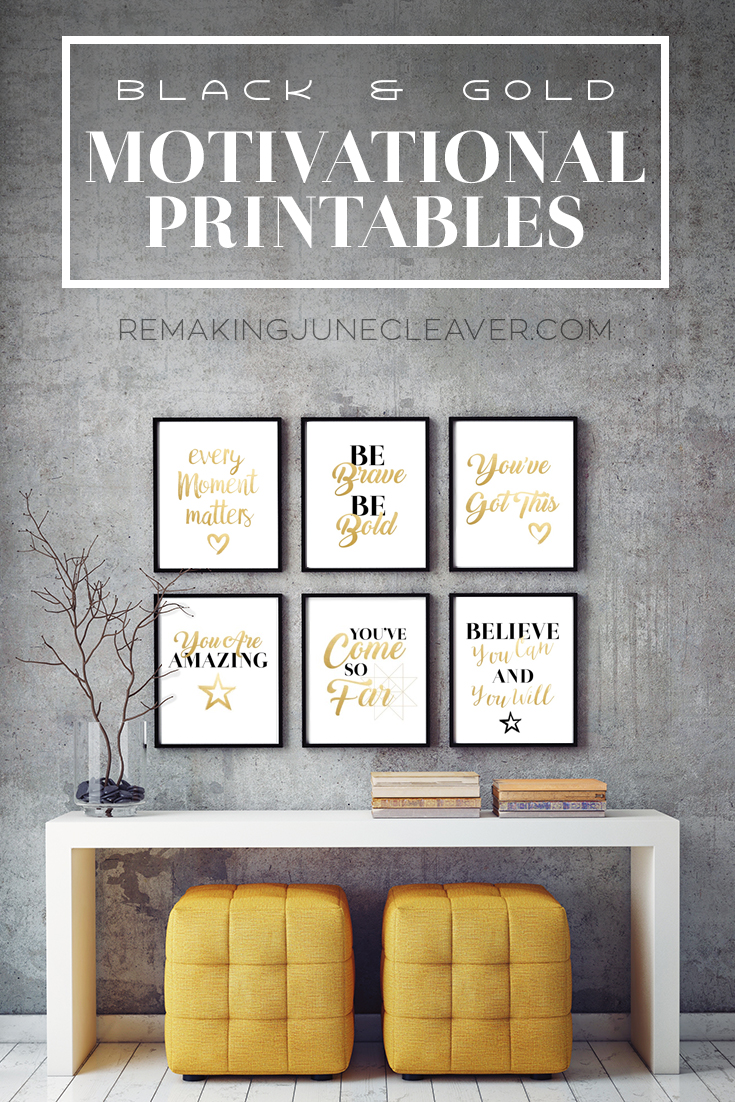 FREE MOTIVATIONAL PRINTABLES
Ready to get motivated? Download all six designs.
Please see the text file about usage limits, included in download.
Make sure to head over here to check out more printables!