FREE PRINTABLE WEEKLY PLANNER – BRIGHT & BOLD
Our Printable Weekly Planner is exactly what you need to start off the new year on the right foot. This is an undated planner so you can use it when you need it. Best part is, it's free! I don't know about you, but I am a very visual person. I need my goals and deadlines right in front of me in a weekly planner so I don't forget.
Free Printable Weekly Planner
After searching online, I couldn't find just the right weekly planner for my needs. They were either too fancy, or too simple, or too complicated. Never just right! So, I decided to make my own PRINTABLE WEEKLY PLANNER.
I tried to incorporate all the things I find I need to plan every week. I even left space to plan some "me time" because that's just as important! What you're doing, what you need, and what you want to accomplish – all in one page. The best part? I'm sharing it with you!
The planner printable is bright and bold, with gorgeous rainbow colors – encouraging you to have a bright outlook & rule the day!
"People with goals succeed because they know where they're going." – Earl Nightingale.
TIP: Struggling to know HOW to plan your week? Sometimes it takes more than just a (super cool) printable. Check out 6 Steps to Plan Your Week from Lifehacker  or  get planning success tips from Jack Dorsey, founder of Twitter, on The Muse.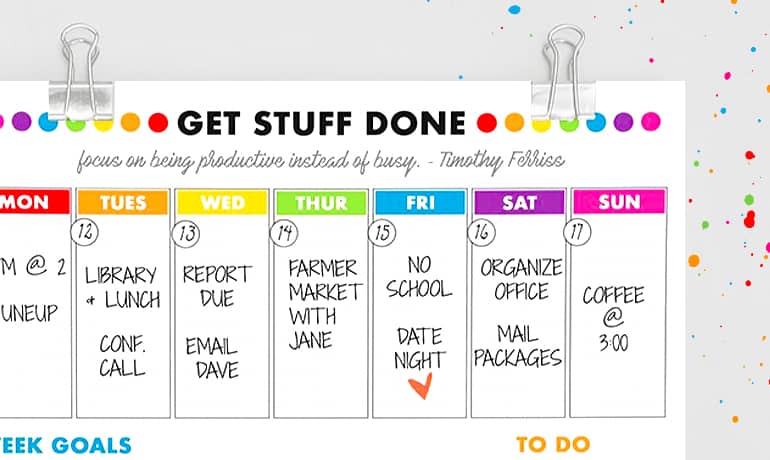 ​The FREE PRINTABLE WEEKLY PLANNER Has 6 Sections:
Weekly Calendar
Work Goals
Home Goals
To Do List
Shopping List
Me Time Goals
Each section of this Free Printable Weekly Planner has plenty of space to write your notes, tasks, and goals. No more missed appointments or deadlines.
Make sure to download your copy below (Dropbox zip file – no login required).
Want more free printables? Check out the Printables section
Ready to get our free download? Just click on the link below!
Got Fonts? Grab tons of free fonts for your next creative project. Click HERE to check them out!