SPONSORED - This post was created in partnership with the brand mentioned below.
This shop has been compensated by Collective Bias, Inc. and its advertiser. All opinions are mine alone. #TryTENAOvernight #CollectiveBias
Essentials, according to Merriam – Webster, are things of the utmost importance.  Keeping in mind what the definition of essentials is, what are the essentials that you would need when you travel? An overnight bag? A toothbrush? Toothpaste? Shampoo? Body wash?  Those are all things that we would all consider Go to Essentials when we travel right?
I used to think those were all of the basic essentials when I traveled.  I really did.  Then I started to get older; my body has started to change.
Growing up I can remember the conversations that my Mom and her friends would have.  They would talk about having to cross their legs when they sneezed.  How they had to be careful about laughing. And how they had to restrict the amount of liquids they had if they were taking a trip or going to be away from home.  They would also talk about how they always had to go to the bathroom when they were pregnant.
Of course when they talked about having to go to the bathroom all of the time when you are pregnant made perfect sense.  However, what never made sense was why did they have to cross their legs when they sneezed?  I can remember thinking why in the world would have to cross your legs when you sneezed? What difference would that make?
Slowly over time as I creeped towards 45, I started to notice something.  The sudden little leak when I had to cough.   Yeah, now I know why women talk about having to cross their legs when they sneeze…..the unexpected leak.  Let's face it, it happens, just as life does.  We can't control it.  Well I try to by crossing my legs but as you know you can't.
I finally admitted to myself that it was ok to admit I have unexpected bladder leaks at time.  It's ok.  We all do.  That is why I have learned that I need to include more essentials to my list when I travel.  My newest Go To Essential when I travel are my TENA intimates®.  These have become a must have for me to always have on hand.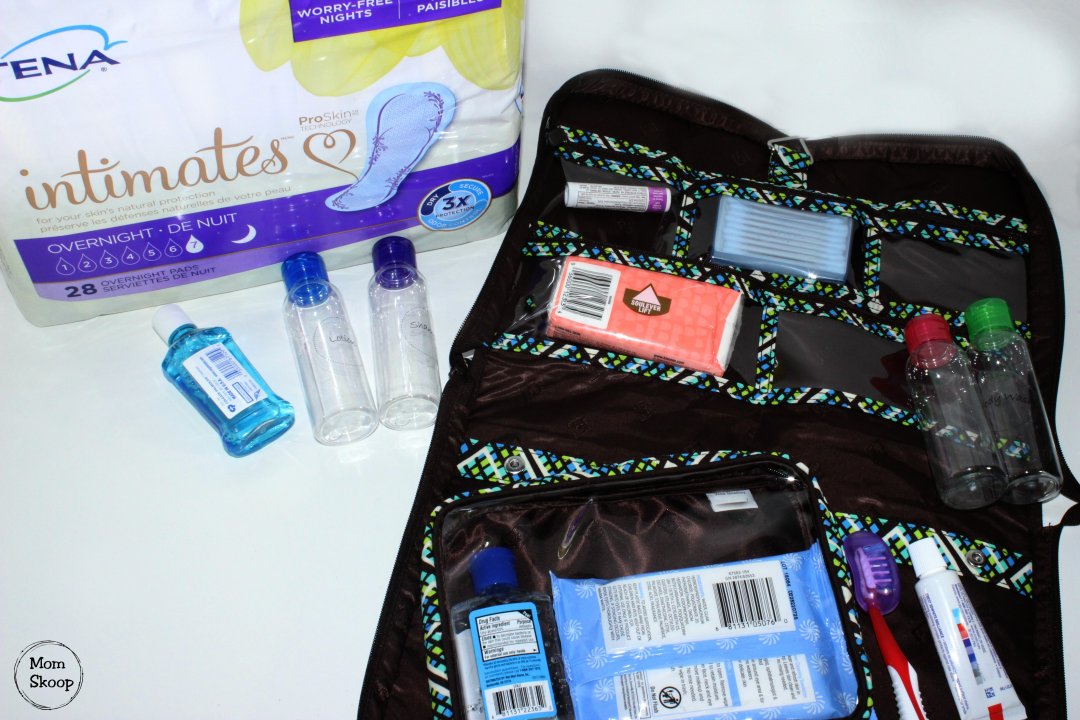 I know you may be thinking I'm not comfortable buying THOSE items.  Believe me it's easier then you think!!  They are in the same aisle as feminine products.  Since we already show there on a regular basis and we are already comfortable shopping in that aisle, it will make it that much more comfortable to pick a package up!
I found the TENA intimates® at our local Walmart.  Check here to see if a Walmart near you carries them as well.
Since we never know what lies ahead of each day, it's always a wonderful feeling if we are prepared, right? TENA® let's you be you so you can live your life without compromise.  You can keep feeling confident with protection for the Unexpected Leak™, with TENA® incontinence products for women., TENA® incontinence products let you do the things you love.  Their products are designed for comfort and made for performance so that you aren't missing out on any moment or experience.  Since even one unexpected leak is too many, TENA® empowers you to keep living your life to the fullest.
TENA intimates® offer:
Same great absorbency with Triple Protection, now with ProSkin Technology™ for worry-free nighttime protection and fast absorption for staying fresh
TENA intimates™ helps to maintain your skins natural protection with our exclusive technology
TENA intimates™ includes a soft top layer, that quickly wicks fluid away from the skin keeping you feeling intimately fresh and clean
Here is a Go to Essentials While Traveling Packing List to make your next trip a little easier:
Body wash
Shampoo
Conditioner
Lotion
TENA intimates™
Toothbrush
Toothpaste
Hair brush
Tissues
Q-tips
Razor
Face products
Makeup
Perfume
Mouthwash
Hand sanitizer
Makeup remover cloths
If you are planning a road trip this Summer, make sure you include TENA intimates™ on your shopping list!  Starting on 5/9/18, there will be a $3 off of any TENA Underwear through Ibotta!  Head here for more details!  Also, there will be an FSI in the paper starting on 5/20 where you can get a $4.00 off ANY one (1) TENA Overnight Pad or TENA Overnight Underwear (2 week only).  This promotion can only be redeemed in-store and ends on 6/3/18.