Post contains affiliate links. Purchases made through links provide us with a small commission. As an Amazon Associate I earn from qualifying purchases. Please refer to our disclosure policy for more information.
Growing herbs indoors is a great way to enjoy fresh herbs year round. You don't need much space, and it's a lot easier than trying to grow them outdoors. These indoor gardens are a great way to try your hand at gardening. With just a few key tips and pieces of equipment, you'll be growing your own herbs inside your home in no time.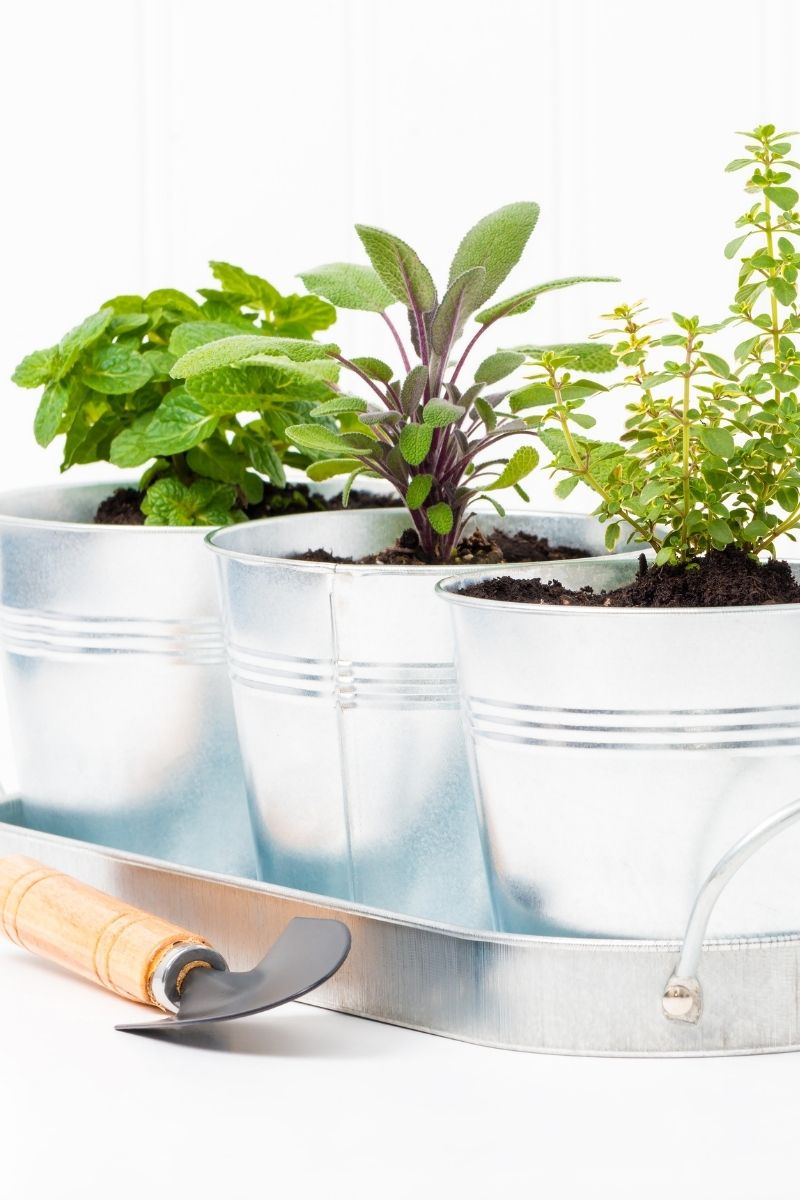 How to Get Started Growing Herbs Indoors
The great thing about starting an herb garden inside is that you can start right now. You don't need to wait until mid-late Spring until the weather is perfect for planting seeds outside!
Thanks for places like your local do-it-yourself store, some department stores, and even Amazon, you can find everything you need to get started NOW!
Choose the Right Plants
Before you jump in buying seeds, you need to determine what plants you want and if they are going to work in the containers you will have as well as the sunlight that your growing area will receive each day.
Granted, most of the herbs you will want to plant will be pretty easy to grow. In fact, they are surprising pretty hardy and easy to grow. But they will require the right amount of sunlight, water, and drainage.
Which are the Easiest to Grow Indoors?
Some of the ones that do the best indoors are:
Basil
Chives
Cilantro
Lemongrass
Mint
Oregano
Parsley
Rosemary
Thyme
The great thing about mint and basil is that you can start those from cuttings. They will actually start to grow roots in a glass of water.
However, keep in mind that herbs like mint, are considered aggressive and if you decide to move the plant outside into your garden, it might start to take your garden over.
And with all things, do your research. How much sunlight, will indirect sunlight work, how much water, do they need certain types of soil, fertilizer and things like that. Thanks to the internet, being informed is easier than ever before.
Do I have to Transplant Them to a Bigger Container?
Yes, if you are buying the herbs in a small plastic container at the store or you are growing them from seeds in a small container, you will need to transplant them to a bigger container.
When you move them to a larger pot, it allow the roots to grow and for the plants to become more bountiful and stronger.
Is it Better to Buy Herbs from Seeds or Plants?
While it may seem better to just go to the greenhouse and pick up a plant to start your garden, growing your own plant from a seed may not only be cheaper, but actually won't take as long as you think.
Usually seeds will start to germinate within a few weeks and depending on where you live in the US, your local greenhouses may not even have garden plants in stock until Spring.
With seeds, you can go ahead and get your herb garden started now. Plus you can pick the seeds you want. Not always will the local store have what you are looking for.
Do They Need Full Sun?
Yes, some will need anywhere from 4 to 6 hours per day and others will need 6 to 8. This is where the researching of your plants is key. And if you are planning to move these outside during the Summer, make sure the area where you are moving them to will be the same environment they are used to indoors.
Which Herbs Like Full Sun?
Basil
Chives
Cilantro
Dill
Lavender
Lemon Balm
Marjoram
Mint
Oregano
Parsley
Rosemary
Sage
Tarragon
Thyme
Can You Grow Plants without Soil?
Yes, this is known as growing your plants in a hydroponic system.
How Much Water Do Indoor Gardens Need?
This will depend on the type of plants that you are growing. Once you decide on the plants you are going to grow, do your research on how much water they will need each day/week.
Do I Need to Fertilize?
That again will depend on the type of herbs you are growing. You will need to look at each plant you chose and see what the requirements are and what each one needs.
The great thing about growing fresh herbs indoors is that anytime you are wanting to use them in your meals, you can just harvest them right from your own little garden. Plus the aroma in your kitchen will be amazing.
Do you grow any herbs inside? What have you found works? What hasn't worked?
What About an Aero Garden?
Thinking about growing herbs or your own veggies in an Aero Garden? I have thought about that too. However, I haven't gotten past having a garden outside in the Summer. But if you are thinking about venturing into trying one, make sure to check out Little Tech Girl's page on Starting an Aero Garden.
Related Posts:
Easy Container Gardening Ideas