SPONSORED - This post was created in partnership with the brand mentioned below.
When you think of the word "Fit," what comes to mind? An athlete? A runner? For me, when I think of the word "Fit," I think of someone who is in shape, not my garage door.
How many times a day does your family open and close your garage door? Twice? Four times? 10 times? I know for our family, there are days it seems like we are opening and closing our garage door at least 20 times a day!
"When you think about it, the garage door is most likely the most used door to your home," says Jeffrey Nofziger, president of Haas Door in Wauseon, Ohio. "Your garage door opens and closes several times a day. Assuring that it's operating efficiently and safely is a smart move for homeowners."
I don't really ever think about my garage doors. I always expect them to work! I've learned to expect that when I go out into the garage and press the garage door opener, that the door will open, I will get into my SUV, back out into the driveway, press the garage door opener to close the door, watch the door close and then be on my way. I never think about what could happen when it does not work!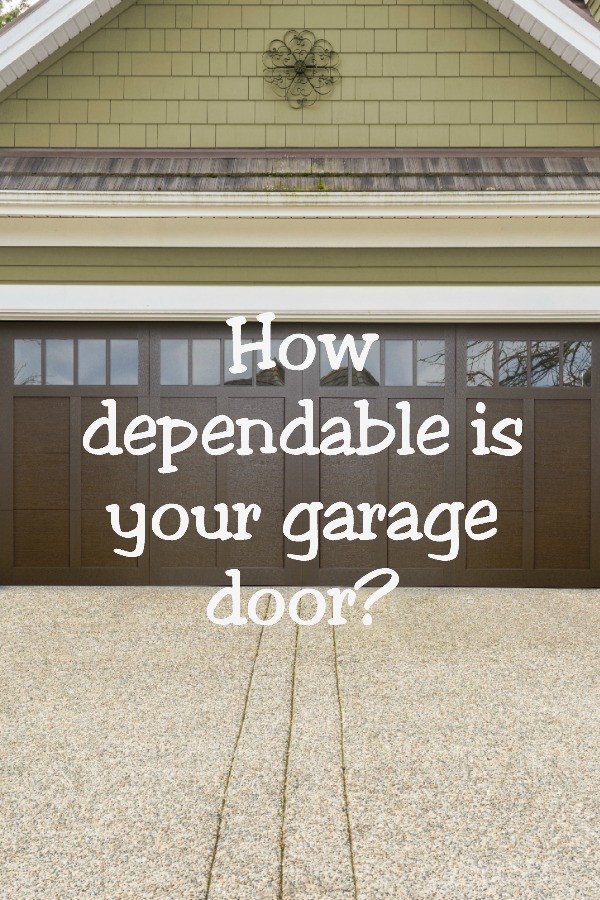 Let's think about that for a minute. What would you do if you are headed out to work or to school drop off and your garage door does not work? Do you have another automobile that you can drive that's sitting outside? Do you have a backup driver that can pick you up on a moment's notice? Believe me I have been there! Panic creeps over you, you try to read the directions that are actually on the garage door opener that is near the ceiling of your garage, you try to lift the now dead weight door, you rush back inside and try to figure out a plan!
That is why it is more crucial then ever to make sure our garage doors are in "Fit" condition! Since June is National Garage Door Safety Month, I thought this would be the perfect time to share these important safety tips provided by the DASMA (Door and Access Systems Manufacturers Association International).
→ Make sure to print out our handy Garage Door Safety Tips Checklist at the bottom of the post!
11 Top Safety Tips Checklist for Garage Door Systems:
1. Replace Old Springs. Your garage door's springs are arguably the most important and most dangerous part of your door. Springs wear out. When they break, injury can result. If you have an older garage door, have your springs inspected by a professional technician and replaced if needed. If your door has two springs, replace both, even if one is not broken. This will not only prevent any damage caused by the breaking of the second spring, but also keep your door working efficiently.
2. Check Your Cables. Visually inspect the cables that attach the spring system to the bottom brackets on both sides of the door. If these cables are frayed or worn, they are in danger of breaking, which can cause injury. Due to the dangers associated with high spring tension, these cables should be replaced only by a trained, professional technician.
3. Squeaky Springs? Springs can squeak and be noisy. This is caused by normal use and does not necessarily indicate a problem. Before calling a professional service technician, use a spray-on lubricant (recommended especially for garage doors). If the noise persists, call a professional garage door installer for service.
4. A Do-It-Yourselfer, Eh? Installing a garage door can be very dangerous and is not recommended for a novice. DASMA recommends that trained, professional door systems technicians install garage doors.
5. Safety Cables. If your garage door has extension springs, you need a safety cable that runs through the spring and secures to the wall or ceiling at each end. When your garage door is down, extension springs are under high tension. If the spring breaks, it may cause injury. A safety cable can keep that broken spring contained. If you have extension springs but do not have a safety cable, call your local dealer for a safety inspection.
6. Struggling Door? If your door does not go up and down smoothly, you may have an unsafe condition. Even older door systems should operate smoothly. If the awkward operation continues when the door is manually operated, you may have a spring system that is out of balance. This can cause premature wear and tear on other important door components. Spring systems are dangerous and should be repaired only by trained professionals.
7. Watch Your Fingers! Every year, many unsuspecting homeowners injure their fingers by placing them between the door sections to pull down on the door. According to DASMA Standard 116, if your door lacks pinch-resistant joints, you should have lift handles or suitable gripping points on the inside and outside of the door. Even if your door has an opener, the door must occasionally be operated manually. Never place your fingers between the door sections. If you manually open or close the door, use the handles or the safe gripping points!
8. Tamper Resistant Brackets. Since the bottom brackets on a garage door are connected to the door's springs, these brackets are under extreme tension. They should be adjusted or loosened only by a trained door systems technician. Many manufacturers now include tamper resistant hardware that prevents loosening of the brackets by a novice.
9. Use the Old Track? When buying a replacement garage door, some homeowners are tempted to save a few dollars by putting the new door on the old track. However, your old track may not fit with your new door, depending on the thickness of your sections, the weight of the door, the headroom required, the location of the garage door opener, and other considerations. The track and sections work together as a system. For maximum performance and long life, you should use the track that is designed for your specific door.
10. Regular Service. Your garage door is probably the largest moving part in your home and is typically used every day. Over time, parts can wear out and break, creating potential safety problems. Although you should provide monthly safety checks and maintenance to your garage door system, an annual visit from a trained, professional door systems technician can keep your door operating safely and smoothly for a long time.
11. Man the Manual. Keep the owner's manuals for your door and opener hanging near the door for easy reference. Every model of door and opener has specific safety instructions unique to that model. Where is your manual?
After you go through the checklist, if you find that your door has one of more of the problems listed above, it might be a good idea to consult a professional, so they can come out and evaluate your door and give you the information you need to make a sound decision.
If you decided that it's time to invest in a new garage door(s), there are so many great new options out there! I must admit that while I was doing the research for this article, I kept getting the "we need new doors" voice in my head! Since our doors are still in great working order and only 9 years old, I got that, "I don't think so look" from my husband.  So, since I can't convince him we need new doors, I am going to be window shopping vicariously through you!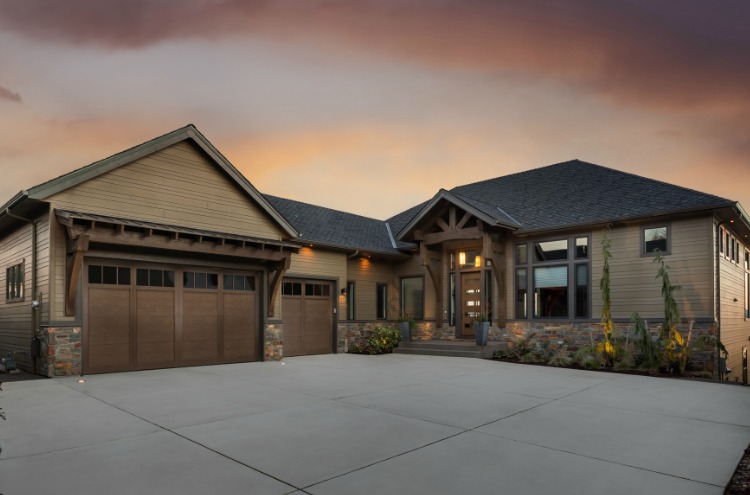 Wood grain finish and carriage-style garage doors are now a huge home décor must have! Haas Door, manufacturer of premium steel and aluminum residential and commercial garage doors, has enhanced its line of residential American Tradition SeriesTM garage doors by adding two new wood grain finish options: American Walnut and English Oak.
"Wood grains continue to increase in popularity for our carriage-style garage doors, which is why we believe the new American Walnut and English Oak finishes will be so accepted in the marketplace," says Nofziger, with Haas Door. "Both new wood grains give the garage doors a rich, traditional appeal without the maintenance hassles of wood."
Another must have when it comes to your garage door now is privacy glass! I have always wanted some type of glass in our garage doors. I think along with the carriage-style garage doors, this would be a fabulous addition to any garage door and it would really make the door "pop" as you are pulling up the drive!
"These 'across-the-board' glass options give people even more ways to customize their residential and commercial garage doors," says Kent Nafziger, vice president of sales and marketing at Haas Door. "The selection of glass is important because it helps the garage door complement the home or business exterior.
"For example, if a home has trim or shutters painted in black, the owners may choose a Dark Gray/Dark Gray glass offering to match the house exterior. Or, a business with unique metal exterior accents like gutters, lighting fixtures and other hardware, may best be complemented with a Bronze glass offering.
"From clear glass that provides maximum sunlight into the garage to combinations that are extremely obscure to protect homeowner privacy, we offer a wide variety of options for door glass. These can be just a color over a frost in our insulated glass options or a single pane of textured tempered glass. Either way, customers have tremendous choices when it comes to glass selections."
Make sure to print out our handy Safety Tips Checklist for Garage Door Systems so that you have it on hand to check out your garage door so you can make sure that your garage door is "Fit"!
Click below to download your Garage Door Safety Tips Checklist!
[otw_shortcode_button href="https://bit.ly/2sIXyDi" size="large" icon_position="left" shape="square" color_class="otw-black" target="_blank"]11 Garage Door Safety Tips Checklist[/otw_shortcode_button]
To learn more about Haas Door, head over to their website so you can check out all of the newest trends and must haves! And make sure to follow along on their Social Media channels for more information and tips!