Post contains Amazon affiliate links.As an Amazon Associate I earn from qualifying purchases. Please refer to our disclosure policy for more information.
Last Minute Gifts for Your Holiday Host do not have to be thought consuming or expensive. You can easily find the perfect gifts with a few simple tips.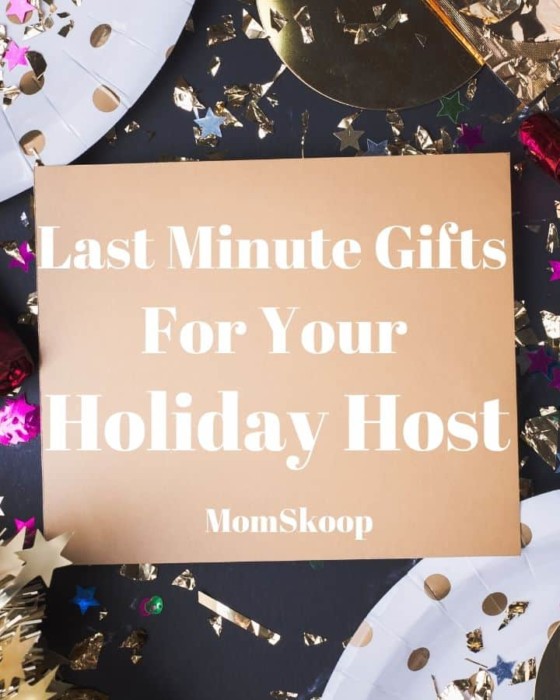 The holidays are here, and you're likely heading to a variety of events and parties in the upcoming weeks with some potentially testy individuals.
Don't arrive emptyhanded. Even if the party is tonight, you can easily find the perfect gifts for your gracious host or hostess (and secure yourself an invitation to their next shindig with your excellent gifting skills).
Personalized Wine Bottles
Wine is a classic holiday host gift, and for good reason. It adds to the festivities, and you can't go wrong with a delicious cabernet or pinot noir.
Take it up a notch this year and buy your host or hostess a bottle personalized with a custom label. You can write a message of Christmas greetings, add clip art of a beautiful Christmas tree or present box, or even emblazon an image of your host and their family on the bottle's front. This will definitely be a gift that makes their jaw drop and your present will be the talk of the party.
They might pop it open on sight, or they might save it for a special occasion—either way, your gift will definitely be their favorite of the evening.
Inexpensive and Delicious
Coming up with a last minute gift idea for your host doesn't mean you have to deplete your bank account. Who could say no to some delightful baked goodies and sweet treats during the holiday season? Nothing goes better with a glass of eggnog than a decadent dessert, so do your host a favor and bring along some sweets that both they and their guests can enjoy.
Send some delicious chocolate covered fruit to arrive before you do and add a double dose of surprise to the party.
For a more personal touch, whip up a batch of delicious, melt in your mouth cookies warm from the oven for a gift that's always well received, easy on your wallet, and perfect for a last-minute gift idea. Put them in a pretty tin and show up with a gift that can be used right then and there.
If you'd like to opt for something a little healthier, try a gift like an herbal tea offering.
An Ornament
Classic? Definitely. Unoriginal? Maybe a little. Unappreciated? Never. Ornaments are wonderful gifts, especially if they are inspired by a personal touch. You can get one painted of their family, include their children's names, or even get a recreation of their house made on a personal small ornament.
A personalized ornament is a thoughtful gift that your host or hostess will love, especially if you incorporate their family into it.
A Beautiful Arrangement
Taking an arrangement with you to your holiday event is sure to be a hit, and you can get a beautiful bouquet even if you have only hours until the party starts. With same-day delivery from local florists, you'll come well prepared with a gorgeous arrangement designed for the season.
Whether you choose classic poinsettias, lush greenery, or vibrant petals designed to turn heads, your host will love your gift and proudly display it for all other guests to see.
A Cutting Board
Is your host or hostess known for their amazing cheese and charcuterie selections? Make their presentation even better with the perfectly personalized cutting board they never knew they needed. You can emblazon the board with their family name, their initials, or even an image that you know they'll love.
Be prepared to see this bad boy in use at every upcoming event you attend at their home.
A Delightful Candle
Few things create better ambiance than a well-selected candle. If you know that your hostess enjoys candles, then this will make the perfect hostess gift for them!
Make your host's party even better with the gift of delicious smells and gentle lighting. A candle might seem like an unoriginal choice, but this gift is always received well and you can find plenty of ways to make it a bit different.
There are 80 hour candles that will give your host plenty of burning time, candles that create beautiful designs as they burn, and candles with personalized votives that put a homey spin on this tried and true gift.
If you're looking for the perfect last minute gift idea for your gracious holiday host, worry no longer. These ideas are sure to be appreciated and help your host enjoy their holiday party as much as their guests are sure to!
This post was originally published on December 5, 2015.