Life Reimagined – Creating a New Approach
As a blogger, I'm used to drilling down a vague topic until it becomes a specific vision for an article. For years I've used methods that help me focus on exactly what I'm trying to say and how to say it. As a business owner, those skills have also helped me hone my brand image, with a spotlight on the most important goals, plans to get there, and ways to make things happen faster. Why, then, did I not use those same tactics on my day to day life? That's a question I'm asking myself now that I've taken the Life Reimagined Quiz.
I've partnered with AARP and Life Reimagined to explore the possibilities of a life plan customized to my needs by professionals and share the results with you. Let's get started!
What is Life Reimagined?
Life Reimagined is a website designed to give you personalized steps to live a healthier, happier life and find the confidence to grow personally and professionally. You've probably searched online for help and tips for things you've come up against, only to find generic answers that either don't offer enough detail to help, or they aren't specific to what you're dealing with. Life Reimagined involves six practices that guide you through change with a personalized system.
My Goals With Life Reimagined
I'd tried other self help articles online. My problem was that I was seeking ideas on several different things that yes, I could find individually online, but I needed concepts that allowed the aspects to be rolled into one. They may not seem related to someone else, but – in my life – they are completely intertwined.
Menopause – This is not the only issue, but it's definitely the crux of long, stressful days. I've battled early menopause for the past 4 years and, though I've found medicinal ways to control the physical symptoms such as hot flashes, there are many psychological and social issues that remain. These symptoms are going to require rewiring, so to speak – approaching things from a new angle. A plan of attack.
Resulting Anxiety – The biggest impact right now is menopause related anxiety centering around driving. I went from a happy highway explorer, to someone afraid to even drive to the store if there is rain or snow on the ground. Unfortunately, I'm starting to see residual anxiety even when I'm not driving. I'm bouncing my knee and clenching my jaw right now as I type this. Why? Even concentration is starting to cause subtle anxiety ticks. I know there are medicinal answers for this as well, but I'm willing to try methods and coping strategies for natural relaxation.
Feeling More Fulfilled With My Work – I feel like my own action (or inaction) is keeping me from taking my work up a notch. I see new levels I could be reaching and just haven't yet, even though some days I'm at my desk until I can't see straight. Why isn't it working? I hope to find out how to circumvent roadblocks so that I can reach work goals and be able to step back a bit and feel less stressed.
Parenting Rewind – Anyone is knocked a little of course when you've sent your oldest out into the world and they come back. It's wonderful having the whole family together again, but it's also time to adjust those "next phase" plans because you aren't done yet. Add in a rambunctious seven year old, menopause, anxiety, running your own company and….
I need a new plan. I feel like the next phase in life is a giant cork board covered in thousands of sticky notes: I know what I want, but I'm not quite sure how to implement them all,  effectively.
First Steps: The Life Reimagined Quiz
The Life Reimagined Quiz will help you easily narrow down core principles that are important to you: what you love, what you want to do, who you want to do it for, and how you want to accomplish it. Once you've taken the quiz, you get your purpose statement.
Here's mine:
Once you have your purpose statement, it's time to take steps to achieve it. Life Reimagined offers several tools to help.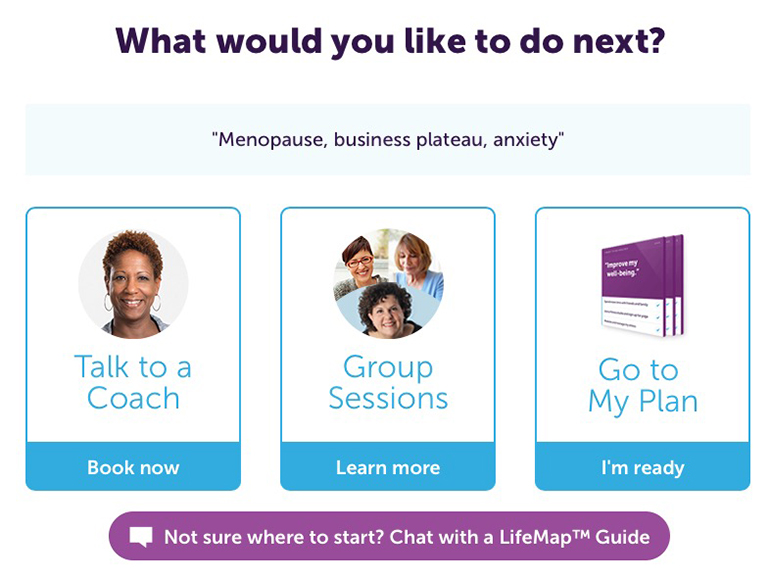 Your Life Map – Once you've taken your Life Reimagined Quiz, you can discover what you're looking for and design a plan with a purpose. Through a series of exercises, you'll create a unique purpose statement to guide you in improving your work, relationships and well-being. Your Life Reimagined LifeMap can inspire you with a vision of what your future can look like.
Work 1-on-1 With a Coach – objective advice on your schedule, helping you create a plan of attack and holding you accountable for following through to gain clarity, perspective and confidence.
Programs, Tools, and Events – personalized online programs, workshops and tools for every need at a variety of prices. Additionally, in-person seminars and meetups allow you to keep learning and creating more opportunities for yourself.
I've got my LifeMap and next I'll be venturing into coaching and enacting my plan. Would you like to follow along? I'll be updating my progress next month – make sure you subscribe to our newsletter (sign up form at the end of this post) to get all the latest!
---
Remaking June readers can also get their own FREE 2 week membership with 30 minutes of FREE coaching by signing up though this link: www.lifereimagined.org/remakingjunecleaver