Magic Salted Caramel Cupcakes – With A Secret Ingredient!
Post contains affiliate links. Purchases made through links provide us with a small commission. As an Amazon Associate I earn from qualifying purchases. Please refer to our disclosure policy for more information.
These Magic Salted Caramel Cupcakes are a delicious treat that you will feel GOOD about your kids eating! They will never taste the secret ingredient!
"I am not eating those." That was the response from my husband when I told him I was making Magic Salted Caramel Cupcakes from the new Trim Healthy Table cookbook from Trim Healthy Mama. "Just trust me," I told him. And luckily he did, because now he's a HUGE fan.
What's the big deal? Well, you'll never believe what healthy, delicious ingredient is in these cupcakes (and which ones are missing)!
First, can we talk about Trim Healthy Mama's new cookbook – Trim Healthy Table? I know you are hungry for those cupcakes, so I won't make you wait too long.
The Trim Healthy Mamas have helped hundreds of thousands of women lose weight and live healthier lives with their bestselling cookbook and eating plan and now they are ready to help the entire family!
Trim Healthy Table is just the answer. It has over 300 family friendly, delicious and trimming recipes, along with practical advice on how to healthfully nourish your family without going insane or living in your kitchen.
Ok ok – so what's MAGIC in these cupcakes?!!
Beans. Yeah, you heard me. White beans, to be precise. They take the place of flour. Now you understand my husband's resistance. Bean cupcakes? You won't believe it until you taste them. Oh. My. Gosh.
How many times have you tried an "alternative" recipe only to be disappointed? (my answer: a lot) My husband was convinced these would just taste like bean cake. He was SO wrong. They are absolutely delicious (and taste like REAL cupcakes). Not only are they tasty and healthy, but making them is so easy.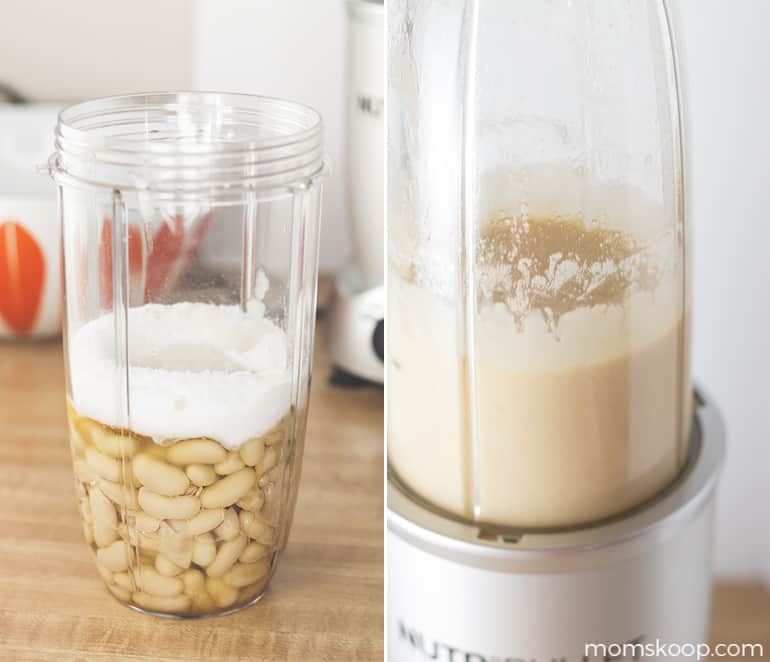 All of the blending steps are done right in your food processor. You don't even need a bowl. I used my trusty Nutribullet Select, but you can use any processor with the right capacity.
25 minutes in the oven and they came out fluffy and super moist! Don't even get me started on how good my kitchen smelled.
Even the frosting is made in your processor. I piped mine with a plastic zip bag in just minutes. The caramel drizzle is optional (but I HIGHLY recommend it).
These cupcakes use no flour, sugar substitute, and all natural ingredients. I might have eaten two of them after I finished making them. I regret nothing! Who knew healthy could taste so good?!
Order your copy of Trim Healthy Table from Trim Healthy Mama today!
Follow the Trim Healthy Mamas on Facebook, Pinterest, and Twitter Hashtag #TrimHealthyTable
Check out their Podcast and YouTube channel for more Trim Healthy content!
Here is our recipe for these yummy Magic Salted Caramel Cupcakes!
Magic Salted Caramel Cupcakes
Healthy No Flour Cupcakes for the whole family
Ingredients
CUPCAKES
2

15 oz cans

White Beans - rinsed & drained

*or 3 cups home cooked

3

large

Eggs

3/4

c

Egg Whites

3/4

c

Gentle Sweet

(or other sugar replacement)

2

tsp

Baking Powder

Aluminum Free

1

tsp

Baking Soda

1

tsp

Pure Vanilla Extract

3/4

tsp

Natural Burst Caramel Extract

(or other caramel extract)

1/4

tsp

Mineral Salt

2

tbsp

Coconut Oil
FROSTING
3

oz

Less Fat Cream Cheese

1/2

c

Heavy Cream

1/4

c

Gentle Sweet

(or other sugar replacement)

1/2

tsp

Pure Vanilla Extract

1/4

tsp

Natural Burst Caramel Extract

(or other caramel extract)

5

pinches

Mineral Salt
Optional Caramel Sauce Drizzle
2

tbsp

butter

2

tbsp

Gentle Sweet

(or other sugar replacement)

1/2

tsp

Black Strap Molasses

1/8

tsp

Mineral Salt

2

tbsp

Heavy Cream

1/8

tsp

Xanthan Gum or Gluccie
Instructions
Preheat the oven to 350°F. Line 16 cups of muffin tins with cake liners (the parchment kind work best). Lightly spray the insides with coconut oil.

Put all the cupcake ingredients in a food processor and process well.

Using a spoon, drop the batter into the muffin cups.

Remove from pan and allow muffins to cool on rack, then refrigerate until ready to frost.

Place all frosting ingredients in a blender and blend until thickened.

Optional Caramel Sauce: Put butter, sweetener, and molasses in a small saucepan. Heat until bubbly over medium-high heat and allow to bubble for about 2 minutes -- whisking constantly. Remove from heat and add salt and cream while whisking. Gently sprinkle in xanthan or Gluccie while continuing to stir. Allow sauce to cool and thicken.

Frost cupcakes (optional: drizzle caramel sauce), then refrigerate for several hours (or overnight) before serving.
Notes
Reprinted from Trim Healthy Mama; Trim Healthy Table. Copyright ©2017 by Pearl P. Barrett and Serene C. Allison. Published by Harmony Books, an imprint of the Crown Publishing Group, a division of Penguin Random House LLC.