*This post contains affiliate links.  Please refer to our disclosure policy*
Camping with my family will always be one of my favorite memories.
When I was growing up, we never went camping. Once my husband and I got married, I went camping for the first time. We decided to make our first vacation together to the Smoky Mountains our first tent camping experience.
We bought a tent, sleeping bags, the food and supplies that one would need to start camping in a tent and off on our journey we went. Yes, we went on vacation in the Smokies and it was breathtaking. However, sleeping on the ground and walking up to things being damp from the morning dew wasn't exactly my idea of fun. And I have no problem admitting I did not like it.
When our oldest was 2, we decided to buy our first camper.
I know many people say a camper isn't really camping, however, for me, it is. My husband was hoping that I would like it better being off of the ground, having our own bathroom, and being more self-contained, especially since we had a little one. I absolutely loved our first camper. It was an older 5th wheel, and it sure bet sleeping on the ground in a tent!
→ Make sure you print off our FREE Camping Scavenger Hunt Printable located at the bottom of the post!
Our first 5th wheel adventure took us to Orlando Florida! We took her to Sea World, visited some family members, took in a lot of sites, and included two campgrounds going and coming to our adventure. It was terrific!
As our daughter grew up, we upgraded that 5th wheel that had one slide out to a 32 ft. 5th wheel with three slide outs! I was in heaven! She had her own room and bathroom, we had plenty of room and it was great!
Our first trip in our new and bigger 5th wheel was to Myrtle Beach! We stayed at Pirateland. It was wonderful! Being able to wake up literally feet from the ocean was amazing!
Then as we were awaiting the arrival of our youngest daughter and our oldest daughter's ever-expanding activity schedule, we decided to sell our camper.
I have to admit that a part of me doesn't mind that we don't go camping anymore. Don't get me wrong; I absolutely loved the memories, I just didn't like the "other" side of it. The extra work prepping/unpacking the camper, the extra money that it costed for plates/payments/insurance, that "oh shoot I forgot something at home and having to run to the camp store to get it", the getting a flat on the camper on I-75 while driving through Atlanta, and lastly the tornado warning one night for the county we were in and wondering how long it would take us to grab our oldest and the dogs and get to our vehicle and figuring out an escape plan.
In addition to the memories and the not so nice memories, there was really something magical about our camping experiences. I think it had to do with the unplugging and bonding. The no distractions of our cell phones, internet, satellite, and looming household responsibilities that we had.
The time we'd spend sitting around the fire, laughing, talking, looking at the stars and just plan soaking up the scenery was simply awesome!
For us, another one of our favorite things about camping was the food! There is just something about food that is cooked over an open fire! I swear I gained 10 lbs every time we went camping! Between the breakfast, lunches, dinners, and oh those desserts!
One of my favorite dinners prepared over a campfire are hobo dinners. Have you ever had one before? They are so easy to prepare, and they have everything inside for a full meal! You can fill the foil packets full of hamburger, potatoes, onions, ketchup and carrots!
Even though we no longer have our camper, we actually still camp. Well, let me rephrase that. My husband and our kids tent outside on our deck. I sit with them outside around the fire and then I go inside with the dogs! We decided that we didn't need all of the extra expense that it took to camp when we really could do it in our backyard!
When it comes to making camping memories, you don't need a big camper or a 5th wheel, all you need is a tent, sleeping bags/blankets, a fire pit or a charcoal grill. If you watch garage sales, you can normally find tents for a great deal. Also, consider hitting after season sales.  Many times you can find items that were "last season" to use the following year at fabulous deals!
Iff you have a deck or a back yard, just set the tent up there. You don't even have to leave your property. If you don't have a fire pit in your backyard, you can use your grill. It will still give you the cooked over an open fire taste!
When you are wanting to make camping memories with your family, all that really matters is that you are spending time together! Granted you may wake up with a stiff back, however, your kids will love the experience and will never forget it!
I've put together this yummy list of recipes that would be perfect for a campfire meal!
Meals:
Dessert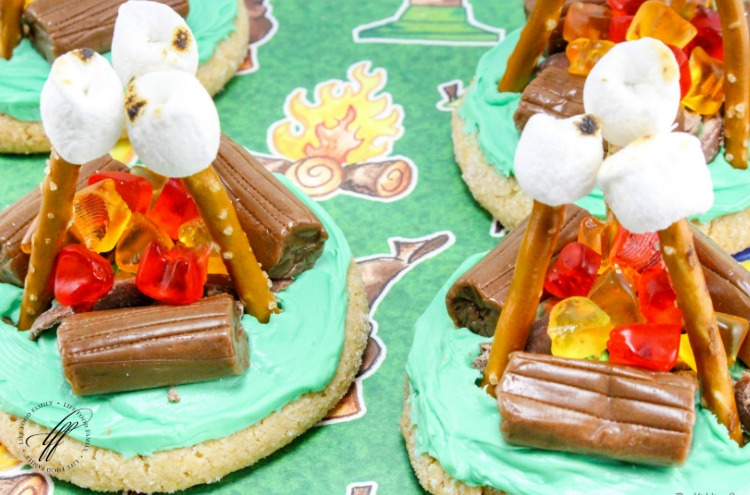 Dutch Oven Texas Peach Cobbler
Here are some really fun (unplugged) games that we love playing when we are camping! I think they will become favorites of your family as well!
*This game is such a hit with all of our family!  Even the grandparents love it!
Make sure you download this FREE Camping Scavenger Hunt Printable! This scavenger hunt will be great for the whole family to do together!
[maxbutton id="1″ ]
Have you ever went camping before? What is your favorite memory? What's your not so favorite memory?