Post contains affiliate links. Purchases made through links provide us with a small commission. As an Amazon Associate I earn from qualifying purchases. Please refer to our disclosure policy for more information.
Mango Raspberry Crepes complete with honey and goat cheese, are a yummy twist on traditional French crepes and are a delicious way to start the day!
How to Select a Mango:
To find a ripe mango, squeeze the fruit gently.
Color isn't always the best indicator of ripeness.
A ripe mango will be slightly soft like a peach or avocado.
How to Store Mangos:
Keep unripe mangos at room temperature.
Mangos shouldn't be refrigerated before they are ripe.
To speed up ripening, place mangos in a paper bag at room temperature.
Once ripe, mangos should be moved to the refrigerator, which will slow down the ripening process. Whole, ripe mangos may be stored for up to five days in the refrigerator.
Mangos may be peeled, cubed and placed in an airtight container in the freezer for up to six months.
How to Cut a Mango: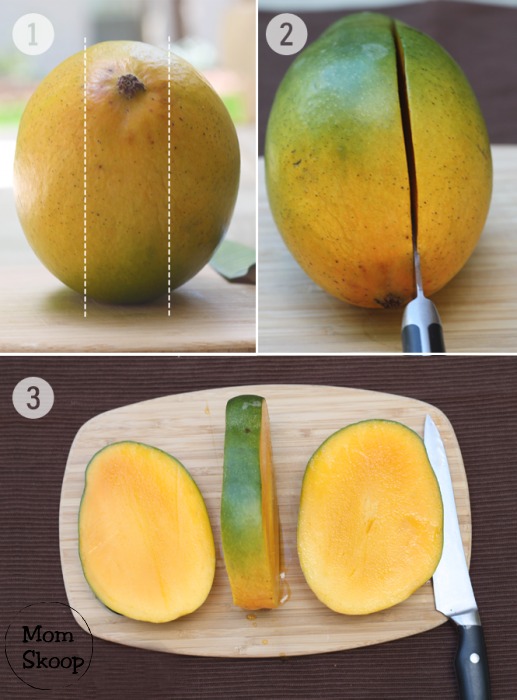 The mango stem is called the 'eye' – it's a marker for the mango's seed:
Stand the mango on your cutting board stem end facing you.
Place your knife about ¼-inch from the widest center line and cut down through the mango.
Flip the mango around and repeat this cut on the other side.
The resulting ovals of mango flesh are known as the "cheeks." What's left in the middle is mostly the mango seed.
Cut parallel slices into the mango flesh, being careful not to cut through the skin.
Scoop the mango slices out of the mango skin using a spoon.
You can also cut the remaining areas from the edge of the seed if the flesh is thick enough.
All the mangoes I've eaten and I never realized I was cutting them the wrong way. I struggled with that seed every single time. Now it takes seconds, less mess and the fruit isn't bruised from grasping it too firmly. The cubed portions happen to be perfect for our crepes.
Normally you would cook your crepes in a pan, swirling the batter to ensure it covers the entire area. But, I do love my griddle. The crepes aren't as perfect, but they do cook more evenly without sticking.
There are six different varieties of mango: Ataulfo, Francis, Haden, Keitt, Kent and Tommy Atkins. For this recipe I used Keitt mangoes. They are sweet and fruity – perfect for a dessert – but also one of the firmer varieties so it cubes well.
Busy preparing for a big dinner or special event? Mangos are a great prep-ahead fruit! Even after being cut, they won't lose their color, and the texture holds up extremely well.
Mango taste is tangy and sweet – but they aren't limited to only dessert or breakfast recipes. Try using them to replace tomatoes in your favorite dishes like salsa, caprese salad, kebabs or a crisp chicken panini.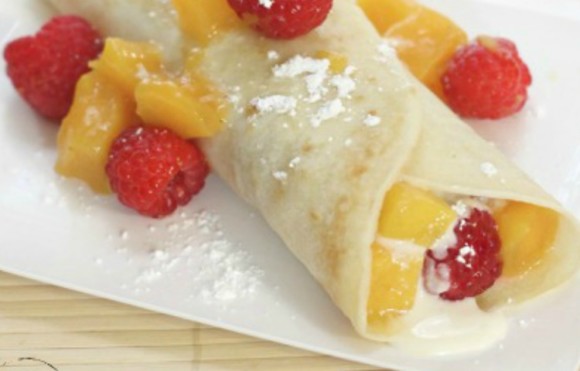 Mango Raspberry Crepes with Honey Goat Cheese #Mangover
2 Mangos – cubed (can use frozen (thaw first))
1 – 2 Pints Fresh Raspberries
1 Tsp Lime Juice
1/2 cup powdered sugar (optional)
Crepes
1 cup all purpose Flour
2 Eggs
1/2 cup Milk
1/2 cup Water
1/4 Tsp . Salt
2 Tbsp . Butter (melted)
Creme
4 oz Goat Cheese (softened at room temperature)
3 Tbsp Honey
3 Tbsp Heavy Cream
1/3 cup Marscapone (can substitute sour cream)
Creme
In a bowl, cream together goat cheese, heavy cream and honey until smooth
Fold in Marscapone until blended
Set in refrigerator until needed
Fruit Filling
Cube mangoes and toss with raspberries and lime juice
Set in Refrigerator
Crepes
In a bowl, whisk together flour and the eggs.
Slowly add milk and water. Stir until combined.
Add salt and butter, beat until blended.
Heat oiled griddle or frying pan on medium high.
Pour approximately 1/4 cup of batter onto the pan/griddle, careful to watch the spread until you have the size you desire.
If using a pan: Tilt in a circular motion so the batter covers the bottom of the pan.
Cook for approximately 2 – 3 minutes until the underside of the crepe is light brown.
Flip with a spatula and cook the reverse side.
Creating your Crepe
Place fruit mixture down the center of the crepe
Add Goat Cheese Creme
Roll the crepe and top with additional fruit and powdered sugar
Serve warm