Maple Corn Cakes with Chia & Berry Compote
Post contains affiliate links. Purchases made through links provide us with a small commission. As an Amazon Associate I earn from qualifying purchases. Please refer to our disclosure policy for more information.
Maple Corn Cakes with Chia and Berry Compote is a spin on the classic corn cake.
Typically served as a savory side, a touch of maple syrup brings a hint of sweetness. It's even better when topped with a fresh fruit compote.
It tastes like you're cheating by having dessert before breakfast.
As an adult, brunch now means even more. It can be family or it can be good friends catching up on their week.
You can find many cafes and restaurants offering a lavish brunch on the weekend in your neighborhood. But, I still prefer to create my own at home.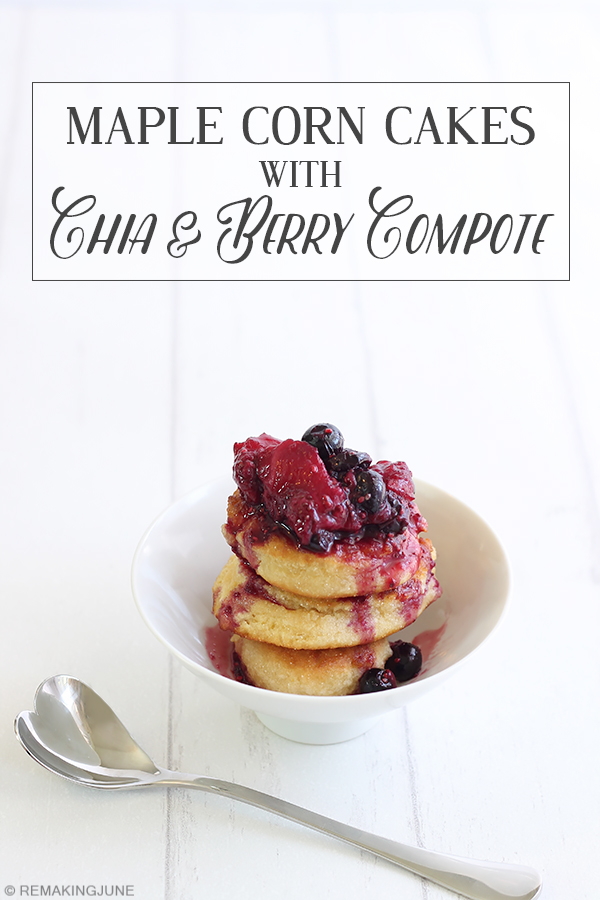 Cornmeal was always a staple in the homes I frequented as a child.
My mother, my grandmother and many generations back each had their own special recipes for how to use it.
The first scratch recipe I ever learned was sweet cornbread. It can be used for a wide variety of recipes for entrée, dessert and side dishes.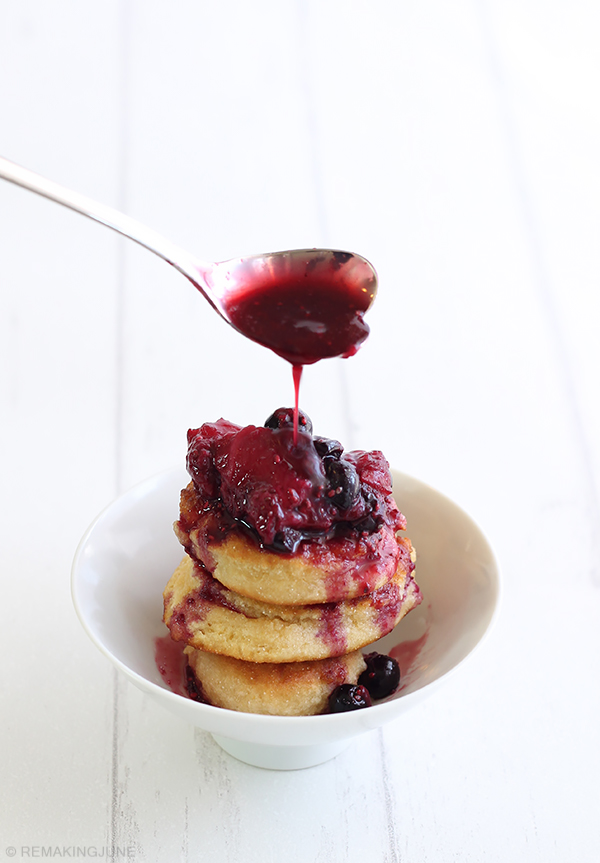 Maple Corn Cakes with Chia & Berry Compote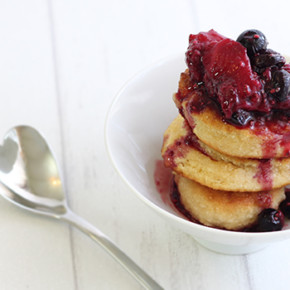 Maple Corn Cakes with Chia & Berry Compote
Ingredients
Corn Cake
1/3

cup

Cornmeal

1/3

cup

all-purpose flour

1/2

tsp

baking powder

1/3

cup

milk

2

tbsp

maple syrup

1

tbsp

sugar (*optional

to taste)

2

tbsp

canola or other cooking oil
Compote
1 1/2

cups

fresh or frozen strawberries

1 1/2

cup

fresh or frozen blueberries

*you can substitute any of your favorite fruits

1

tsp

sugar

1

tsp

Chia seeds

3

tbsp

orange juice
Instructions
Corn Cakes
In a large bowl, mix together cornmeal, baking powder, flour, milk, syrup, sugar and egg

Pour oil into skillet and heat on medium-high

Using a regular table spoon, scoop the corn batter and place into the hot oil

Wait 1 - 2 minutes to brown, then flip to brown the other side.

Remove and set on paper towels or rack to drain
Compote
Place all fruit and orange juice in a sauce pan on medium heat

Once it reaches a slow boil, reduce heat to medium-low and mash fruit with a wooden spoon

Continue cooking on medium-low for about 8 - 10 minutes

Mash fruit once more and remove from heat

Once cooled, stir in chia seeds

Serve over corn cakes
Substitution: The maple syrup in the corn cake mix can be swapped for 2 – 3 tablespoons of honey.
For the compote, the sky is the limit. You can choose any fresh or frozen fruit your family enjoys.
Apples, pears, peaches and more. Just make sure you peel any skinned fruits before cooking. And, of course, white sugar is always optional.
This recipe was received in conjunction with a paid promotion in 2015.