Nectar Sleep Memory Foam Mattress Unboxing Video & Review
Post contains Amazon Affiliate links. As an Amazon Associate I earn from qualifying purchases. Please refer to our disclosure policy for more information.
The holidays are a time when many of us are opening our homes to friends and family. What better time for a Nectar Sleep Memory Foam Mattress Unboxing!
Nectar Sleep Memory Foam Mattress Unboxing
You have company coming! While it's exciting – it also means you need to do some prep around the house. We're sharing our favorite tips for making the most of your visit + how a Nectar Sleep Memory Foam Mattress can make all the difference for your guests.
Tips To Make Overnight Guests Feel at Home
1. Keep Guests in Mind When Planning the Menu
It's easy to forget that not everyone loves your famous tater tot casserole. When planning out your menu for the time guests will be staying with you, find out if they have any allergies, preferences, or aversions.
---
2. Provide the Necessities + Some Extras
Everyone knows to provide towels, washcloths, and other things you don't pack when you travel. But, to make your guests feel extra comfy – try leaving slippers, aromatic bath supplies in their favorite scent, and a snack basket (so they don't have to lurk your kitchen for midnight munchies).
---
3. Don't Forget the Kids (or pets!)
Children love having activities to occupy them when they first arrive, so they don't feel so out of place. Providing a basket of fun items can help alleviate the stress of a new place. Pets can get their own basket too! Find out where the nearest playground and dog park are located as well.
---
4. Plan Special Activities
Your friends are coming to see YOU – so you don't have to plan a grand adventure to keep them occupied. However, there are plenty of things you can do to have fun together. Try driving around to view the holiday lights, find a local farmer's market to visit, or even a snowman building contest right in your backyard
---
5. Make Sure They Get a Good Night Sleep
I remember the first time my parents came to visit us in our new home. They were here for a week, and we had a great time. However, as we were saying our goodbyes at the airport, my mother informed me: "I love seeing you, but next time we're staying in a hotel."  Why? The guest bed. It was old and flat….and they'd barely slept a wink the entire time.
That's where Nectar Sleep comes to the rescue.
Rated #1 by reviewers and acknowledged as "the best mattress money can buy" by customers,
Nectar is a better bed at the best price.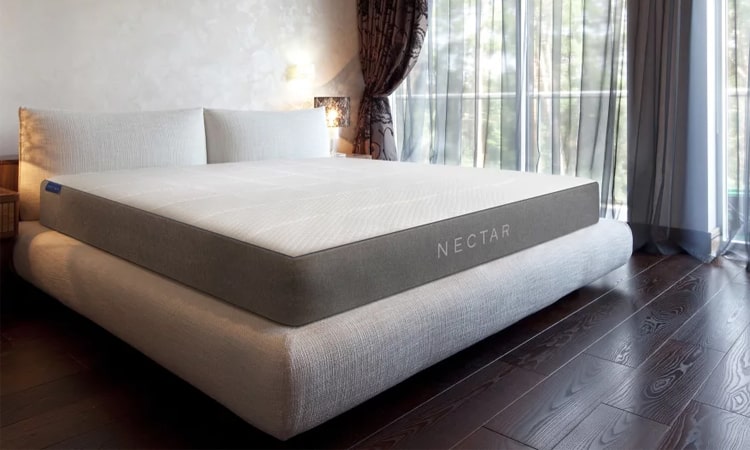 About the Mattresses
NECTAR is healthier to sleep on, firmer for support, softer for rest, and a touch bouncier than other premium memory foam mattresses.
Get the support of a firm mattress with the comfort of a pillow top.
The top layer of quilted memory foam stimulates air flow beneath the body, while the Tencel fabric wicks away heat.
Ok – but how does it REALLY perform? Can I unbox it by myself? Is it REALLY that easy?!
Check out my one-person Nectar Mattress unboxing…. or rather, "un-bagging". Because the Nectar mattress comes right to your doorstep in its own, compact duffle bag. And yes, it's really that easy. Check it out:
I was shocked at how quickly it was on the frame and expanding. I was sleeping on our new Nectar Sleep memory foam mattress that night with no wait. I've been camping out on it for the past 30 days and I am really impressed!
Easy to move & fast to set up
11″ thickness feels more like 18″ – it's like you're sleeping on a firm marshmallow. It's awesome!
No weird "sinking" feeling like with other, low-quality memory foam products
The instructions warn of possible odor, but I didn't experience any
Kept me cool during the last few warm nights, but didn't make me cold when the temperatures dropped – a perfect balance for all seasons
Click images to view larger >
Bye Bye Back Pain – I also got rid of some back pain I was experiencing. Our main bed is a traditional box spring with a foam topper. NOTHING compared to this experience! It cradles my back and hips, no matter what position I am in – preventing those morning aches and pains.
Prices start at $500. Price of mattress shown (Queen): $795
Think all memory foam products are created equal? Think again. Stop suffering through that thin foam top and find out about getting a truly restful, comfortable sleep with Nectar Sleep Memory Foam Mattresses.
This was a previously sponsored post in December 2017.