Post contains affiliate links. Purchases made through links provide us with a small commission. As an Amazon Associate I earn from qualifying purchases. Please refer to our disclosure policy for more information.
Pineapple, since the 17th century, has long been a symbol of hospitality and well-being, both the fruit along with décor and accessories.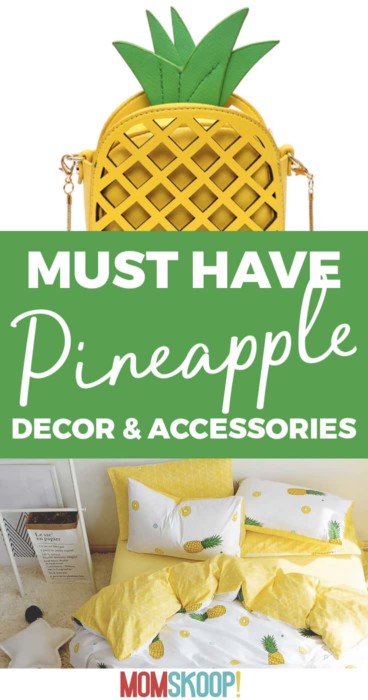 Any guest who was invited to a party where a whole pineapple was displayed, knew that no expense was spared in guaranteeing the guests' enjoyment.
It was this that made the crowned fruit the high symbol of social events and became the meaning of welcome, friendship, and hospitality. (Chef's Blade)
Now it's taken on even more pride, it's sweet interior matched with it's tough exterior becoming a symbol of similar personalities. "Be a pineapple: Stand tall, wear a crown, and be sweet on the inside."
No matter if you love admire them for their prickly outside or just enjoy the sight of this tropical fruit – these must have pineapple decor & accessories are sure to delight you.
Here are a few questions you may be asking yourself about pineapple.
WHY IS PINEAPPLE DÉCOR POPULAR?
This fruit has become a time-tested mainstay. Due to the rarity in Colonial times, it became a symbol of hospitality, status, and wealth.
WHAT IS THE PINEAPPLE A SYMBOL OF?
It is a symbol of welcome, friendship, and hospitality.
WHERE DID PINEAPPLE ORIGINATE FROM?
From what I have found doing research on pineapple; it has been stated that Christopher Columbus, while exploring Brazil and Paraguay, discovered pineapple in Guadeloupe in 1493. It was given the nickname of "pina" since it resembled a pinecone and then brought back to Spain.
Must Have Pineapple Decor & Accessories
"Stand Tall Darling" and "A Pineapple a Day" Set by Anne Tavoletti — bring a bit of tropical inspiration into your home or office with these 12×12 watercolor prints. Available in 8 different frame options.
hand-painted hinged trinket box / watercolor throw pillow cover / good day string sign / bookends / wine stopper / accent candle / mirror wall stickers
BuLuTu pineapple print duvet cover set — This 4 Corner Tie Queen Bedding Duvet Cover Set surrounds you in a fun, tropic paradise every night. 100% cotton, Wrinkle & Fade Resistant.
luau party pin set — an adorable set of enamel pins that help you celebrate a pineapple-ly sweet summer vibe all year long.
washi tape / gold pineapple storage boxes / pink pineapple binder / iPhone 7 gold pineapple case / fruit note cards / pineapple string lights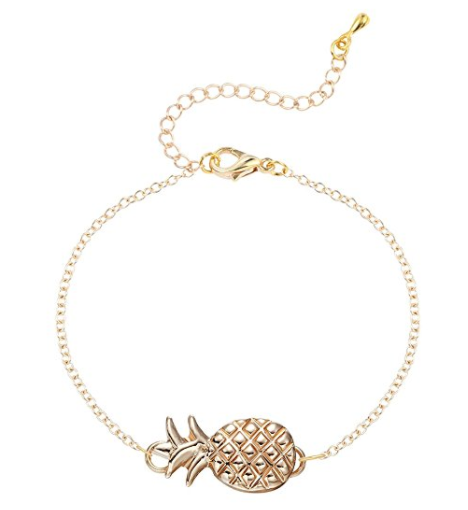 Dayone Adjustable Pineapple Bracelet — cute addition to any pineapple lover's outfit. Hypoallergenic, Nickel-free, Lead-free
MILATA pineapple clutch — this lightweight, pineapple clutch is perfectly sweet for cellphone, wallet, and more.
Of course since we are talking about Pineapple, we can't forget about yummy Pineapple recipes!
Dole Pineapple Downside Up Cake