Places to visit in California on the top of your bucket list? California is one of those states that offer everything from the mountains to the desert.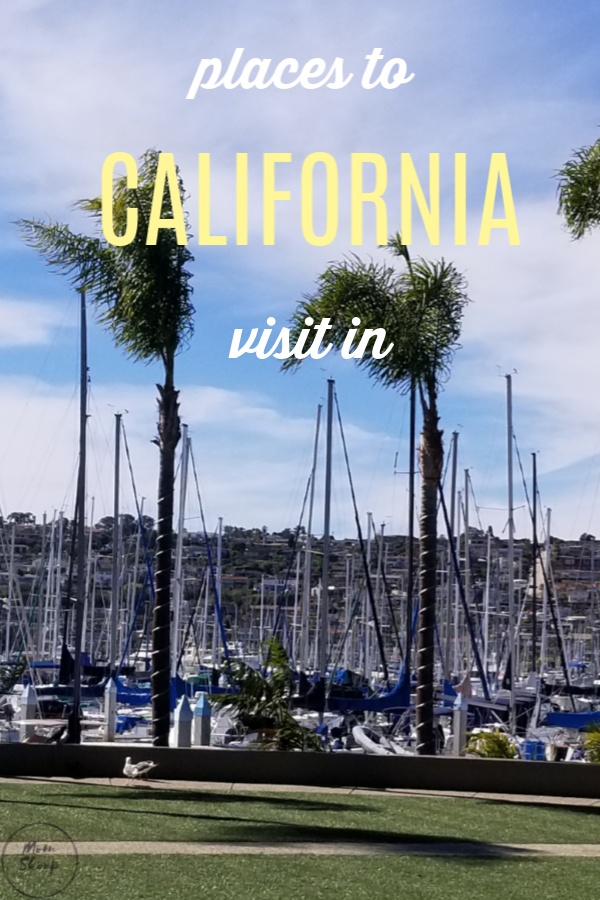 Unfortunately, you can't see all of California in one trip so tune your vacation to your interests or your dreams. See the big cities, or just one big city. Experience the wine country. Visit the mountains or the desert or the mountains and the desert.
Go for the sweeping wild vistas of Big Sur and add Carmel and the rest of the Monterey Peninsula, to enjoy the posh side of city life.
If you like lakes, enjoy the deep blue serenity of Tahoe or the funky backwaters of the delta.
Here are some suggetions for bucket list places to visit in California
Looking for places to visit California in December? How about

San Francisco?
Many people in the bay area still make a tradition of going to San Francisco to shop for the holidays. Many stores in the city are like no other, and pleasant holiday chores can be combined with a trip to the Opera House to see the Nutcracker or to Davies Hall or the Academy of Sciences to be part of the holiday crowd.
Stay atop Nob Hill, perhaps at the Mark Hopkins, or across the street from it at less costly accommodations like the Grosvenor Suites. They have the same gorgeous view!
Shop at Gumps, or at least look. This artful luxury store has been in San Francisco since 1861. Shreve's is another San Francisco tradition, a jeweler founded in 1852. San Francisco and surrounding cities are also a great destination for outlets of all sorts as well as cute boutiques.
San Francisco weather is good in December, it's the least foggy time of year. It can be cool, but it never snows. Cabs are plentiful, and public transit is excellent. San Francisco is also a great walking town, and your hotel can give you some tips about good places to explore, including flat strolls.
Looking for places to visit California in the Spring? How about the desert?
It is hard to say when the desert will bloom. Death Valley may be at its best in March, or the blooms may begin in mid-February or not peak until April. Furnace Creek Inn is a good base for poppy-peepers, but tent and RV camping are nearby as well. Without the riot of flowers, Death Valley is a place of solemn beauty, though I would not recommend it in July.
Riverside is in the desert, but no one would know it. This quaint town 50 miles east of L.A. has a gorgeous old hotel, the Mission Inn. It is a national monument, and a place where presidents have stayed. A charming example of Mission Revival architecture, it's an upscale getaway full of courtyards and history. Docent tours of the hotel are available.
Palm Springs is actually a quiet place and a great place to visit in California, except during spring break, when it can be a mob scene.
Palm Canyon is just one of the many scenic canyons near town, and there is also an aerial tram to the top of San Jacinto mountain. It's cold up there!
Looking for fun places to visit in California during the Fall? How about the Sierras?
Aspens among the firs around Lake Tahoe turn gold. The high mountain bowl is reflected in waters of the deepest blue. Fall is Tahoe's least crowded season, when families take the children back to school, and the skiers have not arrived yet.
Gambling is right across the Nevada border, with inexpensive lodging, nightlife, and food, but the huge Tahoe wilderness spreads out all around, waiting to be explored.
National Parks of the California mountains include famous Yosemite, stately Sequoia, and Lassen Volcanic. Lassen is the least crowded and the most remote. Yosemite is famous for its astonishing Valley.
The Ahwahnee is a grand old hotel there, but the many campsites of all these parks will get visitors closer to nature.
Looking for cool places to visit in California? How about visiting Carmel in the Summer?
Carmel describes itself as a village in a forest. Some visitors find it artsy, but many consider it the most beautiful place they have ever been. Most of the inns and B&Bs welcome pets cheerfully. Dogs run free, legally, on most of the beach. Shopping abounds downtown and on Carmel Valley Road.
Summer is when the Bach Festival happens, bringing artistes from around the world to perform in the churches, the Sunset Center and venerable Mission Carmel.
Monterey is next door with its aquarium and festivals. Pebble Beach has a famous golf tournament. South of all this is the huge sweep of Big Sur, running down the rocky coast to Hearst Castle at San Simeon.
Head over to the Carmel-by-the-Sea Visitor Center for more information.
Looking for places to visit in California during the Winter? How about Los Angeles?
It does rain in California, but only in winter. Even a rainy winter in LA can be full of fun though, with a trip to Avalon in the Channel Islands, to eccentric Venice Beach, or to tony Rodeo Drive. Los Angeles has great museums, and a stunning symphony hall.
Nearby attractions the kids will enjoy include Disneyland, Knott's Berry Farm, and Universal Studios. If you feel like venturing farther, take the train to San Diego and visit the zoo.
Southern California on your bucket list for places to visit in California? How about San Diego?
San Diego is an absolutely perfect place to visit!
One place I particularly love is Old Town. It is a perfect place to spend a day checking out the shops and dining at some of the most amazing authentic restaurants like Café Coyote y Cantina.
Everyone can find places to visit in California that will help them fulfill their bucket list.
Have you ever traveled to California? What are your favorite destinations?
*Photos are courtesy of Canva unless otherwise indicated.