PLANNING THE PERFECT BEACH VACATION
Post contains affiliate links. Purchases made through links provide us with a small commission. As an Amazon Associate I earn from qualifying purchases. Please refer to our disclosure policy for more information.
SPONSORED - This post was created in partnership with the brand mentioned below.
Planning the perfect beach vacation doesn't have to be an exhaustive effort making you long for a vacation before you are even ready to leave!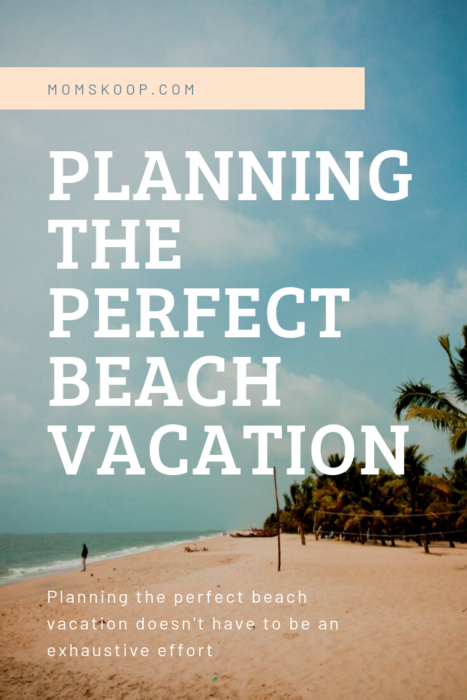 There are a few simple vacation planning strategies will not only ensure a problem-free family vacation to the beach but will let you leave the panic behind and enjoy the excitement that leads up to the first day of your vacation.
Planning a stress-free beach vacation starts with research even if you know your vacation destination.
HERE ARE A FEW TIPS THAT MAY JUST HELP MAKE PLANNING THE PERFECT BEACH VACATION A LITTLE EASIER:
RESEARCH YOUR DESTINATION AND/OR THE DESIRED DESTINATION
Whether you want to take a flight to an all-inclusive resort, travel to another country or go back to an old favorite closer to home, a little research is essential. If there are multiple beach destinations on your bucket list, go online and read up on each one. You might find that only one place still really interests you. It's better to spend your valuable vacation time in a place you'd love rather than on a bus visiting places you won't enjoy.
RESEARCH YOUR ACCOMMODATIONS WHEN PLANNING THE PERFECT BEACH VACATION
Do the same with accommodations making sure to pay close attention to the facilities.
The gorgeous beach resort may look great in the brochure but arriving at a hotel that you thought had a swimming pool only to discover it's a hot tub or worse doesn't have one. This is especially important if traveling to Europe.
If you travel to your favorite destination every year, like family-sized beach house that is right on the ocean, it's still worth researching as often there can be changes that you won't discover until you get there.
That affordable quaint resort may have been taken over by a 5-star hotel chain and prices have tripled or they could have taken away the family-friendly status and opened as just an adult-only destination. Make a call and ask a few questions before you go then there won't be any unpleasant surprises.
PLAN A BUDGET
Once you've decided on your destination look at how much the holiday will cost.
Include transfers to and from airports, a possible night or two at the airport hotel if the flight is delayed, laundry, taxi and or bus fares, telephone calls and tips.
Don't forget to add in food and drink as well as a daily spending amount for essential and non-essential items. I mean who can go on a beach trip and not spend any money!
One great way to save money while planning your beach getaway is to plan a day trip to a beach that is in close driving distance to your home. For a local trip, make sure you allow for gas and an emergency fund for break downs.
Once you've written all these down, you'll have a good idea of the actual cost of the basic trip.
You then have to add in any activities that you intend to do, so include the hire costs of any equipment, lesson fees and any other fees associated with the activity.
If traveling in a group, you should establish your budget and make sure that everyone in the party is aware of the cost. This prevents the unfortunate side to a holiday which is unnecessary arguments and the breakdown of friendships.
Budgeting early on also gives you an idea as to whether you can afford the beach trip or whether you'll be paying it off for the next year. If it works out to more than you can afford, don't give up but look into whether there's a better time to go.
When thinking about when would be a good time to go, definitely do rough estimates for each season where you will be going. Sometimes a week can make all the difference between peak season and shoulder season when prices drop as well as the crowds.
Sure, it may be cheaper to go in late August/early September, but is that during their rainy season? During their hurricane season? If either of those scenarios come into play, you may want to rethink the trip then. Sure, it may be cheaper but if you will be stuck inside your hotel or worse evacuating, is that want your memories of the trip to be of?
WHEN PLANNING THE PERFECT BEACH VACATION, THINK ABOUT WHAT YOU ARE GOING TO DO ABOUT MEALS
Eating in hotels can really add to your budget. One key thing we've always learned is that if we can find a hotel that offers either a free breakfast or a hotel chain like Drury that offers free breakfast or dinner, that really helps offset the cost of meals.
If you are going to staying in a beach house, then you will probably be preparing meals a lot in the kitchen. Make a grocery list using our Free Meal Planning Worksheet to help make writing out the grocery list a little easier.
Also, if you aren't driving and able to bring your groceries from home, considering using one of the grocery delivery options that are available in the area where you will be.
MUST-HAVES WHEN PLANNING THE PERFECT BEACH VACATION
One of our favorite trips to take is to the beach. My kids love having a day of fun in the sun. My oldest loves the beach and has often remarked that watching the waves come in is very soothing. I have to agree with her. There's just something about mesmerizing about it.
These are the items that we always bring to the beach that we have found, help make the day in the sand a little more enjoyable.
1. Beach Bag
A sturdy bag or two are definite beach must-haves. Find one that is not only sturdy but will be easy to get all of the sand out of.
I know there are many that swear by canvas but I am a fan of mesh beach bags. I like how they are super easy to get clean afterward. Have plenty of little holes to get the sand out and collapse pretty easily.
2. Small Utility Wagon
We do not personally have one of this, however, my sister-in-law does and it works great! They can load everything into the wagon and pull it to the beach. Unlike us who carry everything on their shoulders and back plus wrangle kids.
3. Cooler
This is another definite must, however, make sure to check the beach regulations to make sure they are allowed. We have a smaller one that we use that is sturdy and smaller in size.
4. Utensils/Picnic Basket/Paper Products
We do have an actual picnic basket, and it does work great, however lately we have been using reusable collapsible tote bags to carry all of our utensils, paper products, snacks, hand wipes, and small first aid kit.
Many of these bags have a great number of pockets, space, and fold up easily at the end of the day when they are empty.
I usually use a combination of these styles of bags.
IKEA bag – this is an amazing bag to always have in your vehicle! (Also you can buy these on Amazon!)
Reusable store bags – like the ones you get from Kroger, Meijer, etc.
ThirtyOne bags – I used to use these before.
5. Towels/Chairs/Umbrella/Sun Shade
We have two of the traditional style of beach chairs that we use and our kids normally use a beach blanket or several towels laying side by side.
We discovered a beach blanket by Tesalate this year that is absolutely amazing! It's quick-drying and the sand doesn't stick which is key! There is nothing worse than not being able to get the sand off of the blanket you decided to use.
Our beach umbrella is kind of a pain to take a long now that I have a smaller SUV. However, when we would take it with us, it did provide great shade. There are a lot of great options now for sun tents that are collapsible and seem to work great.
6. SunScreen/Coverups
A good, reliable sunscreen is also another beach must-have. I usually have a variety of 50+, 75+ as well as a couple for our faces. Remember to read the instructions to make sure you are reapplying as needed.
I have a straw hat I wear when I'm outside as does my husband since I don't get in the water as much as my family does. I like keeping as much covered on my face as possible.
One thing I've learned is always a great idea are clothing that has SPF built into the fabric. Products like from Sunshine State Goods are wonderful to have on hand! They help keep you cool, protect you from harmful rays protecting up to UPF +50, and they work great as a coverup. Add on a pair of shorts and one of these shirts over your suit and you are good to go.
7. Other Essentials
Travel bags! I use bags like these by to put snacks in or to use to keep dry clothes in. I also use disposable bags to keep extra small trash bags in, baby wipes in, and have also used them to put our phones in so they don't get wet.
Early I mentioned having a small first aid kit available. I have a small case I use to carry all of those essentials in, however, I also use disposable bags to keep things like tummy meds, like those by TummyDrops, a small bottle of Motrin, a detangling hairbrush, like this one by Head Kandy, and a few extra "supplies" in case an expected visit from Aunt Flo happens.
Bottles of water, snacks that won't melt, fresh fruit trays and veggie trays are always fantastic snack ideas when you are heading to the beach!
8. Games/Toys
If the beach allows inflatable tubes, then these by Coconut Floats are a must! They look great in the water and makes your kids easy to spot.
It's also a great idea to bring along a card game or two in case the kids need a break from the water.
Don't forget a sand bucket and sand toys! The kids love creating sculptures and playing in the sand.
Remember that the success of planning the perfect beach vacation BEFORE you are even actually ready to go to the beach!
Bon Voyage!