Post contains Amazon affiliate links.As an Amazon Associate I earn from qualifying purchases. Please refer to our disclosure policy for more information.
Imagine never having to lather yourself down in lotion again. With Simple Sugars Skincare Line – that extra bottle can be a thing of the past.
My Story
Hi, my name is Kenda and I have eczema. (crowd: Hiiiii Kenda) Yes, it's true. As much time as I spend scrubbing, moisturizing, and caring for my skin – I still suffer from painful, dry, flaky skin in certain areas like my face, knees and especially my elbows. My seven year old will touch my elbow and say "Momma… eww why are you so scratchy?! What's wrong with your skin?" Ugh. I've tried everything. Products either don't work, don't work long enough, or some even BURN when I put them on. No thank you!
When Simple Sugars contacted me and asked if I knew anyone who could benefit from an all-natural skincare line that could tackle dry, damaged skin in one step, without using lotion – boy, was I ready. I was a little skeptical, I admit. After all, I'd been trying for years.
The results from Simple Sugars blew my mind.
Keep reading to see my dramatic before and after!
Simple Sugars is so much more than just a "sugar scrub". It's an all-in-one, all-natural skincare line for face, body, and feet – specially formulated for people (like me) who deal with sensitive skin issues. They use only the finest, purest, natural ingredients. Extra bonus: They smell awesome too! The Eucalyptus is like a breath of fresh air, and the peppermint Happy Feet scrub is so invigorating.
No Lotion? Are you serious?!
I'm 100% serious. Simple Sugars scrubs not only cleanse and gently exfoliate – they also thoroughly moisturize at the same time with natural, powerful extracts and oils like emu, apricot, grapeseed, jojoba, and more. After using Simple Sugars, your skin feels silky smooth but not greasy.
#GoNoLo = Go No Lotion!
Say goodbye to the extra moisturizing steps and constant maintenance. Say hello to soft skin in just one step.
MY SIMPLE SUGARS BEFORE AND AFTER!
Does it all sound too good to be true? Maybe you're thinking, "No way. You don't realize how dry my skin is!" Or, maybe you've seen too many products make the same claims, only to fail you.
Simple Sugars is different. Take a look…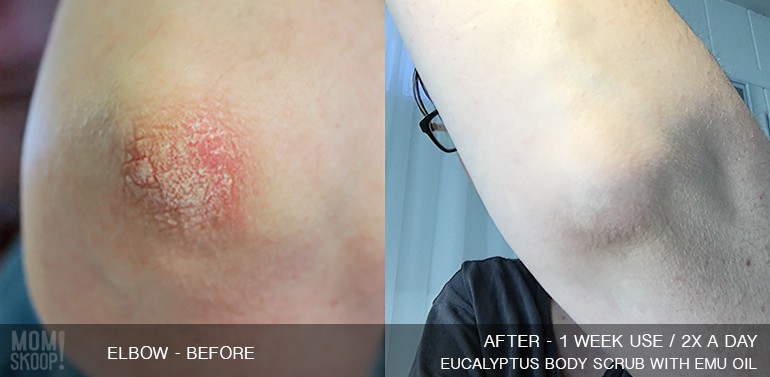 Impressed yet? That lovely elbow before picture is …was… my eczema*. I've tried so many different things, from steroid cream to expensive eczema lotions. Even the few that helped a little bit had to be applied 4-5 times throughout the day, it still took a month or more to see any results, and if I missed a day? Forget it. I might as well start all over again because the moisturizing didn't "stick".
Simple Sugars corrected the redness, dry flaky skin, and irritation of my eczema in just one week.
Confession: I even forgot one day. Oops! But, my elbow didn't dry out again, still benefiting from all the moisturizing ingredients in Simple Sugars.
Why is this so different? The moisturizing power that Simple Sugars provides is extremely beneficial in keeping eczema symptoms at bay. Eczema sufferers need products, like Simple Sugars, that don't contain harsh or aggravating ingredients like chemical preservatives or phthalate-containing fragrances. It can be beneficial to try something natural and non-systemic like Simple Sugars before resorting to a medication that you ingest or absorb topically.
Ready to take control of your skin and #GoNoLo with Simple Sugars?
Don't Forget Your Simple Sugars Flip-top Lids!
Tip: Using a moisturizing scrub while in the tub or shower can be…slippery. Thankfully, I had some of the Simple Sugars flip-top lids. Easy open. Easy close. No wasted product.
*Simple Sugars cannot and does not make any claims about the benefits or potential benefits their scrubs may have for those with a medical condition like eczema or psoriasis since their products have not been studied in randomized clinical trials for the treatment of these conditions. They do not, in any way, guarantee results. Information is based on personal experience only.