So Chic Collective Holiday Gift Guide
Post contains affiliate links. Purchases made through links provide us with a small commission. As an Amazon Associate I earn from qualifying purchases. Please refer to our disclosure policy for more information.
SPONSORED - This post was created in partnership with the brand mentioned below.
Welcome to the So Chic Collective Holiday Gift Guide! We have carefully curated lists featuring the best holiday gifts that are out there this season so you can just sit back, relax, and shop online!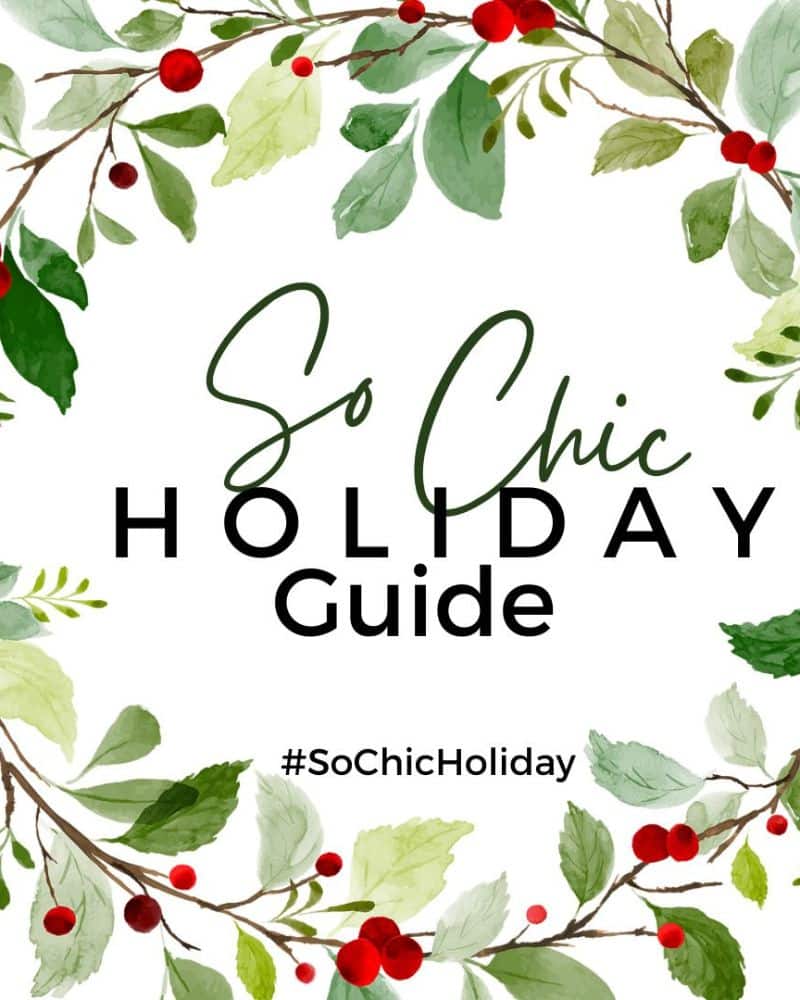 Stay tuned as we will be continuing to update this post!
Holiday Giveaways
Newair Shadow Series Wine Cooler Refrigerator
One winner will receive a Newair Shadow Series Wine Cooler Refrigerator (RV $718). Open to U.S. residents of the 48 contiguous United States. You must be 18 years old to enter to win. This giveaway ends at 11:59 PM EST on 12.2.22. See below for terms and conditions.
Christmas Forest has Forest fresh wreaths handcrafted in the foothills of the Cascade Mountains. We have shipped thousands of gorgeous Christmas wreaths since 1976. Please everyone on your gift list with a Christmas Forest wreath.
Giveaway Details:
Prize: 2 Jingle Bells Wreaths with brass hangers and lights. ($152 value)
Open T0 US Residents
Ends Friday 11/11/2022 at 11:59pm EST
Kroma Wellness Giveaway
One winner will receive a Kroma Limited Edition Deluxe 5-Day Reset (RV $495). Open to U.S. residents of the 48 contiguous United States. You must be 18 years old to enter to win. This giveaway ends at 11:59 PM EST on 11.18.22. See below for terms and conditions.
This giveaway is sponsored by Strong Selfie. All opinions are my own.
Are you looking for the perfect gift for a tween or teen girl? STRONG Selfie is a great gift idea they will love!
STRONG Selfie
has 2 monthly subscription boxes to pick from. You can get a box that has products in it for tweens (7-12-year-olds) or teens (13 -17-year-olds). Each box has 3-5 age-appropriate lifestyle products. The box also includes a trendy, collectible wall art card to decorate with. Read all about what was
included in the teen STRONG Selfie Box
. Gifting good vibes and positivity to tween and teen girls with their monthly subscriptions and gift boxes!
Choose your gift box – Pick the perfect age group!
Delivered to Her Door – Her gift box will be delivered to her doorstep (super fast!) bursting with positivity and fun!
She knows You Care – Make a positive impact in your girl's life. All their boxes have uplifting and positive messages that help her know, "I'm Enough."
Give her something to look forward to each month!
They have other options that you can purchase this holiday season. Make sure you check out their
bundles, gift boxes, and more
!
Giveaway Details:
Open To US & Canada Residents
Giveaway Ends 11/27/2022 11:59pm EST
Prize: One lucky reader is going to win a Dream Boldly Gift Box! This is the ultimate gift for girls ages 8-12.
This box includes (Click here for all the details):
Star Blanket
Star Cozy Socks
Moon-Shaped Dream Catcher
Fortune Bath Bomb
Shine Bright Star Bracelet
"Diamond Heist" 10X Shine Lip Gloss from Petite N Pretty
2 Vinyl Stickers
2 Confidence Cards
Personalized gift card of your choice
Featured Gifts
These companies are the featured brands in our guide. Once you check out this list, you may definitely find a thing or two for everyone on your list!
Top Gifts for the Holidays
These top gifts work for anyone on your list! Mom, Dad, spouse, kids, or just your favorite people in life!
Bonfire + Stand 2.0 The fire pit built for the backyard and beyond. Easily light up smokeless fires anywhere life takes you and protect your surfaces as you create lasting memories. Mesa
Bring warmth to the table. Mesa is the tabletop fire pit made to elevate your space's aesthetic. With Dual Fuel capability and Signature 360° Airflow, anyone can easily ignite and enjoy a smokeless fire. About Solo Stove: Create good; Solo Stove is driven by this mantra. Their fire pits, camp stoves, pizza oven, grill, and accessories are designed to help you get in touch with whatever is "good" for you. Whether it's a primal moment in awe of a smokeless flame, the moment right after you've taken a hot sip of coffee in the mountains, the gratification of sharing a handcrafted artisan pizza, or your kid's face when they bite into a delicious s'more. Good moments. Good memories. Good products. So, you can create a good life. Code: NTM10
Photo Credit: beanproducts.com
Give the comfortable pillow that conforms to head and neck contours. Finally experience proper neck support to reduce tension, headaches, neck pain, sweating, snoring and ear pain for side sleepers and your proper cervical curve for back sleepers. Side sleepers can create their personal neck and head support for perfect parallel spine alignment and dig a hole for your ear for zero pressure.
buckwheat hulls are firmer and lock together
reversible multi-grain combo with millet hulls for the top section and buckwheat hulls for the bottom foundation for a unique fully reversible pillow ...pick your side, choose your grain.
Photo Credit: liveouter.com
Outer's all-weather designs make their furniture perfect all year long! Their patented waterproof and UV-resistant OuterShell® protects your furniture from the elements including dirt, debris, rain, and frost. The OuterShell is connected via a zipper to the cushions and can be easily rolled up behind them or rolled forward to protect them. Enjoy the comfort of the indoors - but outside. Multi-layer memory foam cushions create the feel of luxury and comfort while you're outdoors! Best of all, the cushion covers are machine-washable and stain and water-resistant which makes cleaning them a breeze. Get the look of traditional wicker with Outer's wicker frames made of recycled materials! They're extremely durable and they are secured with their inner frame which is made of high-strength aluminum-magnesium alloy that is powder-coated. Every chair can support up to 400 lbs. Lastly, the legs are made of polished stainless steel - making them rust-proof! Get 25% OFF with code PRETTYLOVEDOUTER !! Purchase your Outer furniture here : https://outer.pxf.io/c/1811396/1464695/17268
Photo Credit: www.visiontek.com
VTK Audio XL V2 Bluetooth Speaker
The VisionTek VTK Audio XL V2 brings powerful sound and portability together in a contemporary design, perfect for any location.
Bluetooth 5.0

Hands-Free Capabilities

7+ hours playing time

Waterproof IPX7

NFC

TWS stereo sound
Photo Credit: magiclinen.com
Refresh the look of your bed with this linen bedding set featuring a duvet cover and two regular-style pillowcases. Made from 100% European flax and stone washed for maximum softness. These linen duvets are made from wide fabric and do not feature any additional seams in the middle. You can also choose standard, queen, or king pillowcases for your bedding set. Available in 20 colors.
Photo Credit: www.smartwool.com
This 3D-knit provides best-in-class fit and weather-protecting performance to help keep you comfortable and confident no matter the conditions. Insulation, articulation, and ventilation are seamlessly integrated to amplify movement and comfort during high-intensity activities. Athletic fit is body-skimming, enhancing the body in motion. Features a warmth zone at the upper arm, two secure zippered pockets, and thumbholes at cuffs to keep sleeves in place and hands warm.
Available at Smartwool.com. MSRP $200 
Best Gifts for Women
If you are looking for a gift for the woman and women in your life that will remind you of them time and time again, then take a minute to look at these fun gift ideas for women!
Best Stocking Stuffers
Looking for stocking stuffer ideas that are outside of the box? Well don't worry, we have you covered!
Do you or someone in your family suffer from migraines? If so, then you know all too well how debilitating they are. That's why this drug-free approach to migraines would make a great stocking stuffer!
CEFALY is the first FDA Cleared device of its kind for the treatment of migraine headaches. It is a comfortable, drug-free, approach to help relieve pain and decrease the number of migraine days. In technical terms, it is an external trigeminal nerve stimulator, which is a non-invasive device placed on the head to stimulate and desensitize the Trigeminal nerve.
Photo Credit: https://shareasale.com/r.cfm?b=1992121&u=336414&m=123595&urllink=&afftrack=
America's Family Favorite Shaved Ice Pack is perfect for the whole family. A staple to enjoy during the warmer months and a new tradition to start at your holiday gatherings.
Receive a HomePro Shaved Ice Machine [S777], 3 Pints of Shaved Ice syrup (16oz each) - Pina Colada, Cherry, & Blue Cotton Candy, three bottle pourers, 5 Ice Molds with lids, and a 1-year manufacturer's warranty.
The Oral-B iO toothbrush is revolutionary. It uses A.I. to recognize your brushing style and helps you to get the best clean you can get. A smart pressure sensor helps you know how much pressure you're applying so that your gums and teeth are protected. The Oral-B iO toothbrush has 6 smart modes: daily clean, intense, whitening, gum care, sensitive, and super sensitive which makes it perfect for everyone. The brush comes with 3 brush heads, a premium travel case, and a magnetic charger. It comes in several colors and can be used with an app. Purchase here: spr.ly/KristinPedeniOLink
Christmas Gifts for Kids
If you have a little one on your list, then you know how important it is to get that number one gift on their list right away so that you aren't running around store to store trying to find it a few days before Christmas! Even if your littles are too young to tell you want, they want, I know our list will definitely have a few gifts they will love!
Explore the great outdoors with this play camper. The Adventure Camper is loaded with engaging pretend play activities, perfect for social development. Featuring a molded-in kitchen area with large sink, stovetop with clicker knobs, and plenty of storage space. Other realistic features include a skylight, doorbell and decorative wheel.
Calling all superheroes! In Super Wiggles, your friendly neighborhood Wiggles — Anthony, Lachy, Simon and the new Yellow Wiggle Tsehay — have joined forces with the Fruit Salad TV Wiggles — Evie, Kelly, Caterina, and John — to celebrate the everyday heroes in our community, with a new album of 22 original songs, Super Wiggles.
The Wiggles, who are touring Canada this fall and will be coming to the U.S. in 2023, continue to thrill their millions of fans of all ages and persuasions with their irresistible music and performance style.
The album has received awards, critical acclaim, and international radio play this year.
Photo Credit: www.thepencilgrip.com
Tired of the endless mess of painting? Fear not! Kwik Stix Tempera Paint sticks take the mess out of painting while keeping all the fun! Simply uncap, twist and paint! Kwik Stix have a fast-drying formula that allows them to dry in 90 seconds while still leaving a paint-like finish! No cups, smocks, water, or brushes are required. Kwik Stix comes in assorted vibrant colors with coverage that won't crack. Great on poster paper, cardboard, wood, and canvas.
Photo Credit: www.simplyfun.com
SimplyFun has always had a passion for playtime. Starting in 2004, we developed traditional board games and saw the joyful effect they had on children.
Since then, it's been their mission to help children at every skill level develop their unique gifts using the power of play.
Their games are educational yet fun to play and help kids unplug.
MONTESSORI TOYS FOR PRESCHOOLERS: Montessori is an educational method that is based on self-directed activity, hands-on learning, and collaborative play. The Teach My busy board is a perfect Montessori toy for toddlers.
Montessori busy boards can teach your child how to dress, strengthen hand-eye coordination, and develop problem-solving skills through play. The busy board is a sensory toy to help kids learn basic fine motor skills. Perfectly designed as a handbag, making it easy to carry and the perfect gift. The busy board is a great holiday gift.
Photo Credit: feltmanbrothers.com
Feltman Brothers heirloom doll with a matching holiday outfit so your little one and her friend can shine in their matching outfits. The Feltman Brothers hand embroidered holiday loungewear collection pays tribute to a long standing tradition that many families share, choosing and bringing home the Christmas tree. Perfect for opening gifts under the tree, holiday photoshoots and creating special family memories.
Since 1916, Feltman Brothers has been providing the world with timeless, authentic clothing for little ones in classic tradition using hand embroidery and hand detailing. Feltman Brothers' use of hand detailing is a skilled craft and trade, one that Philippine mothers pass down to their daughters, working on machines that are almost 100 years old. This long-standing tradition provides fulfilling work for this Philippine community of mothers.
Best Gifts for Men
If you have a man in your life, then you know how hard it is to buy for them. They usually buy what they want throughout the year, however, you don't want to leave them out during the holidays.
Photo Credit: www.groovyguygifts.com
MONOGRAMMED WEEKENDER BAGS; Groovy Guy Gifts; A monograming a bag is a thoughtful and creative way to personalize an item that your loved one will love. Personalized messenger bags are the perfect holiday gift for any occasion, whether it's a birthday, anniversary, or Valentine's Day! A monogrammed messenger bag is the perfect gift for anyone who likes to be stylish and organized. These bags come in a variety of colors and styles, so you can find one that suits the recipient's taste. You can also choose to have the bag personalized with a name or initials.
Monogrammed messenger bags are not only stylish, but they're also practical. They're roomy enough to hold all of the essentials, and they have a number of pockets and compartments to keep everything organized. The straps are adjustable, so the bag can be worn over the shoulder or across the body.
Doggy Christmas Gifts
If you have a fur baby at home, then you know you must have goodies for them under the tree too! Our pets are like our children and bring so much joy to our homes, so they need to be spoiled during the holidays too!
Photo Credit: wildearth.com
Wild Earth's mission is simple: Dog food made better - especially for our furry friends with digestive issues, itchiness, and more.
There's no denying the harmful chemicals and ingredients found in dog food. The dog food industry isn't doing right by the animals we love and the planet we share with them. The fact is that there's an unhealthy meat dependency on pet food. Most of the time, meat in your pet food means: Bad ingredients. Bad practices. And bad health. This means bad news for pets, and pet parents, which can lead to health issues, increased visits to the vet and so much more.
Gifts for Cooks
If you have a cook or baker on your list, you know you have to find something right for them. Many times, these folks are the ones providing the delicious meals for your family. We've complied a fun gifts for list that I think you will enjoy.
What is the So Chic Collective?
We are a group of 10 influential bloggers that are sharing the best gifts this holiday. Our collective experience has worked together to highlight some amazing brands. The perfect gift will be easy to find in this collection of gift ideas.