STOCKING STUFFERS UNDER $10 | 2017 Holiday Gift Guide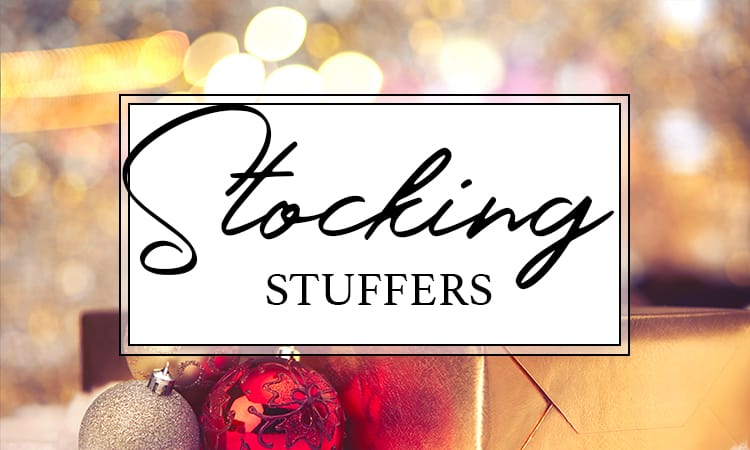 this post contains affiliate links
A little something goes a long way! Check out these awesome "stocking stuffer" gifts under $10. Perfect for gift bags, office exchange, teachers, neighbors and more.
1. Maleden Leather Writing Journal – No lined feature, you can draw mind maps, sketch ideas or write notes freely on the page.Perfectly work as writing journal, drawing pad, scetch book, travelers notebook, diary planner, coupon organizer, photo album and so on.
2. Burt's Bees Essential Travel Gift Set – Pamper from head to toe with this giftable set including 5 travel size Burt's Bees favorites: Soap Bark and Chamomile Deep Cleansing Cream, Hand Salve, Milk & Honey Body Lotion, Coconut Foot Cream and Beeswax Lip Balm
3. Bring Me Wine knitted socks – All the words are stitched directly into the socks instead of an iron-on transfer, so it won't peel off. Novelty socks that will make your friends giggle, here you go!
4 .Lightweight Tassled Scarf – Perfect for drinks around the fire or a nice ice skating in the city. The material is slightly sheer and super soft.
5. Unicorn Drawstring Backpack – This adorable bag works great for items like your laptop, phone, and snacks while you're on the go. You could also use it for a gym bag or to carry a change of clothes and toiletries on a short overnight.
6. Cotton Candy Bath Bomb – Handmade! Bring back your childhood with a delicious cotton candy bath bomb. Carnival cotton candy isn't just for kids anymore — we can enjoy it as adults as well. Drop one of these sweet bath bombs in the tub and sit back and remanence about the good old days. Each bath melt weighs approximately 5 oz. or 8 oz. each.
7. Miayon Countryside Cosmetic or Pencil Bags – This set of 3 zippered cloth bags is perfect for stashing cosmetics in your purse or overnight bag. You can also use them for pencils, cell phone protection, or misc. items when you travel.
Tags :
holiday gift guide
stocking stuffers