Stylish LG Matte Black Kitchen Appliances at Best Buy!
SPONSORED - This post was created in partnership with the brand mentioned below.
Stylish LG Matte Black Kitchen Appliances are available now at your local Best Buy! This sleek new trend in appliances is all of the rage right now!
We have been in our home now for eight years and I am starting to get the bug that we need a renovation! (Just don't tell my husband LOL)! And believe me when I say seeing these stylish LG Matte Black Kitchen Appliances isn't helping at all!!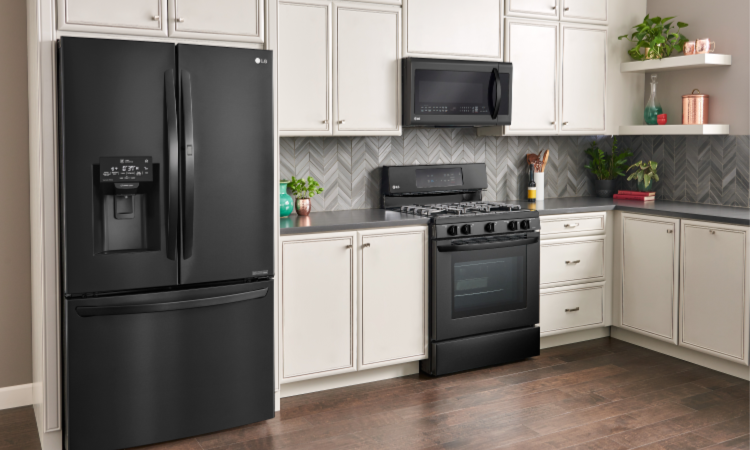 What do you think of the kitchen above? Isn't it gorgeous?? This exclusive Matte Black stainless steel, by LG, combines the timeless look of stainless steel with a luxe & low-gloss matte finish that compliments any kitchen décor!
Could you see these stylish kitchen appliances in your home?
I am one of those people who love to put food in the oven, set the timer, and then head off to start the after school activity drop offs/pick ups. The only "problem" with doing this is that the timer on the stove keeps beeping after the time is up. So even if I'm 10/15/20 minutes past that, the timer is STILL keeping that it's done. I feel so bad for our dogs! They must really loathe that oven! That is why I am thinking this new LG Self-Clean Slide In Double Oven would be a dream!
Plus with all of the space a double oven would provide, it would make the holiday food prep so much easier AND time efficient!
And, let's be honest, we are always using our electronics right? The fact that these appliances are wi-fi and voice-enabled is amazing!! To be able to check things when you are out and about would be fabulous!
Oh and the best part about these new appliances is their money saving deal!! Right now you can save up to $350 on LG kitchen appliances! You know that type of savings makes it so much better!
Imagine all of the envy that your family would have when they walk into your new kitchen full of these stylish LG Matte Black Kitchen appliances! You know they will be green with envy!
Ready to upgrade your kitchen? Head over to Best Buy so you can check out these new appliances! You will be able to act like a child in a toy store! You will want to touch, play, test buttons, pull out drawers and of course you will be day dreaming for the day that the Best Buy delivery truck pulls into your drive with your new appliances!