*This is a sponsored post.  We were hosted by Lakeside Chautauqua for a day trip.  Please refer to our disclosure policy. *This article was originally posted on August 1, 2017.  Since we are moving it to our new site, we gave it a new date of June 30, 2018.
Growing up I would day dream while reading about families who enjoyed their Summers at their "Summer Home".  I could see the quaint homes nestled on the beach with the water lapping at the sand, the white porch curtains gently blowing in the breeze.  Windchimes quietly talking, families enjoying lemonade while sitting on the front porch swings.
Did you ever dream about or imagine yourself at a Summer home?  I did.
Growing up in a small town in the Midwest, it was actually easy to do.  Since we didn't have internet in the dark ages we spent lots of time reading books. Hours are spent watching the kids play in the water, enjoying a meal outside on the veranda, evenings are spent sitting on the swing, while cool breezes sweep across the porch.  Not watching the clock just unplugging and relaxing is what I've always imagined a Summer home would be like.
Not long after we got married, in a way we had a home at the lake as we had a seasonal lot at a campground so in a way it would be like having a Summer home.   Don't get me wrong, having a seasonal lot at the campground was fun, deep down, I still wanted an actual Summer home with a beach, a big front porch and a swing. Watching golf carts go whizzing by and having the campground full of the "weekend warriors" who were partying until late at night wasn't my idea of a relaxing getaway.
I finally regaled myself that I would never get to experience such a thing unless we moved to the east coast.  Unfortunately moving to the Hamptons or to Maine just isn't in the cards for us.
Earlier this year we learned about Lakeside  for the first time and I admit I was very intrigued.
Before we got to Lakeside Chautauqua, we wondered would it be like the quaint beach front community I had always dreamed of?  Would there be a fun place to sit and watch the kids playing? Would there be bicycle parades?  A cute ice cream shop?  Would it be a secured gated community? Would it be easy to unplug and just relax?
As we arrived to the front gates, we were like, ok, it's gated so that's one check off of the list.  As we drove closer into the community, we saw the older homes, narrow streets, people on bicycles and then we looked at each other and realized this was definitely what I had always dreamed a Summer house community on the lake would be like!
Lakeside Chautauqua, was founded more than 140 years ago.  The historic community offers a plethora of opportunities for the whole family!  There are cultural arts, recreational activities, swimming, a beach, spiritual opportunities, and educational lectures.
Since the community was founded such a long time ago, parking is at a bare minimum.  You will find that it's easier to park and walk.  There are also golf carts that will take you to different locations throughout the community.  The homes throughout Lakeside Chautauqua are as I imagined they would be!  Very old, historical and full of charm.
If you enjoy recreational activities, those are in abundance!  You can find crafts, horseshoes, mini golf, and swimming (both at the beach and at a pool).
If you are looking for accommodations there are a few options.  You can stay at the Fountain Inn, there are homes you can rent, or you can stay at Hotel Lakeside.  We had reservations in Port Clinton, however, the time next we are at Lakeside, I plan on staying at Hotel Lakeside!  You feel like you are literally stepping back in time as soon as you walk into the hotel!  From the décor, the food, the screened in side porch, even down to the fact there are no straws in the restaurant.
This is a view from the screened in porch.  It had started to rain when we were sitting in there, however, you can still see how calm and relaxing the view is of the lake.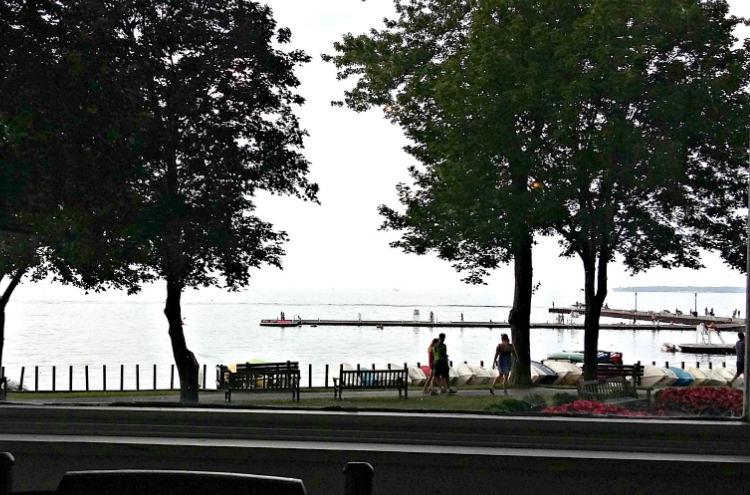 If you are looking for a fun adventure that will make you want to unplug, relax, and just enjoy your surrounds, you don't have to go any further then to Lakeside Chautauqua Ohio!  I think you will be pleasantly surprised.  Some of the things that await for you at Lakeside Chautauqua besides activities are a lot of small shops, which by the way, they have THE best Ohio State Buckeye souvenir shop that is a must stop for all Buckeye fans!
One thing that you will NOT find in this historical gated community are bars.  There are no alcohol establishments in the community.