Things We Love This Month : July Edition
It's another month of summer and that means another month of awesome things we've found just for you! We're looking at ultimate comfort and warm weather treats!
Things We Love This Month: July Edition
1. NOT VODKA – WATER BOTTLES FOR CHARITY
Toss out that old, boring water bottle. It's time for a change! NOT VODKA offers an ever expanding line of water bottles that help you express your individuality while also helping a great cause. Every bottle comes with an opportunity to donate $1 to one of their different and unique non-profits dedicated to efforts centered around water.
They're not only cute, but they're fantastic at keeping your cold drinks chilled on the beach! These bullet bottles will keep water cold for 30hrs and hot for 12hrs with 8/8 double-walled stainless steel that is Non-toxic, non-leaching and BPA free.
"I have the pink glitter bottle & I don't go anywhere without it!" – Kenda
Inspire Individuality. Give Generously. Help Hydrate Humanity. The Not Vodka mission is simple: Build a socially-conscious generation of young people who END the global water crisis. They do this by educating students about it and activating them to rock the clean water cause & build real water projects all over the world.
By Women, For Women, Naturally.  SweetSpot labs knows every woman is unique – and so is her body! They created the first pH balanced feminine skincare line — beautiful natural ingredients to gently clean, hydrate and soften skin.
SweetSpot is a new collection of natural washes and wipes that are pH balanced for your sweet spot and good for your entire body too! This new collection is now available across all Target stores and Target.com.
MomSkoop Tip: The on-the-go wipettes are awesome to have on road trips or days at the beach.
3. Harper + Ari  Sugar Cube Body Scrubs
From Harper + Ari comes the sugar scrub that smell good enough to eat (but please don't!).
These soft, exfoliating sugar cubes are the perfect size to treat your entire body as you soak after a long day in the drying sun. Simply wet one cube (use it as is or break it up in your hand) and rub gently over skin – concentrating on rough spots – to soften every inch. You'll want all six scents!
Imagine a spa just for your feet! These ultra-moisturizing socks from airplus are so soft you'll never want to take them off. Infused with Aloe and Vitamin E, the soothing texture also comforts and warms feet after they've been working hard. Check out the multiple colors & prints.
5. Pour-Over European Coffee from Melitta
Love single serve coffee, but not a big fan of fast brew systems? Pour-Over coffee is the perfect balance of easy preparation and classic, European flavor. The Melitta name has stood for passion and quality for over 100 years. And now you can bring the rich flavor home for yourself. Don't miss their ceramic and bamboo sets!
6. Sinful Colors – Free & Fierce Summer Nail Polish Collection
Summer means picnics, fireworks, and showing off your best red, white, and blue!  July 4th may have come and gone, but we know you're patriotic all year long! Sinful Colors has your star-spangled beauty in a gorgeous 7 color set.
7. Safe Catch Seasoned Elite Wild Tuna
Love tuna, but not crazy about the mercury risk? Safe Catch Elite Canned Tuna offers the lowest mercury level of any canned tuna brand. Their Seasoned Elite varieties blend flavors with 6 premium spice blends to create a flavorful, one-of-a-kind tuna. Use it to prepare your favorite vacation lunch or part of a romantic dinner for two.
8. Bzees – Unbelievably Lightweight Shoes
You won't believe how good it feels to slip your feet into these shoes. Bzees are made for people on the move and looking for fun all day in the sun.
Playful, yet practical – fun, sporty and ULTRA light, Bzees are always right no matter where you might roam. From shopping all day to taking a slow walk down the coastline – the Bzees Cloud Technology means your feet stay happy.
Air infused outsoles, dynamic stretch uppers, and Free Foam™ footbeds cradle and comfort your feet for hours. Did we mention they're also antimicrobial to fight odor and machine washable? You're welcome.
Our favorite foot cream this year, hands down….or is that "feet down"?  Either way, your summer tested feet are about to thank you.
Better than a pedicure? It helps to renovate rough feet overnight and will give even the roughest of feet a run for its money. Featuring allantoin, glycerin, macadamia oil, menthol, bilberry, orange and lemon fruit acid smoothers.  (*And the smell is amazing!)
10. This MAGICAL Unicorn Pillow from Mermaid Pillow Co.
Know a unicorn fan…or three? This will make you the instant BFF. This 12″ x 20″ pillow features a mesmerizing pink unicorn on the front, and a "magical" back with sequins that can be moved to create images, patterns, and words. (*free shipping on every order!)
11. These Adorable Star Wars Pillow Covers
These ARE the pillows you're looking for…  these 18 x 18 pillow covers are made of a thickened cotton & linen blend with a hidden zipper (no more ouch when you pillow fight!)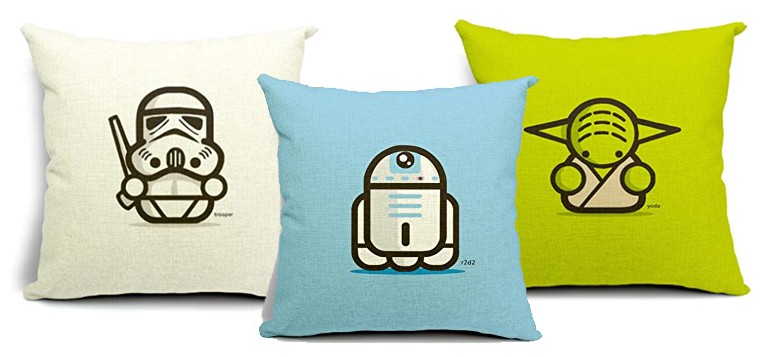 12. And we can't wait to GETAWAY with this Ban.do Duffle
Are you ready for vacation? Let your duffle tell the world! this heavy duty canvas bag is ready for whatever adventures you have planned. Great for day trips, road trips, or carryon during your flight to paradise.
What are YOUR must have items this month? Share them with us on Facebook!
Tags :
featured
shopping
things we love this month