The Itchy Book Summer Prize Pack Giveaway plus a FREE Summer Reading Log!
SPONSORED - This post was created in partnership with the brand mentioned below.
With Summer break starting soon, there is no better time then to think about our plans to help prevent Summer brain drain! That's why to help kick off Summer and the new release of "The Itchy Book" by LeUyen Pham, we are partnering with Disney Hyperion in a "The Itchy Book Summer Prize Pack Giveaway"!! It's so easy to get caught up into the whole "but it's Summer and I don't wanna read", however, as parents we all know how important to keep our kids minds fresh and on top of their game.
To help kick off Summer and the new release of "The Itchy Book" by LeUyen Pham, we are partnering with Disney Hyperion in a super fun "The Itchy Book Summer Prize Package Giveaway"!!
One lucky MomSkoop reader will receive the following Summer Prize Pack!
The prize pack includes:
A copy of The Itchy Book
A dinosaur backpack
A branded back scratcher


Giveaway open to US addresses only.

Prizing and samples provided by Disney Hyperion.
I'd love to introduce to you; Mo & LeUyen!
They are the stars of the book, "The Itchy Book" by LeUyen Pham! I know your little ones will fall in love with these two just as my youngest has!
HERE IS MORE ABOUT THE BOOK:
THE ITCHY BOOK
By LeUyen Pham
Elephant & Piggie Like Reading! Series from Mo Willems
In Stores May 15, 2018
Recommended for ages 6-8
The Story:
They may be dinosaurs, but their gigantic discover still holds true three million years later.
Itchy dinosaurs try to follow a very important, very prehistoric rule. A rule so important and so prehistoric, it's written in stone. DINOSAURS DO NOT SCRATCH!
Triceratops has an itch. . . so does Pterodactyl. . . and Brontosaurus. . . and T-Rex! But Dino-Mo reminds them all of the BIG rule: Dinosaurs do not scratch! What's an itchy dinosaur to do? Find out in this hilariously charming beginning reader by author/illustrator LeUyen Pham.
About the Series:
Elephant & Piggie Like Reading! is a beginning-reader series created by Mo Willems, author of the popular Elephant & Piggie book series. Best friends Elephant and Piggie introduce kids to their favorite books – brought to life in original stories created by contemporary children's book authors and illustrators.
About the Author:
LeUyen Pham's detailed and hilarious style is a perfect match for the Elephant & Piggie Like Reading! series. The Mo Willems/ LeUyen Pham collaboration will have fans itching for more!
LeUyen Pham is the prolific and bestselling illustrator of many books for children, including Grace for President by Kelly DiPucchio, Freckleface Strawberry by Julianne Moore and God's Dream by Archbishop Desmond Tutu. Pham has also written and illustrated her own works, including All the Things I Love About You and Big Sister, Little Sister. A former animator for DreamWorks, she lives with her husband and two sons in Los Angeles.
Make sure to check out Disney Hyperion's social channels so you can stay on top of the latest releases!
Website – The Itchy Book
Twitter – @DisneyHyperion
Facebook – Disney Books
Instagram – Disney Books
And to make reading The Itchy Book and the kickoff to Summer Reading even more fun, how about a Summer Reading Log! Our Summer Reading Log will make reading even more fun because you can challenge the kids to see who can read the most books before school starts. You can also offer a treat for making progress, like a trip for smoothies if they finish the page!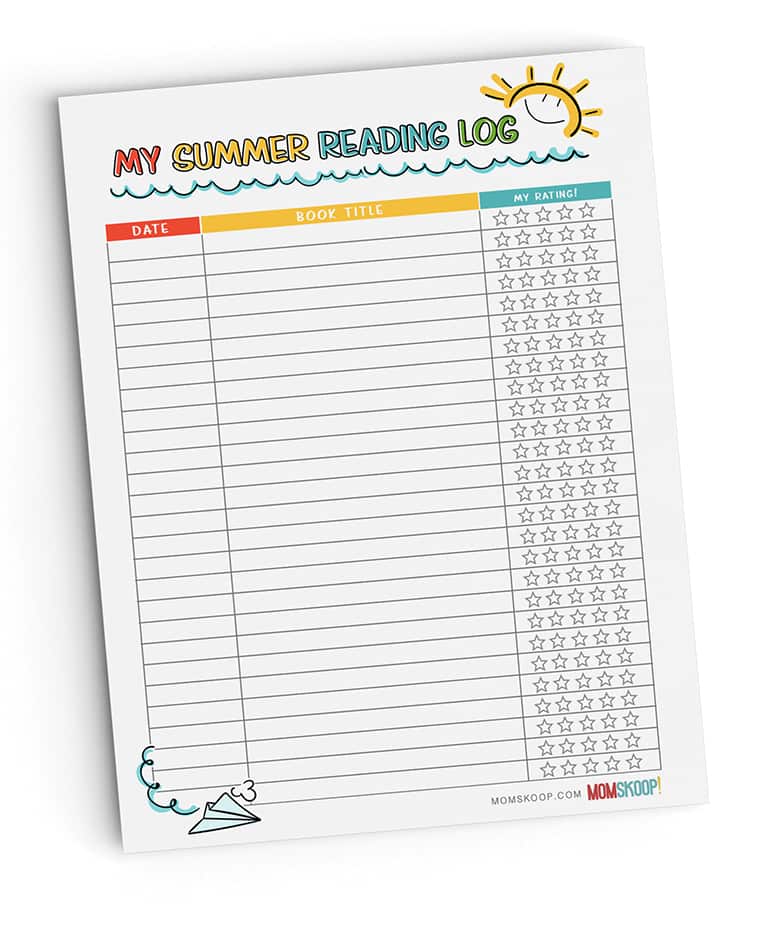 To download the book, just click on the download button below!
DOWNLOAD THE SUMMER READING LOG
Enter the giveaway below!! Must be 18 yrs + and a US resident to enter. Transplanted Buckeye Media and MomSkoop are not responsible for the delivery of the items. Disney Hyperion will be providing the prize packs.
The Itchy Book Summer Prize Pack Giveaway

We are not responsible if you use a fake email address to enter. The lucky winner will be contacting by email and will have 48 hours to respond. If the winner does not respond in that time frame, another winner will be chosen.
Tags :
books
summer reading
The Itchy Book