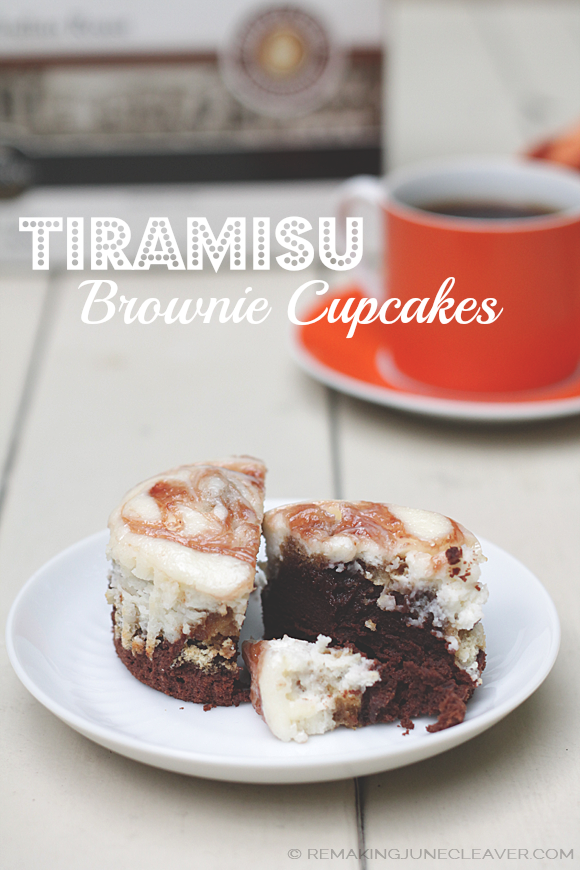 Tiramisu (meaning "pick me up" or "lift me up" in Italian) is a decadent dessert made from ladyfingers soaked in coffee with – traditionally – mascarpone cheese, Marsala wine and cocoa. Today I'm going to share with you a variation of Tiramisu using Barista Prima Italian Roast coffee and a recipe adapted from Chef Maureen Joyce of MJ's Cafe in Baton Rouge, Louisiana.
What better compliment to a delicious Tiramisu treat than classic Italian Roast?
Tiramisu Brownie Cupcakes – with Barista Prima Italian Roast
If you do not have a double boiler, try using your microwave – in short bursts while stirring in between – to melt your chocolate.
I wanted to do something different from the traditional cut Tiramisu, so I crumbled the lady fingers in preparation for making the Tiramisu in a cupcake pan. Look at how dark and rich that Italian Roast coffee is! The kitchen smelled wonderful.
My Tiramisu brownie cupcakes are alcohol free and I made two without coffee for my three year old.
I swirled the top of my brownie cupcakes with gourmet raspberry preserves. It gave a sweet, tart kick to the overall flavor. You can experiment with any flavor you enjoy in your coffee – caramel, chocolate and more.
Tiramisu Brownie Cupcakes #YourPerfectCup
A new take on an old world treat.
12 oz dark chocolate chips
1 c . butter softened
4 whole eggs
8 egg whites – separated into 4 and 4
1 c . cake flour
8 oz Mascarpone cheese (room temperature)
8 oz cream cheese (room temperature (do not use low or no fat))
1 c and 1/4 . sugar
2 tsp . vanilla extract
1 pkg soft lady fingers
1 c . Barista Prima Italian Roast coffee (brewed)
tbsp Optional: 2 dark rum
In a large bowl, melt chocolate, stir and let cool
Heat oven to 350 degrees
Add chocolate to mixing bowl and beat in the butter using a paddle attachment
Add 1 c. sugar, 4 eggs and 4 egg whites
Add flour and mix on low until combined
Pour into greased cupcake pan, making sure to fill each cup only half way
Crumble lady fingers and place a thin layer on top of brownie filling
Press crumbles into brownie batter softly
Using a pastry brush, cover crumbles with brewed coffee, making sure they are saturated
In another bowl – combine Mascarpone cheese, cream cheese, 1/4 c sugar, 4 egg whites and vanilla.
Spread over top of ladyfinger crumbles
Optional: add a tsp of preserves, caramel etc to top and swirl with a toothpick
Bake for 40 – 45 minutes until the middle is almost set and brownie begins to pull away from sides of pan
Cool completely before serving