UNIQUE & CREATIVE GIFTS | 2017 Holiday Gift Guide
this post contains affiliate links
Post contains affiliate links. Purchases made through links provide us with a small commission. Please refer to our disclosure policy for more information.
Know someone who has "everything"? They probably don't have any of these! Check out these unique and creative gift ideas perfect for just about anyone on your holiday list.
Oviyam I am Unique Binary Science T-Shirt
— This science, STEM themed T-Shirt shows a unique binary design and formula which represents "I'm Unique" – available in both adult and youth size.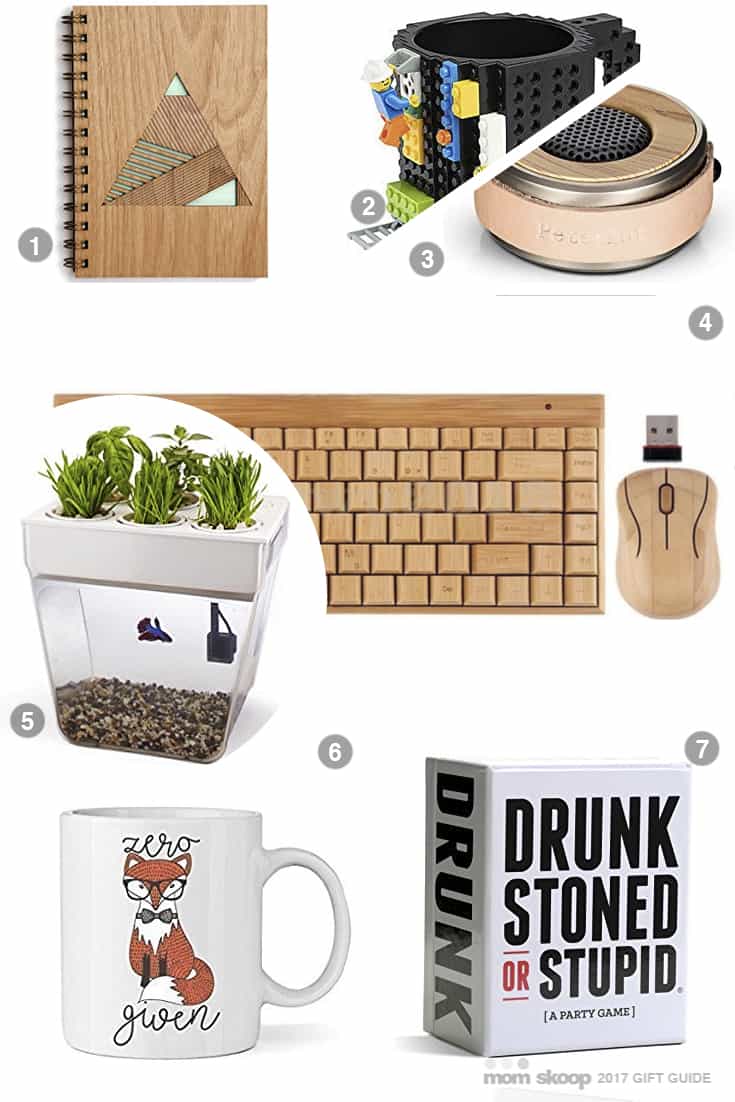 1. Geometric Pyramid Laser Cut Wood Journal
– Handmade / Pyramids were never built in a day. We all know that, but this journal will keep the end goal in mind every day as you jot down to-dos, hopes, and dreams!
2. Build-On Brick Mug Coffee Cup
– Build your own mug! Are your Monday morning meetings boring? Bring a little excitement to your next meeting with the Build on Brick Mug! BPA free
3. ZoomZam Bluetooth Speakers
– Super-portable Bluetooth speaker delivers powerful sound and robust bass, room filling sound, perfect for home, office, kitchen, party and travel use.
4. Smart Tech Handcrafted Bamboo Wireless PC Keyboard & Mouse
– Handcrafted bamboo wireless keyboard and mouse / Keyboard and Mouse Combo + Free Smart Tech Touch Pen *for PC
5. Back to the Roots Water Garden
– Bring the garden inside with the Back to the Roots Water Garden. This mini aquaponic tank is a closed-loop ecosystem — the betta fish waste fertilizes the plants on top, and the plants filter and clean the water for your fish — not your average betta fish bowl!
6. Zero Fox Given Ceramic Coffee Mug
– How many "fox" do you give? ZERO! Let everyone know with this 11oz handmade ceramic mug – ready for your favorite coffee or tea.
7. DRUNK STONED OR STUPID party game – Perfect for an adults-only get together! 250 prompt cards to decide who in the group is MOST LIKELY TO…? This game can get real. Prepare to call out your friends!
Tags :
holiday gift guide
unique gifts