Amwell: Video Chat With a Doctor From Home + 25% Discount Code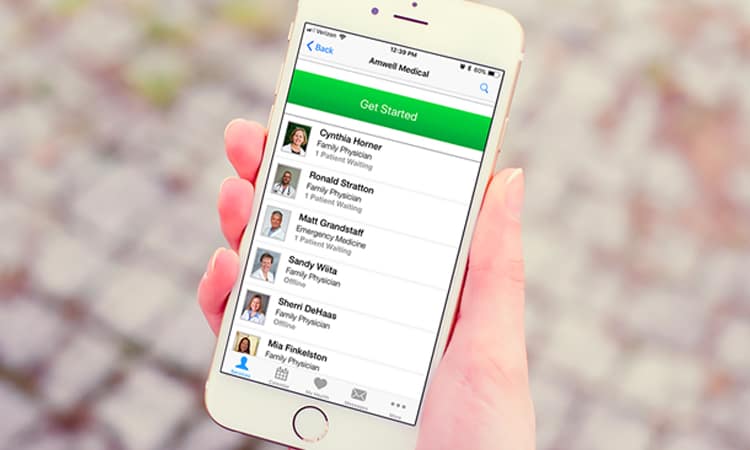 No one likes to be sick. It's even worse when you have to get dressed, drive across town (or farther), and sit in a room with other sick people while you wait to see a doctor.  Do we even need to mention the cost? With Amwell, you can skip all the hassle and video chat with a doctor right from your own home.
This post is brought to you as part of a compensated partnership with Amwell. All opinions are my own.
Amwell: Video Chat With a Doctor From Home | Discount Code: 25% Off Your First Appt
In the age of technology, we're already communicating with family and friends via our computers and smartphones. Why not our doctors too? Maybe you have a weird cough, a sore throat, or you're just wondering How to help your child feel better when they have the flu. When it comes to convenience and your health– Amwell a life changer.
Why Should You Speak To A Doctor Online?
VISITS FROM ANYWHERE
Visit the Amwell website from your laptop in the privacy of your own home. Install the mobile app and you can access a healthcare professional 1-on-1 anywhere you are.
OPEN 24 HOURS
Doctors are available 24 hours a day, 7 days a week – even on holidays.
NO APPOINTMENTS
Just sign in and start your appointment. No more waiting, no sitting in an office for an hour.
PRESCRIPTIONS TOO
Your Amwell doctor can even prescribe medication and have the Rx sent electronically to your regular pharmacy.
Thankfully, none of my family members are currently ill, but these licensed health professionals can offer so much more than just a diagnosis. It's a wealth of health knowledge at your fingertips!
I decided to use the convenience of a video chat to find out more information about my 8-year-old son's allergies and how to treat them.
Selecting a doctor was fast and simple.
During signup, Amwell will use your location to choose doctors close to you. Once you pick what area of medicine you need help with (Medical, children, therapy, emergency, nutrition, etc) you'll get a list of doctors to choose from. Select a doctor that is online and available and then the system will connect you.
I did have to wait, but it wasn't very long. I had 2 patients in front of me to speak with Dr. Horner and my total wait time was around 8 minutes. The screen auto refreshes and a "virtual host" pops up once in a while to remind you how the process is going. I really liked that because it let me know I wasn't forgotten or sitting in internet limbo.
My talk with Dr. Horner was fantastic.
I'd never used a video health service before and wasn't sure what to expect. It was SO easy and natural. Dr. Horner was very personable and listened to all of my questions. She didn't rush me and she went into great details providing me with answers. Not only did she explain symptoms to help me differentiate between allergy and virus, but she also told me which medications worked best for each. A+
What I loved about Amwell & You Will too:
The doctor was friendly. This sounds simple, but it meant so much to me and my experience. I felt like she actually cared about my concerns and genuinely wanted to help. She used my first name, referred to my child by name, and you could tell she actually went over my medical info before she spoke with me.
I didn't feel rushed. Dr. Horner allowed me to take my time, explaining in my own words. I didn't get that "hurry up and finish" feeling that I sometimes have in a doctor's office.
 She provided me with NEW information. Like most parents, I had already looked up my questions online. I was tired of the generic website answers and nervous my Amwell doctor might give me the same exact information. Not at all! She gave me tips I hadn't heard before – very helpful when dealing with ill children.
Final verdict:  I'm sorry I waited so long to try Amwell! This is so much easier than bundling up a sick child (or sick me) and taking half a day away from home to get the same answers. I now have answers to all of my questions and feel confident my Amwell doctor gave me good advice moving forward. We'll definitely be using Amwell more in the future.
But What About COST?
One word: Affordable.  Amwell doctor visits are just $59 each. You can also enter your insurance information to see if your insurance provider offers copay coverage.
Even better: use my exclusive discount code to get 25% off your first visit!  Use this discount on the Amwell Website or on the Amwell App – Android / iOS  (You'll be given a chance to enter the code after you select your doctor, but before your visit begins)
25% OFF YOUR FIRST VISIT*
USE CODE: MOM44
*Discount good for medical/urgent care visits only.  Expires 12/31/18  Tweet below and share with friends so they can get a discount too!
Talk to a doctor anywhere & any time with Amwell - Use code: MOM44 to get 25% off your first visit!
Click To Tweet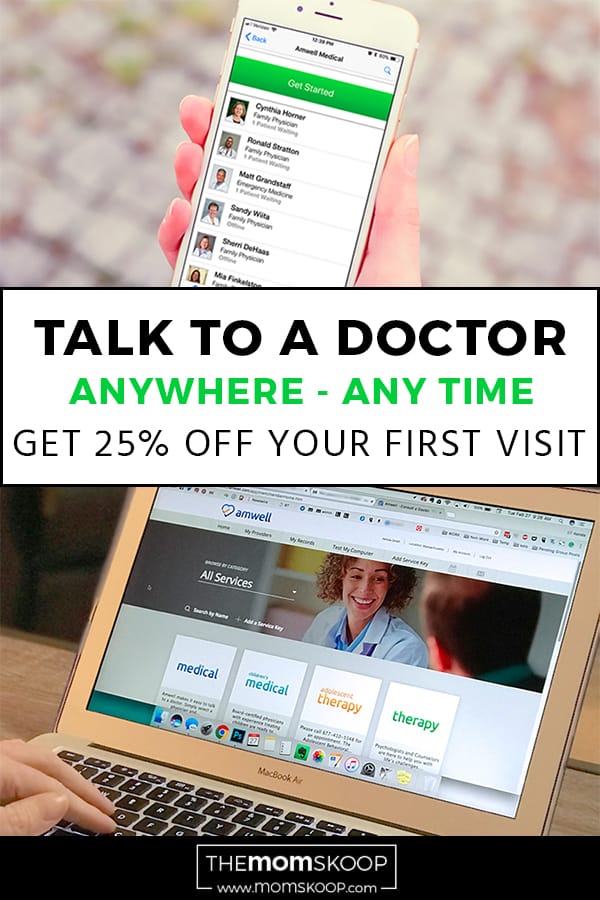 Tags :
amwell
amwell discount
discount doctor visit
doctor visit coupon
video chat doctor