Easy Bacon Ranch Pasta Salad
Post contains affiliate links. Purchases made through links provide us with a small commission. As an Amazon Associate I earn from qualifying purchases. Please refer to our disclosure policy for more information.
This Easy Bacon Ranch Pasta Salad with bacon, tomatoes, cheese, ranch seasoning, and cellentani pasta is easy to make, full of flavor and will be a hit at your next picnic or family get together. You have to try this cold and creamy pasta!
How to Make Bacon Ranch Pasta Salad
I love the idea of having a salad that can be made ahead of time and then just tossed together when you are ready to eat it. This recipe for Easy Bacon Ranch Pasta Salad with bacon, tomatoes, and cheese has all those elements in one bowl!
I'm going to let you in on a little secret that I've been keeping all these years. It's my go-to pasta salad for any family gathering, cookout, or recipe swap and it's so darn good!
The best part about this recipe is that it takes less than 20 minutes to make from start to finish. When I make this Ranch Pasta Salad, it always disappears fast!
All it takes is some noodles, cherry tomatoes, bacon, and a few other ingredients for the dressing.
I'm going to be honest with all of you out there – I would have never thought this was possible if I hadn't tried it myself. You will be shocked when you see how quickly dinner comes together! And even more shocking is just how good it tastes.
If your family is anything like mine, then we're always looking for quick and easy recipes that will please everyone. Just like Old Fashioned Macaroni Salad, this recipe is definitely one for the books!
Why Make This Recipe
It's one of those recipes that's amazing for a picnic, potluck, or it can be used for simple dinners or sides. When you make it, it will be sure to be a success.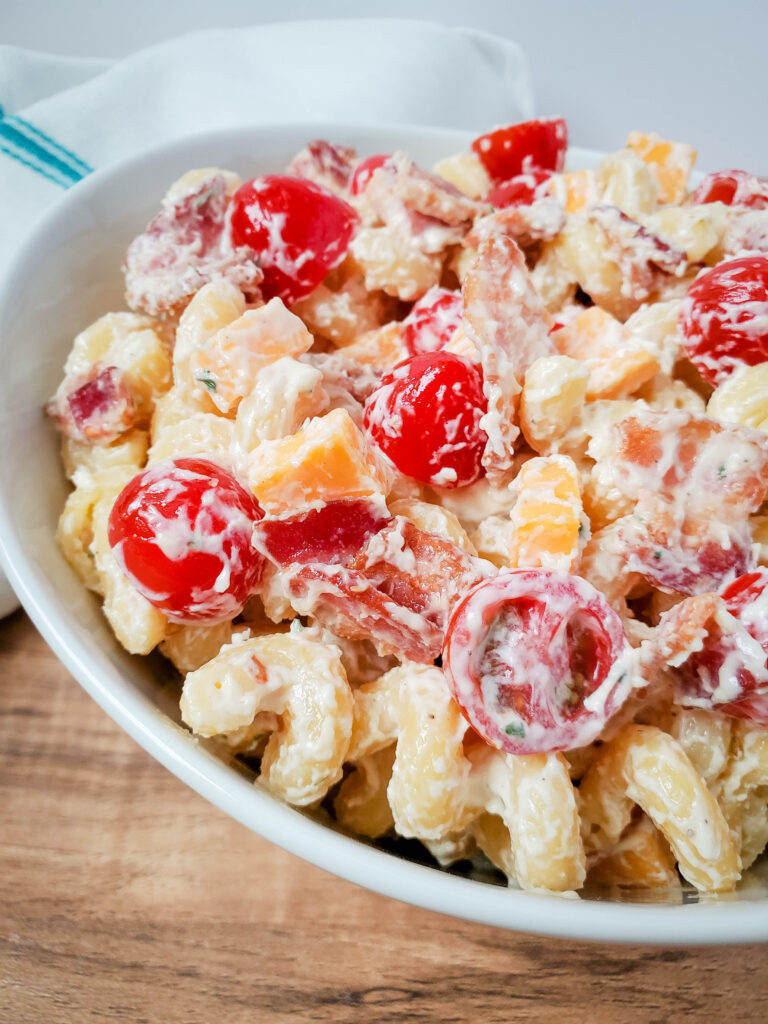 Expert Tips, Ingredient List and Suggestions for Recipe Success
You will find a complete list of ingredients listed below on the printable recipe card.
Cellentani pasta – If you do not have this pasta on hand, you can use whatever kind you have
Hellman's Mayonnaise– This is for making the dressing. I prefer this brand, but use whatever you like
Sour cream – You can use fat free or full fat
Cheddar cheese – You will want the block cheese, but I have made it with shredded in a pinch.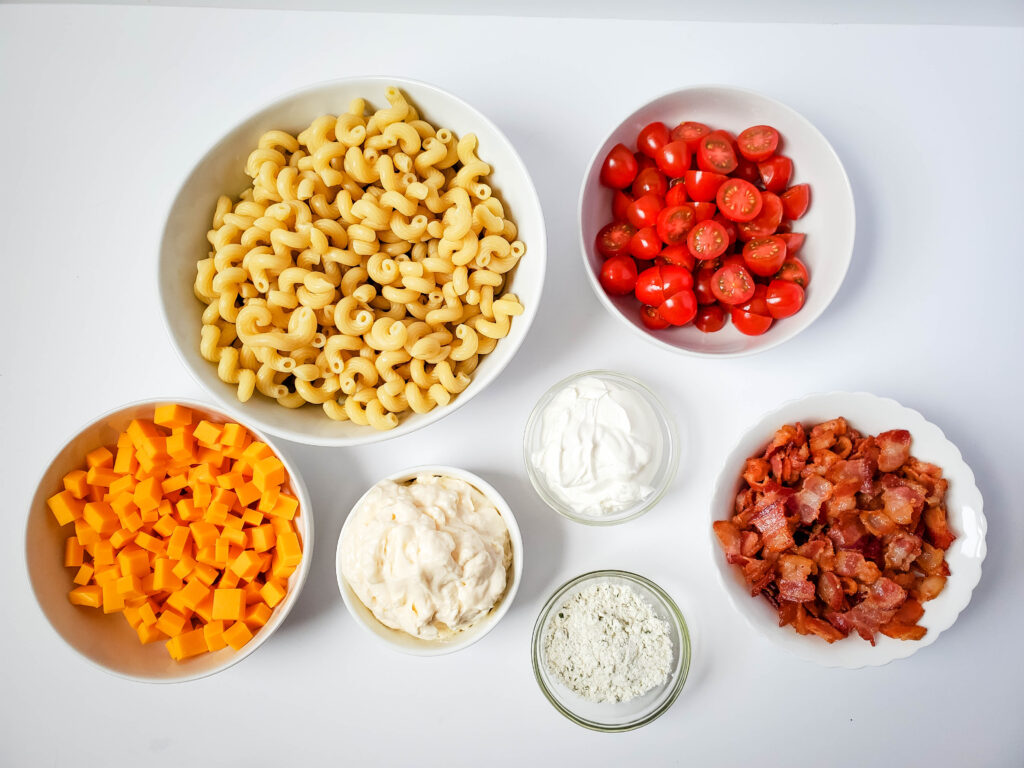 How to Store a Pasta Salad
You want to make sure this ranch pasta salad is stored in an airtight container and kept in the refrigerator. Because this is a dairy base pasta salad, with mayo and sour cream, it can spoil easily.
Is this a Creamy Pasta Salad?
YES! I love the creaminess of this pasta salad. Because of the type of dressing that goes on the pasta, this is a creamy pasta salad recipe rather than a vinegar-based dressing.
What Vegetables Go in This?
In my version of this pasta salad, I am only adding cherry tomatoes. However, you can also add shredded carrots or cucumbers to the pasta as well.
Is this Served Hot or Cold?
This pasta salad is a cold pasta salad. Once you have made it, you want to store it in the refrigerator for at least an hour. You can eat it hot, but in my opinion, the flavors taste best cold after it has had some time to meld together.
Can I Make This Ahead of Time?
Yes, because it's best if you let it sit overnight in the refrigerator. If you are making this ahead of time, just remember to keep it covered in the refrigerator until you are ready to serve it.
What Other Dressings Can I Use Instead?
Sure, you can use your own dressing instead of the Hellmann's Mayo. Just make sure you adjust the amount accordingly.
Can I Freeze Pasta Salad?
Yes, you can. However, keep in mind that the consistency is going to change. Mayo isn't going to freeze well, and you may not get the same flavors or appealing dish you had before.
How Do You Keep Pasta Salad from Drying Out?
Bottom line, it's all about the pasta. The key is making the pasta just right. You want the pasta cooked al dente. Refer to our handy "How to Cook Pasta" post for more information.
Step by Step Directions
Step 1: Cook the pasta by boiling 3 quarts of water in a large pot.
Step 2: Add the pasta with a bit of salt and cook for about 11 minutes. Drain the cooked pasta and place it in a large bowl.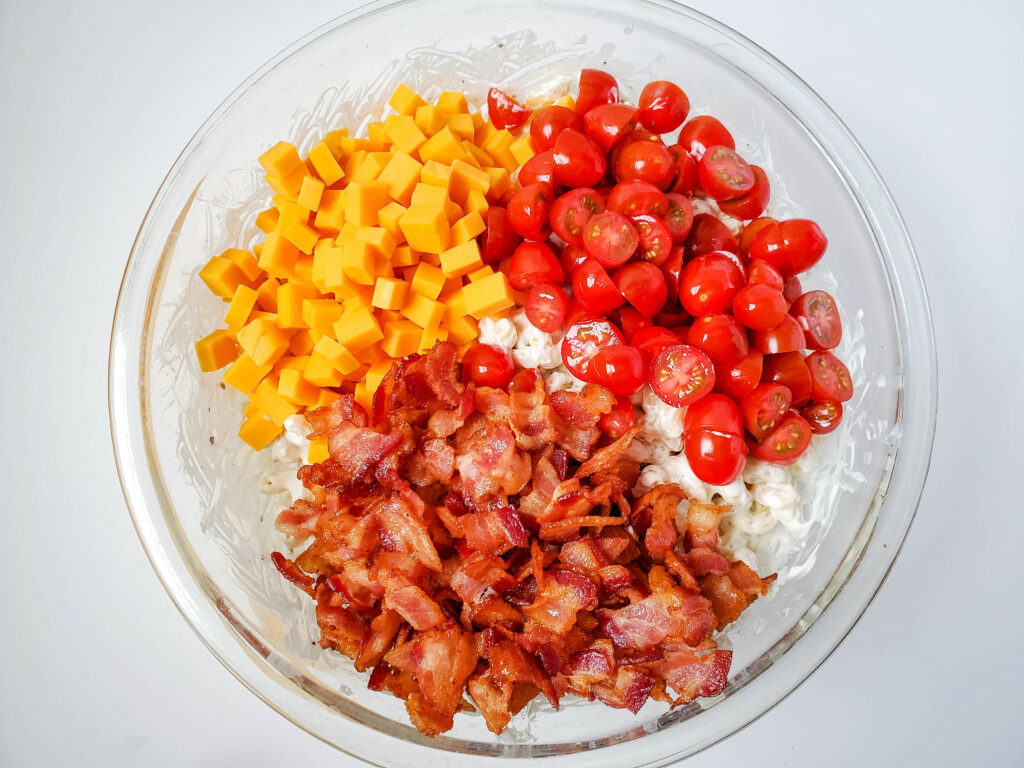 Step 3: Add the chopped bacon into the bowl. Then add the cut cheese and halved tomatoes.
Step 4: In a small bowl, combine the mayo, sour cream, and ranch dressing.
Step 5: Add the dressing over the pasta mixture and toss it together.
Step 6: Refrigerate for at least an hour and serve.
Related Posts
Bacon Ranch Pasta Salad Recipe
This Easy Bacon Ranch Pasta Salad with bacon, tomatoes, cheese, ranch seasoning, and cellentani pasta is easy to make, full of flavor and will be a hit at your next picnic or family get together.
Ingredients
16

oz

Cellentani pasta

1.5

cups

Hellman's Mayonnaise

½

cup

sour cream

1

package

Hidden Valley Original Ranch Salad Dressing & Seasoning Mix

1 – 1 oz package

8

oz

cheddar cheese

cut into chunks

8

oz

cherry tomatoes

halved

1

lb

bacon

chopped and cooked
Instructions
Boil 3 quarts of water in a large pot.

Add noodles and a bit of salt, cook for 11 minutes. Drain well and rinse in cold water. Pour pasta into a large bowl.

Chop bacon into ½ inch pieces and cook over medium low heat until done. Drain grease and set aside.

Cut cheese into small chunks.

Cut tomatoes in half.

In a small bowl, mix mayonnaise, sour cream and ranch dressing. Stir well.

Stir sauce mixture into pasta.

Add other ingredients to pasta bowl and toss.

Refrigerate for one hour, and serve.
Nutrition
Serving:
1
g
Calories:
533
kcal
Carbohydrates:
14
g
Protein:
20
g
Fat:
43
g
Saturated Fat:
13
g
Polyunsaturated Fat:
29
g
Cholesterol:
74
mg
Sodium:
993
mg
Fiber:
1
g
Sugar:
1
g