Best Fiends is hailed as Editor's Choice on Google Play, Mobile Game of the Year by FGA, Top 10 iPhone game & Developer of the Year by Guardian. This puzzle adventure offers adorable and unique characters, entertaining animation and level play that won't cost you an arm and a leg. In fact...it won't cost you anything.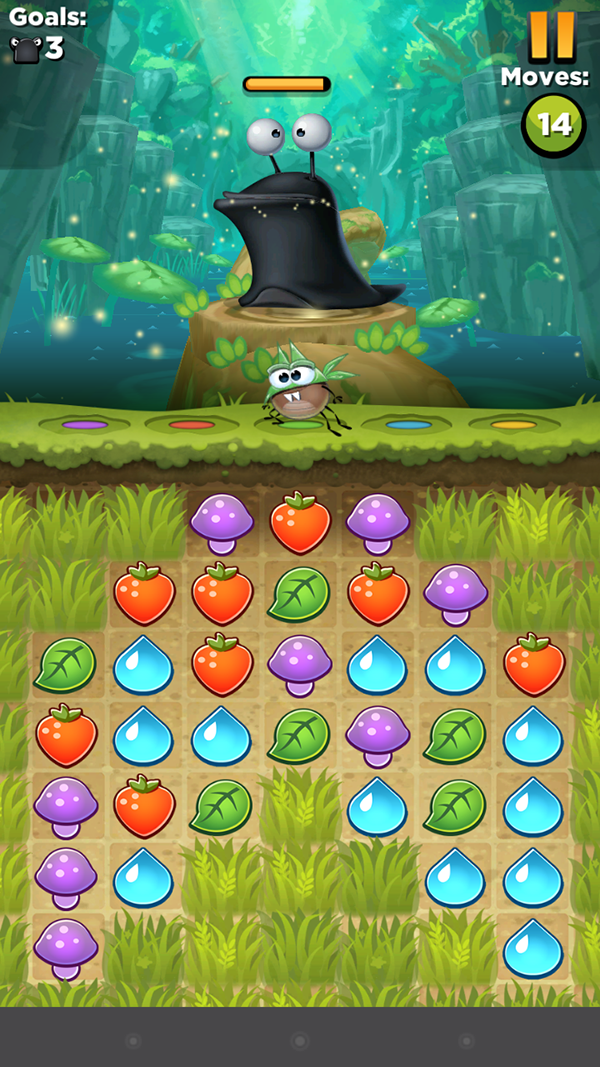 About The Game
Strategy meets humanity in this exciting free mobile app called Best Fiends. The setting of this game is in Minutia where slugs have taken over the world and little critters have to band together and fight them by connecting the shapes and using power-ups to take back their land. As you advance through the game and visit different realms, challenges arise while you are trying to conquer the invaders.

Features:
FIENDISH PUZZLES Easy to play, hard to master. Approachable puzzle gameplay taken to the next level!
DAZZLING GRAPHICS and finger-tapping music!
THE BEST OF BOTH WORLDS Line matching puzzle adventure game with RPG-like character development!
COLLECT & LEVEL UP Collect all Best Fiends and discover their special powers!
JOIN THE BATTLE against the Slugs of Mount Boom in a journey through the majestic world of Minutia!
COMPETE AGAINST YOUR FRIENDS connect to the gorgeous 3D map via Facebook and see who reaches Mount Boom first!
STAY TUNED More levels, characters, gameplay and some suprises are on the way!
CHARITY DONATION

The game offers in-app donations to help Malaria No More!
Think it's just another match game? Think again. While the game play is similar in strategy (match three or more, beat bosses and use power moves to activate special objects to clear out sections of the board) there are several striking differences that made me instantly love this game.
1. Power Up Without Spending Money
This has to be one of the biggest complaints about mobile games currently. It's very common to get invested in a game, only to find that you're blocked at a certain level unless you fork over some cold, hard cash to buy special objects or power ups. That's not the case with Best Fiends. You can rise through the ranks by skill alone. If you LIKE buying advantages, there is still the option. But, it's never required. Each step of the game rewards you with the tools you need to advance without purchase.
2. Watching Ads Is Rewarding
Unlike the vast majority of free mobile games, Best Fiends makes watching advertisements optional. And, even better, they reward you for it. Once every 15 minutes you can watch one (1) ad and earn a spin on the Fiend of Fortune bonus wheel. The rest of the game is 100% ad free.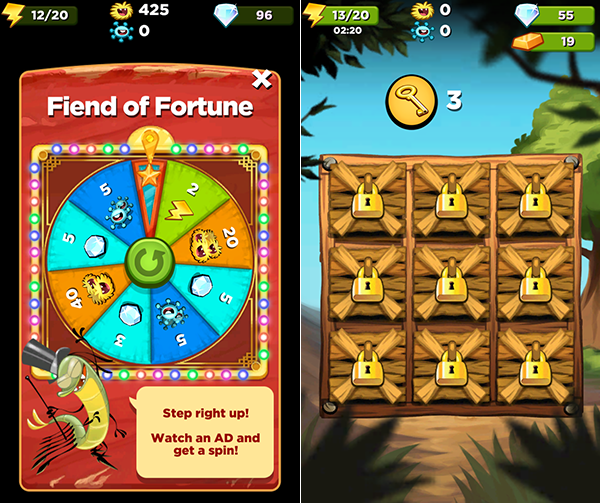 3. Tons of Free Bonuses to Advance Game Play
In addition to the bonus wheel, you also earn keys during game play (and they aren't impossible to grab). For each key you earn during a level, you get to unlock a prize box. You can get anything from diamonds to ____ (used to level up your Fiends). You also get to keep any bonus items you collect during a level - even if you fail. Oh, and did I mention - you still get to pick one (1) prize box after a failure as well. A great reward just for trying your best. It's a fantastic motivator for younger game players who might get frustrated on higher levels.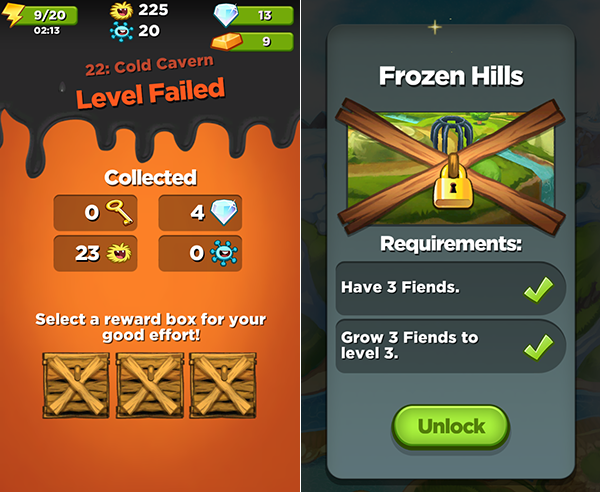 4. Connecting to Social Accounts will Reward You - But Skipping It Won't Restrict You
You do have the option to connect your Facebook profile in order to play against friends, with a diamond reward for your efforts. However, you won't need friends to unlock new worlds or levels. Instead, your own hard work at the game itself is the key. Unlocking new worlds only requires increasing your team number and your Fiend levels - which can be achieved by game play alone.
5. The Animation Will Impress You
I play a LOT of match puzzle games. And, while they all have qualities I enjoy (otherwise I wouldn't play them) none of them really dazzle me with their animation. You usually have a character that dances at the end of a level or a boss who groans and growls. That's about it. With Best Fiends, it's like a cartoon every time you play. You can tell a lot of time, effort and love went into this game as you watch the short movie clips between levels, the map that rolls over like a real global terrain, and the fancy battle moves that are specific to each Fiend on your team.
And Finally..... You Don't Get STUCK
If you love match puzzle games then you know exactly what I mean. You're playing, you're having a great time, you think you've finally found your favorite game ever..... then you hit that one level. You know, the one where no matter how hard you try - you can't beat it. I've spent weeks on a single level with some of the other match games. I've uninstalled games because of it and even tossed my phone a few times. Best Fiends isn't going to send you into a game rage. Sure, the levels do get more difficult - but if they didn't, you'd get bored. The point is: they aren't impossible OR created to work only with in-app purchases. For puzzle gamers, that's a breath of fresh air and an excellent reason to #LoveBestFiends
---
Available On:  iOS , Android and Amazon Mobile Devices Price: FREE (*optional in-app purchases available)