Post contains affiliate links. Purchases made through links provide us with a small commission. As an Amazon Associate I earn from qualifying purchases. Please refer to our disclosure policy for more information.
Have you ever wanted to try Crest's 3D White Strips 1-Hour Express? We have put together a post regarding our thoughts and review of the strips. This is our experience using them.
These days, it's hard to go more than a few days without smiling for a camera. Everyone is snapping family shots on their phone, selfies on the way to work, friends hanging out at their favorite spot, and more. I never minded a photo or two during special times with family and friends, but it wasn't hard to realize a trend. I didn't smile. Well, not really. Almost every photo my lips were clamped shut. I didn't want to show my teeth.
I wish I had a dollar for every time someone said to me, "Smile. It won't hurt you." and I had to reply, "I AM smiling!"
I didn't like an open smile because I knew my teeth were dull and discolored. You see, I drink coffee. A lot of coffee. And wine...oh, I'm also getting (cough) older (cough). So I had stains, dull enamel, and an overall uneven color to my teeth. I would brush and brush and it didn't seem to help.
Then, Crest asked me to check out their new 3D White 1-Hour Express Whitening Strips. I realized that I take so much care with my makeup, hair and clothes each day... why should my smile be ignored? I had no specific expectations when I tried out 1-Hour Express, but I was pleasantly surprised by the results.
Unlike brushing alone, 1-Hour Express goes beneath the enamel surface to remove stains. - Crest Online
Crest 3D White White strips 1-Hour Express packs all of the features you love about Crest White strips into an even faster, more effective package. In just one hour, you can get the same result that takes several applications over many days with other home whitening treatments. I found them very easy to use, not intrusive at all, and the results were definitely noticeable.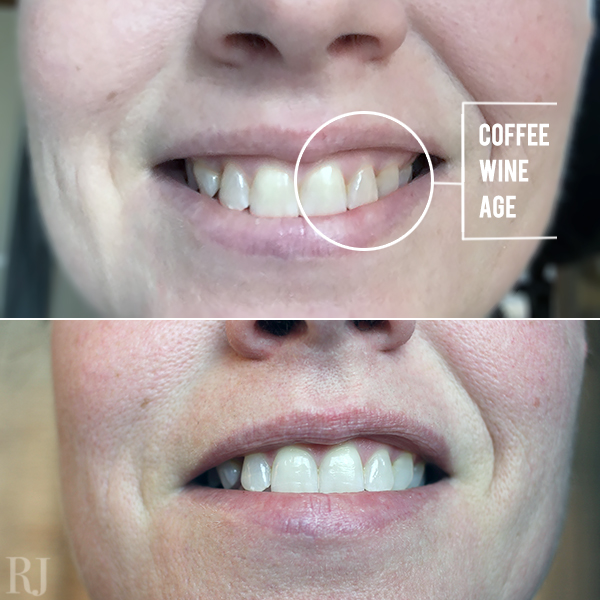 The Crest 3D White 1-Hour Express whitening system is perfect for anyone who needs to touch-up their smile often due to food and other accumulated stains. With 4 applications per box, you can control how bright you want to go and how often.
There is also more to home teeth whitening than just the result. If you've tried different brands or systems, you know the process needs to be easy to follow and not a burden to endure. Here is what I loved about Crest 3D White 1-Hour Express:
• You Can Use Them Last Minute - Did you just get an invite to the party of the year...and it's tonight!? With 1-Hour Express you can brighten your smile the day of. No need to plan out in advance.
• The Advanced Seal™ Technology - This is truly a no-slip grip that fits to your teeth. Unlike other whitening home strips, it stays put. No leaking, bad taste, or slipping while you talk and go about your day. I could sip my water and conduct work phone calls without noticing any difference.
• Noticeably Whiter With One Treatment - This system comes with 4 applications, but it gives you noticeable results after just one application. If you need just a light brightening, you can get several months use from just one pack. Need a little extra whitening? You have four rounds to reach the white you are looking for.
• "Smart" Whitening - I was especially impressed with how it seemed to target stained areas a little more than areas that were simply dull. It gave my teeth the same color overall. I've used other systems that whitened every area the same amount. That meant while the darker areas were lightened, they were still darker than other areas.
It's amazing how much your smile conveys about the moment a photo is taken. Before, I looked back on photos and thought, "Man, I wish I'd actually smiled in that shot. I look like I'm not having a good time at all." It made for some awkward holiday and special event photos. I looked like the family grump! With a brighter smile, I can finally free my smile - showing just how awesome each saved moment was.