Post contains Amazon affiliate links.As an Amazon Associate I earn from qualifying purchases. Please refer to our disclosure policy for more information.
SPONSORED - This post was created in partnership with the brand mentioned below.
I recently received a Cubii. This compact elliptical helps you build muscle without having to have a big bulky exercise machine in your home or office.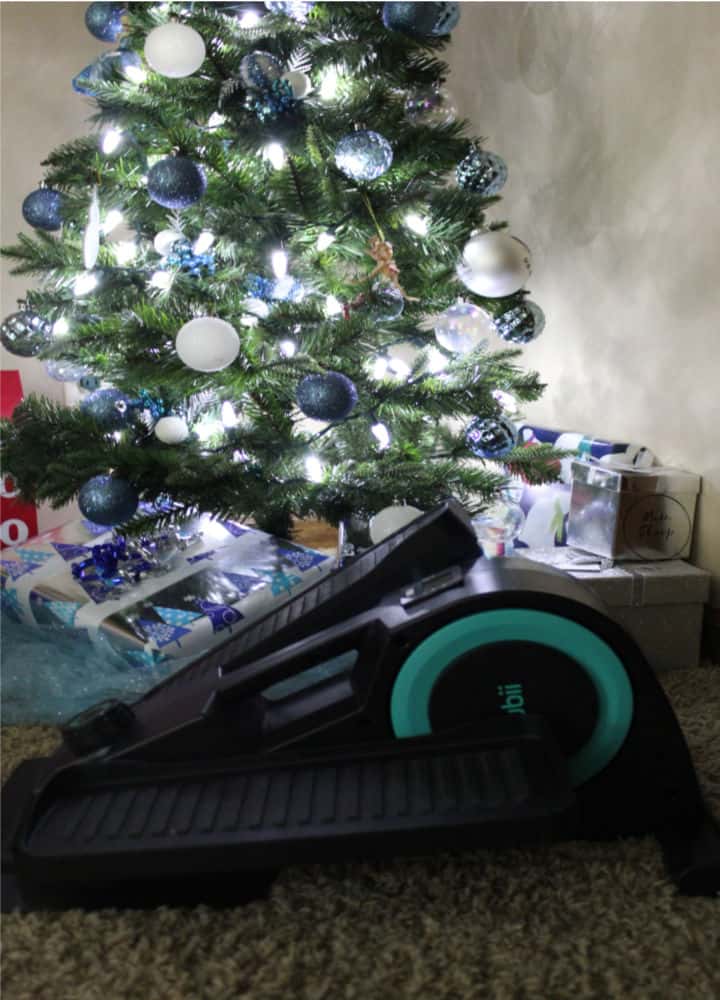 Since I've had some time to use the Cubii, I wanted to share some details about this compact elliptical for home and office. Below you'll find out everything you need to know about Cubbi, where to buy and what I think about the Cubii.
Everything You Need to Know About Cubii
Does this little apparatus really work?
Yes. Cubii really works for someone who otherwise stays mostly stationary during their daily routine. While the price tag is pretty high-end, it's much cheaper than some of the other bulkier workout machines you can buy for home and office. Cubii helps raise your heart level as you work your core muscles. I've found this smaller exercise option helps give me something I can pull out and use during meal prep, home office work, when I'm wanting to de-stress, and even watching my favorite Netflix shows.
About Cubii and Accessories
There are a few different color combinations and models of Cubii that you can purchase online. There's the Cubii Elite, Cubii Pro, and Cubii Jr. The Cubii Jr is a wonderful tool to use under your home office desk to work your core muscles during your freelance workday.
I highly recommend you check out the Cubii slip stop mat so that your Cubii stays in place during use. This slip stop mat will help your Cubii stay put as you walk your way towards a healthier lifestyle in the comfort of your own home. There's an LCD monitor for Cubii that monitors your RPM, calories, active time and distance completed. This is a great way to track how much exercise you're sneaking in with the Cubii.
Achieve your Fitness Goals
If you're looking to set some fitness goals or perhaps have a New Year's resolution to lose weight, then you might want to consider investing in Cubii. This compact elliptical is more affordable than other at-home workout machines, more compact and easy to use during your everyday activities.
Does Cubii burn calories?
The Cubii Pro has different resistant levels that will allow you to burn more calories per hour. This means you'll ultimately start toning your core muscles while losing fat. Using the resistance option allows you to better track how strong your core muscles have gotten from the start of using Cubii. Many of my friends who've used Cubii have found an increase in calf muscle tone!
What Features Does Cubii Have?
The Cubii is relatively quiet for an at-home workout machine. You can easily sneak Cubii underneath your desk to get your core muscles moving all the while feeling confident none of your clients will hear the noise of your Cubii during business calls.
There are 8 resistance options, helping you work up to a stronger core muscle during each workout with your Cubii. You can start with a lower/easier resistance option and work your way up to more resistance to truly burn more calories and build muscle tone.
LCD monitor helps you track your activity level and distances so that you can set new fitness goals with each small exercise goal achieved. This option helps you monitor your progress as well as ensure that you don't overdo your exercise routine.
For our Holiday Gift Guide, I received the Cubii Jr. I am a fan! I usually keep it under my desk, however, at times I do take it upstairs and use it while I'm watching tv. It's a great way to exercise plus literally never leave your seat to do it!
Now that you've learned a bit more about the newest option in at-home workouts and the benefits of having this at-home workout machine, it's time for you to go on over and checkout Cubii today.
You can also order a Cubii on Amazon!
I'm confident that you'll enjoy the ease of use and resistance options available on Cubii all the while start feeling more confident and healthy as you work to be more active in your somewhat stationary life.