Post contains Amazon affiliate links.As an Amazon Associate I earn from qualifying purchases. Please refer to our disclosure policy for more information.
Are you preparing for a spooky Halloween Party? These Free Printable Black Cat Halloween Invitations are perfect for letting your ghoul-friends know they are invited!
This mischievous little kitty looks harmless enough, with his adorable little pumpkin hat and sweet x nose. They say black cats are bad luck, but I think if you embrace these mysterious felines you can only have AWESOME luck.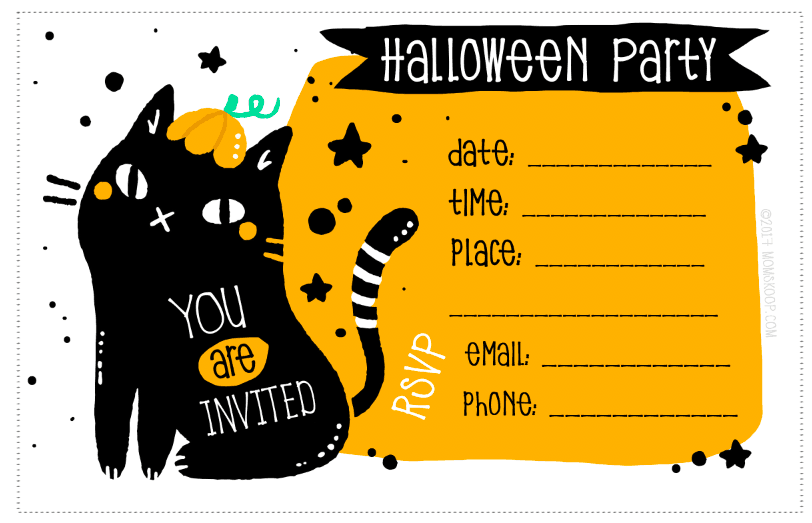 CLICK TO DOWNLOAD BLACK CAT INVITATIONS
Each sheet offers two invitations. You have spaces for date, time, location, and RSVP by both email and phone. The bold, traditional orange and black will look great printed to heavy cardstock and placed into black envelopes. But, it will be equally lovely just printed to plain matte paper and handed out with a smile.
Supplies We Recommend:
Bright White Cardstock / Black Linen "peel & seal" Envelopes / Halloween Washi Tape (10 pk) to seal your invitations with style!
---
Black Cats & Halloween – A Long History
The folklore surrounding black cats varies from culture to culture. In some countries, such as Japan, they are considered good luck. Conversely in the United Kingdom if a black cat walks towards someone, it brings good fortune, but if it walks away, it takes the good luck with it. But in other cultures, they are not only bad luck, but also thought to be a friend to dark forces. [source]
The black cat is one of the most recognizable symbols of Halloween – and one of the most targeted of superstition. There are many proverbs and superstitions surrounding the black cat. Here are just a few [source]:
a black cat crossing your path is bad luck
If a black cat crosses your path while your driving, turn your hat around backwards
If you find a white hair on a black cat, you will have good luck.
A strange black cat on your porch brings prosperity.
---