Galaxy Popcorn – A Fun & Tasty Snack
Post contains Amazon Affiliate links. As an Amazon Associate I earn from qualifying purchases. Please refer to our disclosure policy for more information.
Galaxy Popcorn is a totally tasty and out of this world snack! Sweet and salty makes this popcorn snack a fun twist and the perfect snack. Popcorn is such a versatile treat that you can do so much with! Regardless of how you make it, popcorn is still a delicious treat!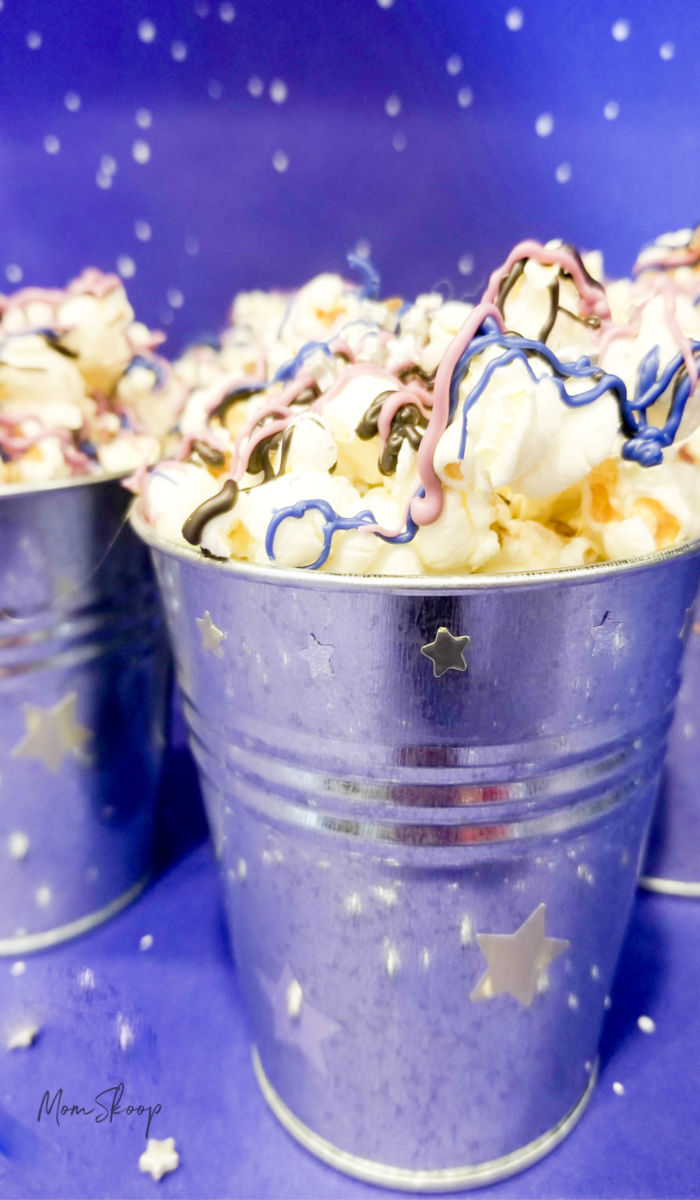 Galaxy Popcorn
And this recipe for candy flavored popcorn hits everything on everyone's popcorn snack must haves!  It's not only sweet, it's also salty.  And the sprinkles add just the right bit of different texture.
Before you read over the ingredients, here are a few questions you may have.
Do You Have to Let it Cool Before Adding Chocolate?
I believe it is. You want to room temperature so the chocolate can adhere to the popcorn correctly.
Do You Have to Use Salted or Unsalted?
It doesn't matter. Whatever you prefer.
How Long Does It Last?
If you store it in an airtight container, it should last for a couple of weeks. Just make sure not to put it in the fridge.
Does White Chocolate Actually Have White Chocolate in It?
Your question to a two fold question. Technically there is no "white" chocolate. However, white chocolate can be made with a mixture of milk products, vanilla, lecithin, sugar, and cocoa butter.
Which Candy is the Best to Use?
For this particular recipe, I would suggest blue and brown M & Ms. You could also add in chocolate stars.
Ingredients Needed:
candy melts – I used purple, royal blue, and black, however, you can use whatever colors you would like.
popped popcorn – feel free to either buy bagged pre-popped popcorn, which is what I did or make up a fresh batch. It's totally up to you.
Supply List:
Wilton Candy Melt Squeeze Bottles – you don't need to use these, however, since they are disposable, it makes cleanup a breeze.
We served up our popcorn in silver galvanized buckets, but you can use a regular bowl too. We just thought it would add a special touch to the popcorn.
To make clean up easier, we also used parchment paper, a silicone baking mat, and a small funnel to fill the squeeze bottles with the melted chocolate.
Step by Step Directions
Step 1: If you are using fresh popcorn, go ahead and make that now.
Step 2: Pour out the popcorn on the prepared surfaces.
Step 3: Melt the candy melts and drizzle over the popcorn.
Step 4: Let the popcorn and melted candy melts set.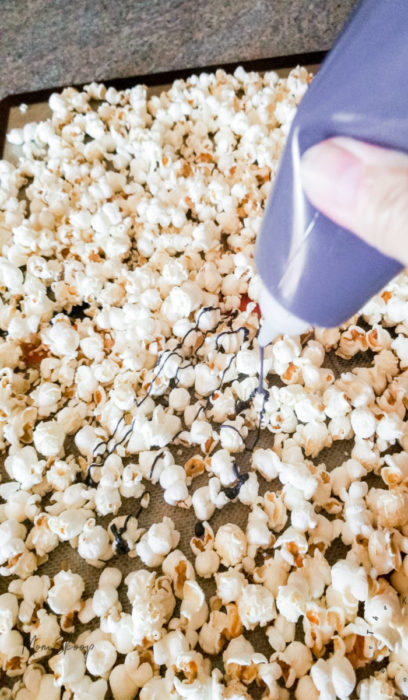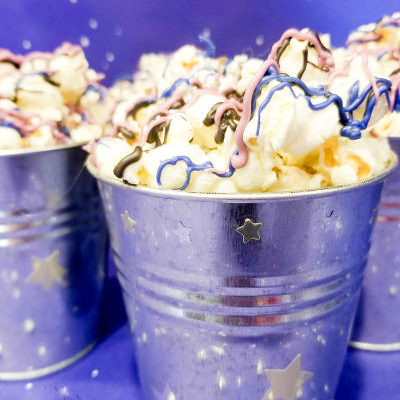 Galaxy Popcorn – A Fun & Tasty Snack
Galaxy Popcorn is a totally tasty and out of this world snack! Sweet and salty makes this popcorn snack a fun twist and the perfect snack.
Ingredients
12

oz

bag of purple candy melts

12

oz

bag of black candy melts

15

oz

bag popped popcorn – I did it for convenience and to eliminate unpopped kernels

12

oz

bag of royal blue candy melts

Star Sprinkles

Edible Silver Glitter
Instructions

Empty the bag of popcorn out either on parchment paper or silicone baking mats.

Pour half of the black candy melts into a microwave safe bowl and follow the directions according to the bag to completely melt the chocolate melts.

After the melts are melted and ready to go, pour the candy melts into the squeeze bottle using a funnel.

Instead of pouring the melted candy into the bottle, you can also use a spoon and drizzle the candy over the popcorn. Then repeat the same process for the remaining colors.

Then before the candy melts harden, sprinkle on the stars and glitter

Once everything has had a chance to harden, remove the yummy and delicious popcorn drizzled with candy melts and place them in the galvanized buckets or just put it all into a bowl and enjoy!
Notes
Supplies:
Wilton Candy Melt Squeeze Bottles
Silver galvanized buckets
Star stickers or other stickers if you'd like
Parchment Paper
Silicone Baking Mats
Small funnel – optional
Nutrition
Serving:
1
g
Calories:
801
kcal
Carbohydrates:
155
g
Protein:
4
g
Fat:
18
g
Saturated Fat:
4
g
Polyunsaturated Fat:
13
g
Trans Fat:
5
g
Sodium:
455
mg
Fiber:
5
g
Sugar:
81
g