Beef and Butternut Squash Stew is a perfectly comforting soup that is full of flavor, easy to make, and will be a hit with the family!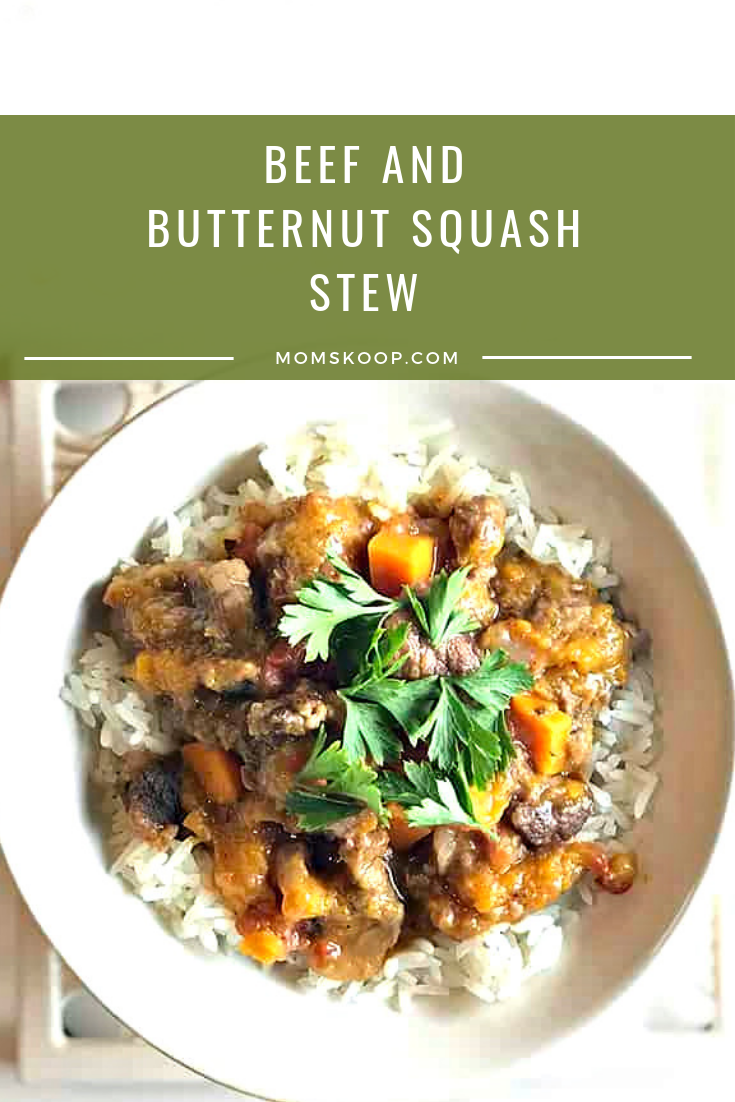 It's finally happened, you guys. I gave in to the Instant Pot craze! And I have to say....WHAT TOOK ME SO LONG?! Seriously, I was a little scared. I have so many gadgets in my kitchen. Did I need another one? Answer: yes. I'm completely in love with the Instant Pot now -- and the How To Instant Pot cookbook from Daniel Shumski was the perfect guide for a beginner like me.
Beginner and Pro - You Need This Cookbook
How To Instant Pot is the only Instant Pot cookbook that is organized by function. This is a detailed a guide to both understanding the Instant Pot basics and a foodie's creative collection of over 100 recipes specially crafted to take advantage of the Instant Pot's many virtues. So many possibilities - from cooking perfect risotto in six minutes, to five kinds of yogurt, to creating one-hour killer chili and soups from scratch.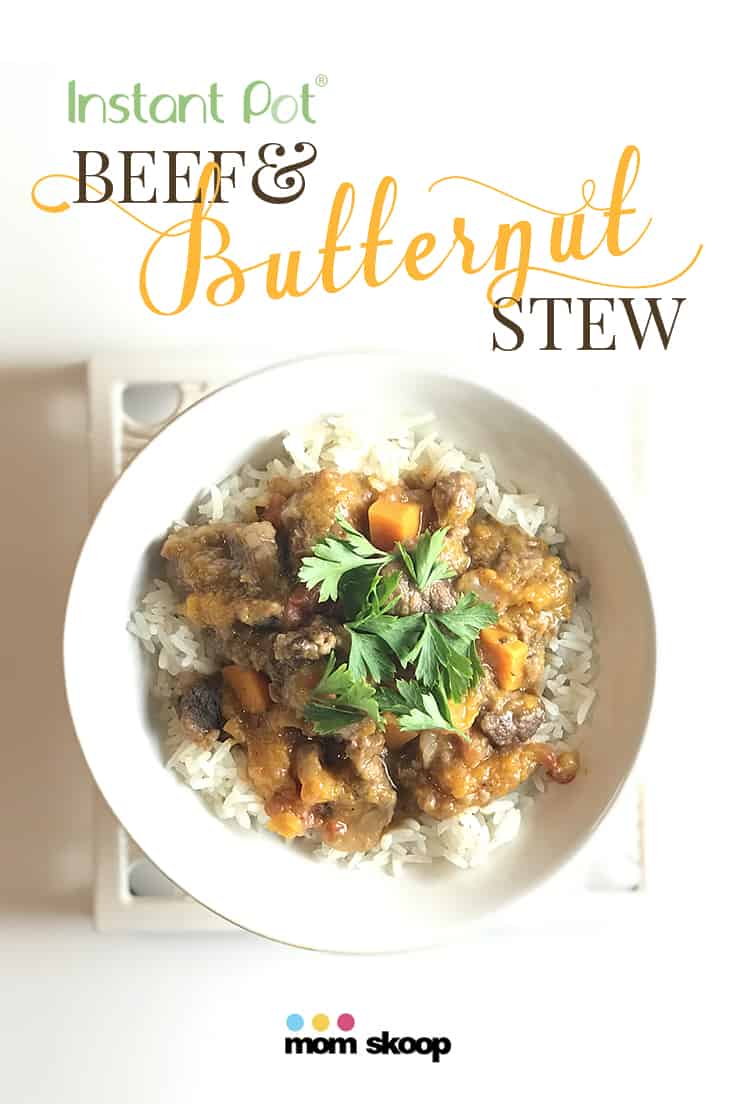 There are so many amazing recipes to choose from (and I plan to try them all eventually), but I was raised on beef stew and I couldn't wait to try this Instant Pot version with butternut squash instead of potatoes. It's a delicious way to avoid white carbs and still have that hearty, tummy-warming dinner on a cold winter night.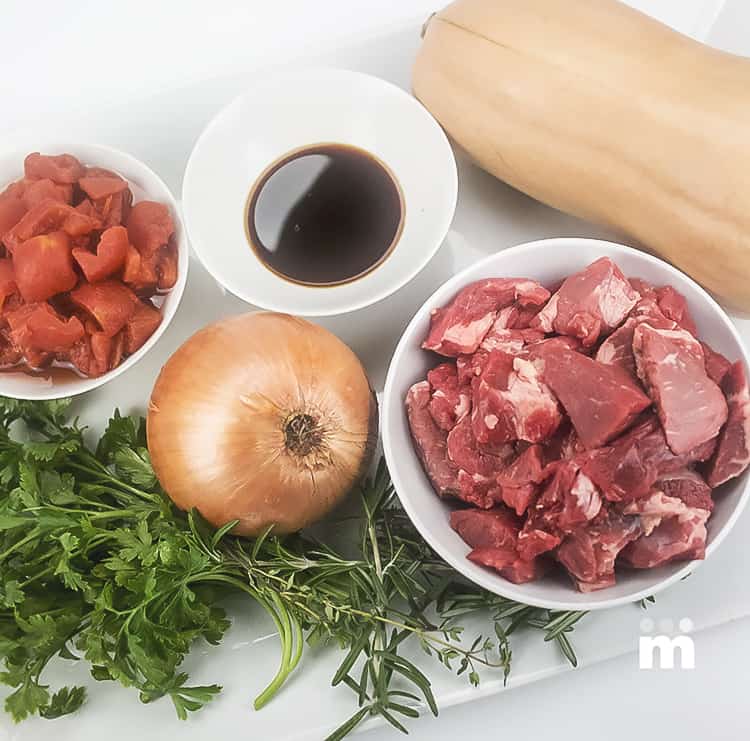 I've always wanted to use all fresh ingredients with my cooking, but it's usually so time-intensive. I'm a sucker for prepared items simply because it's faster after a hard day. An Instant Pot + a recipe from How To Instant Pot solves that problem! I couldn't believe how easy, stress-free, and fast this scratch beef stew was!
Watch the Video:
Instant Pot Beef and Butternut Squash Stew
📖 Recipe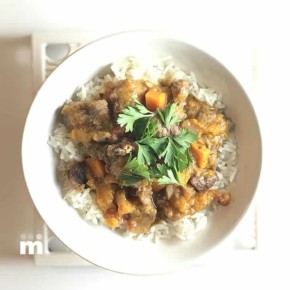 Instant Pot Beef and Butternut Squash Stew
Ingredients
3

tablespoon

all-purpose flour

½

teaspoon

salt

extra if needed

½

teaspoon

fresh ground pepper

2

pounds

boneless stew beef

cubed

3

tablespoon

extra-virgin olive oil

1

small

yellow onion

chopped

½

teaspoon

fresh rosemary / chopped

dried can be used

½

teaspoon

fresh thyme leaves

dried can be used

½

cup

chicken broth or stock

1

small

butternut squash

peeled and cubed

1

can

diced tomato

½

teaspoon

Worcestershire Sauce

2

tablespoon

fresh Italian parsley

for garnish
Instructions
Place the flour, salt and pepper in a large bowl. Stir to combine.

Add beef to flour mixture and toss until coated. Set aside.

Press Sauté and use the Sauté or Adjust button to select the middle ("Normal") temperature. Place 1 tablespoon of the olive oil in the inner pot Wait 2 minutes for oil to warm.

Add onion, rosemary, and thyme.

Cook with lid off, stirring occasionally until the onion softens - approximately 5 minutes. Use a large spoon to remove the onion and herbs to a bowl. Set aside.

Place remaining 2 tablespoons of oil in the inner pot, wait for oil to warm. Add half of beef. Cook with lid off - turning beef occasionally until browned. Remove and set aside. Repeat with second half of beef.

Place chicken broth in inner pot and use a spatula or wood spoon to scrape the bottom of the inner pot until the brown bits are released into the chicken broth.

Add onion, browned beef, squash, tomatoes, and Worcestershire sauce. Stir to combine.

Close and lock lid. Set the valve to "Sealing". Press cancel, then press "Manual" or "Pressure Cook" and use the level button to select "High" pressure. Use - or + buttons to set time for 20 minutes.

When the cooking cycle ends, press Cancel. Allow Instant Pot to cool and release pressure naturally - about 30 min. (you'll know the pressure is released when the small silver float button drops back down into the lid)

Remove lid and taste for seasoning, add additional salt or pepper as desired.

Serve hot, garnished with parsley. Can be served plain or over rice.
Notes
Stew will keep in a refrigerated airtight container for up to 4 days. To repeat, place in a pot on the stovetop over medium heat, stirring occasionally until hot.
Excerpted from How to Instant Pot by Daniel Shumski (Workman Publishing). Copyright © 2017.
How to Instant Pot - By Daniel Shumski
Official Website | Twitter | Instagram
Master the revolutionary appliance that's changing the way we cook!
Demystify all of those buttons! This is the only Instant Pot cookbook organized by function.
Over 100 delicious one-pot recipes!
About the Author
Daniel Shumski is a writer and editor who has hunted ramen in Tokyo for the Washington Post and tracked down ice cream in Buenos Aires for the Los Angeles Times. Between stints at the Chicago Sun-Times and the Chicago Tribune, he worked for a Midwestern heirloom apple orchard. His bestselling first book, Will It Waffle?: 53 Irresistible and Unexpected Recipes to Make in a Waffle Iron, won praise from the New York Times, People magazine, and Food52. He lives in Montreal.
Join the conversation: Follow us on Twitter and Facebook
This had been a sponsored post.