Lake Erie Shores and Islands is one of those hidden gems that is full of family fun activities, attractions, and great food!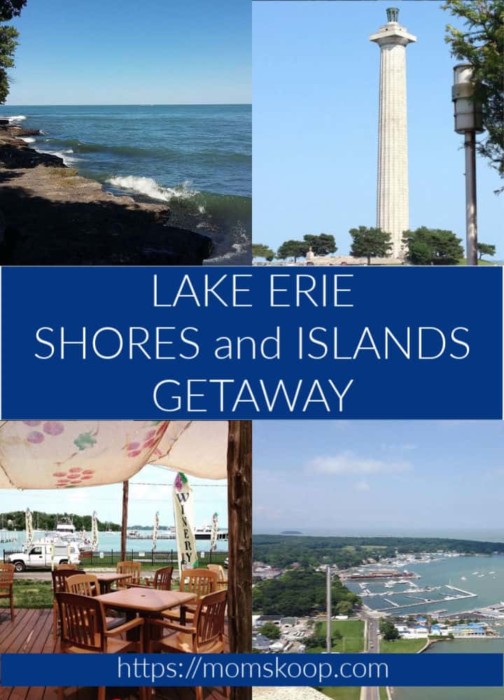 When you hear the words Shores & Islands, what destinations do you think of?
An island getaway? The Caribbean? Hawaii? A beach on the shoreline? Islands full of adventure? What if I told you there is an Island escape located in the Midwest and you don't have to have a passport? That sounds amazing right?

I know for us it does too! What if I told you that there was such a destination in Ohio! I know you probably just choked on your beverage and said, "Ohio"??? Yeah right! But I'm telling you there is such a place like that in Ohio!!
Northern Ohio is home to Port Clinton, Sandusky, Put-In-Bay and Kelleys Island; which all border Lake Erie!

For our 25th Wedding Anniversary, we decided to leave the kids with their grandparents and head off on a road trip to Ohio!

I contacted the Shores & Islands CVB for help in planning our trip! As I've mentioned many times before, the CVB, also known as the Convention and Visitors Bureau, for your destination is key to helping you plan the perfect vacation!
I will be doing a separate post on each attraction we visited as well as the beautiful Bed & Breakfast that we stayed in.  However, I wanted to put together a type of roundup post that was a review of everything we were able to do while in the Lake Erie area.
Jump to:
Port Clinton
When we arrived in the Port Clinton area with our fantastic itinerary, we stopped at the Marblehead Lighthouse in Marblehead, Ohio. This lighthouse is the last lighthouse that is in operation on Lake Erie!
Marblehead Lighthouse
The Marblehead Lighthouse is actually one of the best known and photographed landmarks in the area.
The lighthouse rests on the Marblehead Peninsula, a rocky headland of Columbus Limestone that juts into Lake Erie. ("Marblehead" means "marble headland," because limestone is sometimes incorrectly called marble.) ¹
If you will be arriving around lunch time, plan a picnic lunch so you can enjoy the views of South Bass Island, Sandusky Bay, Lake Erie and Kelley's Island.
Johnson's Island
Our next stop was the Johnson's Island. Debbie of A Touch of Italy Bed & Breakfast told us about this island. Johnson's Island is home to Ohio's most significant Civil War site and a POW cemetery which overlooks the Sandusky Bay in Lake Erie. We found great information about the Island and it's history at http://touringohio.com/history/johnson-island.html. I highly recommend checking out their site before you head to the area.
A Touch of Italy B & B
After visiting the island, we headed to Port Clinton to meet with Debbie at A Touch of Italy B & B and to get settled in our room. I can not wait to share with you about our stay there! It was simply amazing! Learn more about our stay at this quaint B&B.
Liberty Aviation Museum
Our next stop that day was at the Liberty Aviation Museum. If you are planning a trip to Port Clinton, this is one of those museums you simply must stop at!
Not only will you enjoy the displays, you will also be surprised by the volunteers/employees. Every few times in my life have I encountered people who truly love what they do. The staff at the museum does.
Mon-Ami Restaurant and Winery
After a indepth tour of the museum, we headed out for dinner. The restaurant we decided on was Mon-Ami Restaurant and Winery, which unfortunately was not the most pleasant experience.
However, I decided to include them in the article because every place can have an off evening. The Mon-Ami grounds are simply beautiful and definitely worth stopping at. Then it was time to head back to our way from home accommodations.

The next morning, we were greeted with a simply mouthwatering breakfast made fresh by Debbie! The B & B is only five blocks from the Jet Express ferry so we were able to leave our van there and walked to the ferry to start our day in Put-In-Bay.
Upon arriving at the island thanks to Jet Express, we immediately felt a wave of relaxation hit us. We were on island time now!

Put-In-Bay
Once we departed the ferry, we went to the Island Bike & Cart Rental building that is literally right when you get off of the ferry to pick up our golf cart that would be getting us around the island for the day. I highly, I mean strongly suggest renting a golf cart for the day. We saw many who either elected to walk or ride a bike for their stay. It's WORTH the money to rent to the golf cart! Your feet and legs will thank you!

Perry's Victory & International Peace Monument
Our first stop on the island was the Perry's Victory & International Peace Monument . When you visit Put-In-Bay, this is one of those stops you have to add to your bucket list! After our tour was done there, we were off to explore the island.
What I found a little odd about the monument is that I don't remember learning about it all in school. I went to school in Ohio and I just don't remember it. Maybe we did in elementary? On the other hand, my husband who also went to school in Ohio, but at a different school, remembers it.
I can't talk enough about the atmosphere on the island! Everyone is relaxed and having a blast! You have to remind yourself you are not in the Keys or the Islands, you've never left the Midwest! You are in Ohio!
Boardwalk Restaurant
For lunch, we decided to check out the Boardwalk Restaurant. Since it was such a gorgeous day, we had our lunch on the deck overlooking the harbor. There is just something about having lunch, hearing the water lap at the side of the docks, and watching the boats entering and leaving the docs. It's relaxation at it's finest!
Put-In-Bay Winery
This is the only waterfront winery on the island. If you enjoy drinking a glass of your favorite wine while watching the harbor, then this is another must visit!
Butterfly House and Perry's Cave
This is a great place to stop if you are on a family vacation. This area has so much for the kids to do!
Heineman's Winery
Of course on our way from there, we saw that another winery was literally across the street and considering they have been producing wine since 1888, we had to stop by for a tour!

For all of you ladies out there, what does one need after a glass of wine?? CHOCOLATE! Wanna guess what we passed by next?? The Chocolate Museum! My husband, who has known me for quite awhile, pulled right into the parking lot!

After spending way too much time in the Chocolate Museum, we were off in search of dinner.
We ended up choosing The Keys Restaurant. Take a moment and imagine dining on the bay, literally in the bay with the water lapping on the dock. Yeah, you are THAT close! With the island décor and music, you will forget you are still in Ohio!

After an amazing day at Put-In-Bay, we decided to head back to Port Clinton for another night of restful sleep at A Touch of Italy B & B. The next morning after another amazing breakfast by Debbie and some more sightseeing and stopping by the Lake Erie Shores & Islands Welcome Center , we decided to grab a little lunch at the Tin Goose Diner.
Then it was time to head back home.
If you have never been to Put-In-Bay, you must head there when you can! There is still a lot to do there even in the Fall! Or if you are dreaming of an island getaway next Summer, definitely add the Shores and Islands to your bucket list!
There is just something about the area that will draw you back each year!

We were hosted by the Shores & Islands CVB for a part of our trip. All opinions are our own.
This posted was originally posted on September 15, 2015 on Mommy's Gone Shopping Again.
Media Post: My experience on a trip may vary greatly then yours due to a variety of reasons. Transplanted Buckeye Media, MomSkoop, and the owners of this blog are not responsible if your trip, lodging or food experience doesn't turn out the way ours did. We are not liable in anyway if your trip doesn't turn out like ours.
¹Marble Head Lighthouse - http://parks.ohiodnr.gov/marbleheadlighthouse