Post contains Amazon Affiliate links. As an Amazon Associate I earn from qualifying purchases. Please refer to our disclosure policy for more information.
Mickey Mouse Christmas Pretzels are a sweet and salty Disney dessert and snack that is easy to make and that all of your guests will love!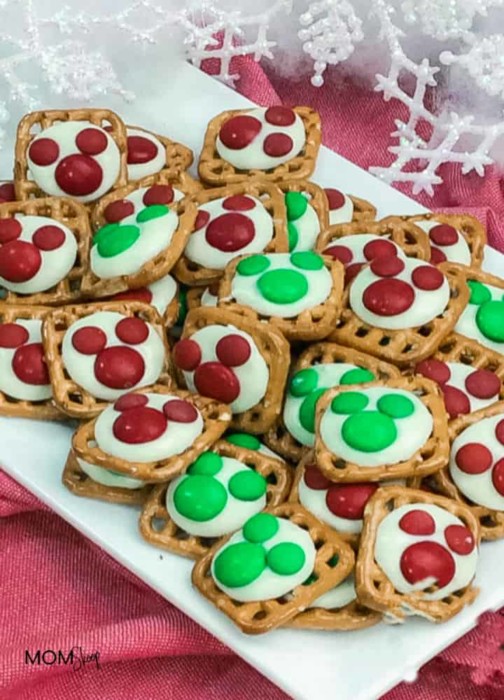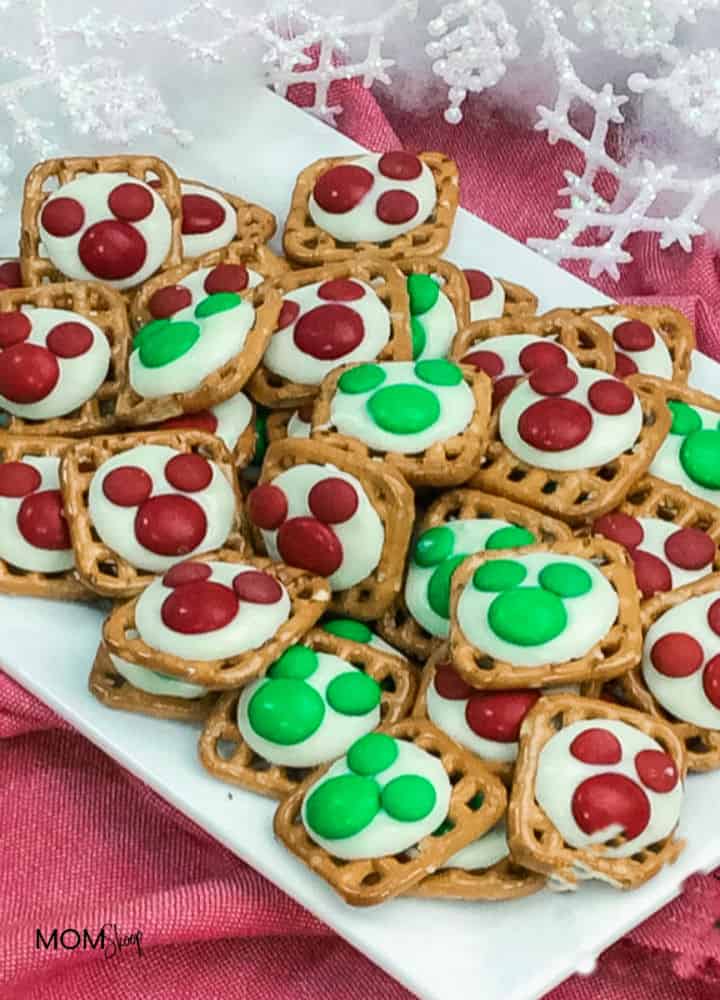 Mickey Mouse Inspired Christmas Pretzels
Pretzels are such a great snack! They are salty, sometimes buttery, crunchy, and come in a variety of flavors and sizes. It seems like I buy pretzels more during the holidays than any other time of the year.
So of course for the holidays I try to find a variety of recipes that I made that include pretzels.  That mixture of salty and sweet is just out of this world!
This recipe is kid-friendly and would be a lot of fun to make with the kids. Plus who doesn't love Disney magic during the holidays?!
If you are looking for additional tasty Disney inspired Holiday recipes, our Mickey and Minnie Mouse Christmas Cake Balls are really fun to make and will look great on your holiday dessert table! Another fun Holiday Disney treat are our Mickey Christmas Cookies!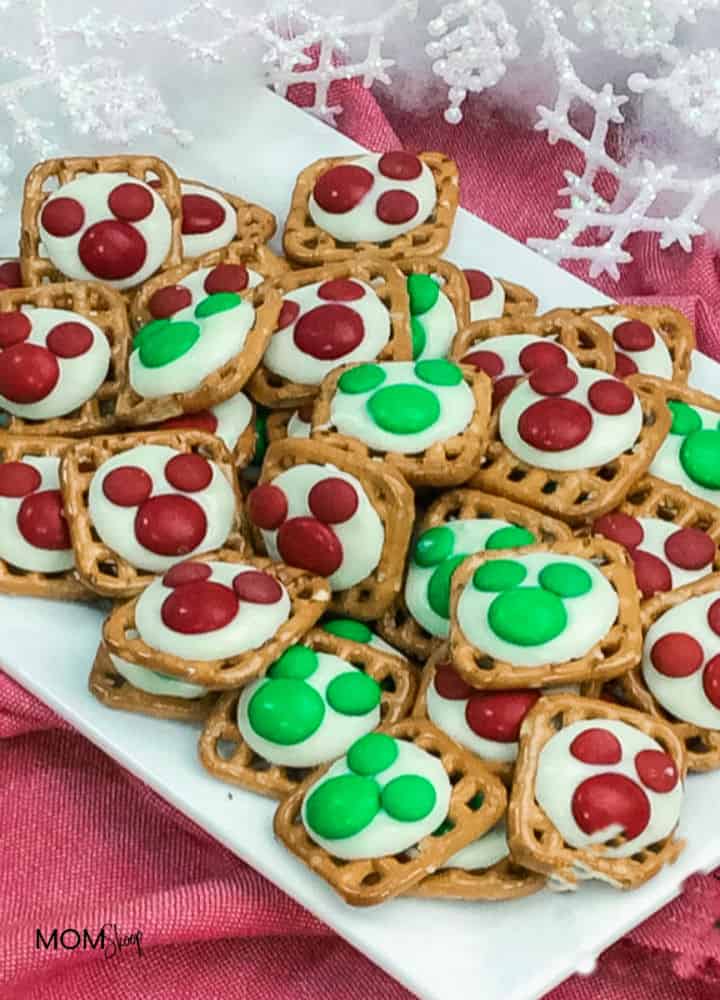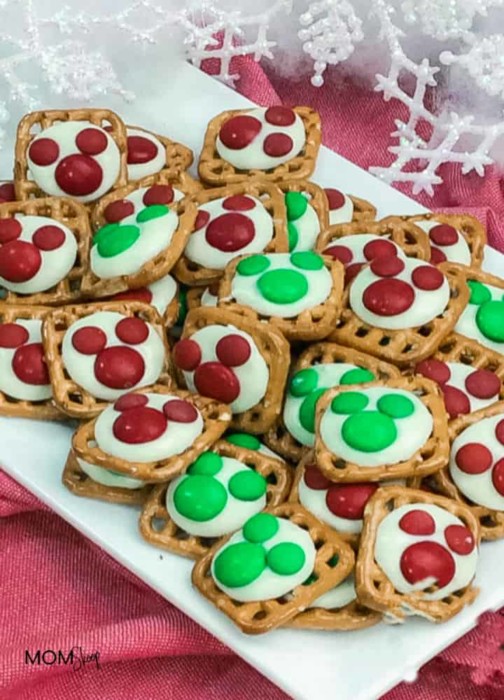 Can I use regular chocolate instead of candy melts?
You can as I have before. Ghirardelli has great white chocolate wafers that work well.
How do you use chocolate wafers?
Using a microwave-safe bowl, heat candy wafers at 50% power for 30 second intervals until wafers are melted and stir in between 30 second intervals. Or as in this case, you can also melt them in the oven.
What is the best chocolate for melting?
Hershey's and Ghirardelli both work really well.
Is it better to melt chocolate in the microwave or a double broiler?
I like melting chocolate over a double broiler. However, that's not always time-friendly so I use the microwave.
Ingredients Needed:
1 bag of square pretzels
1 small bag of white chocolate melting chocolates
1 bag of mini M&M's
1 bag of Christmas M & Ms
Supplies Needed:

1 cookie sheet fitted with parchment paper
Step by Step Directions
Preheat oven to 350
Place the pretzels onto the cookie sheet in rows
Place a white chocolate onto the middle of the pretzel
Place into the oven for about 2-3 minutes or until the white chocolate wafer starts to slightly melt
Pull the cookie sheet out of the oven and immediately start place a regular M & M onto the chocolate
Add two mini M&M to act as the ear above the regular size M&M
Once Mickey's have been placed let sit for about 15-20 minutes for chocolate to harden.
Enjoy!
Shop This Post
amzn_assoc_placement = "adunit0";
amzn_assoc_search_bar = "true";
amzn_assoc_tracking_id = "thefrulivmom-20";
amzn_assoc_ad_mode = "manual";
amzn_assoc_ad_type = "smart";
amzn_assoc_marketplace = "amazon";
amzn_assoc_region = "US";
amzn_assoc_title = " ";
amzn_assoc_asins = "B076MGD3DY,B07JCJ8M97,B0081A2SLK,B00XWBGEYU";
amzn_assoc_linkid = "e31b0e3d26c971ad828621db608c87e7";