SPONSORED - This post was created in partnership with the brand mentioned below.
It's hard to believe that Nintendo's 35th Anniversary Celebration is underway! The gaming icon celebrated their 35th anniversary on September 13!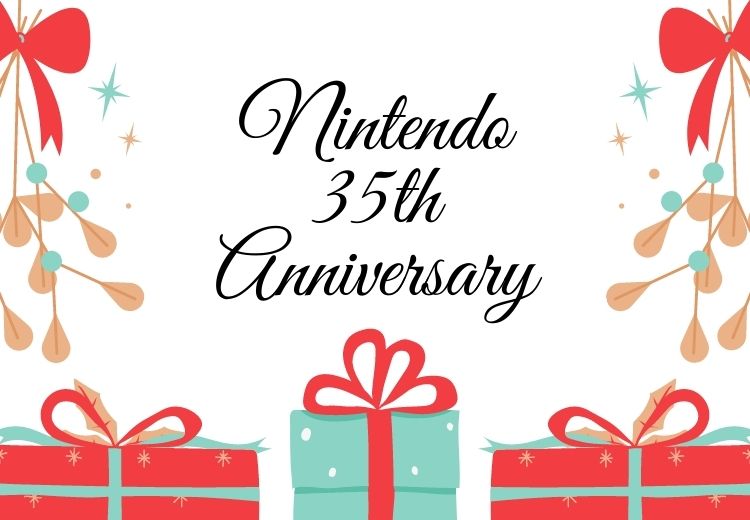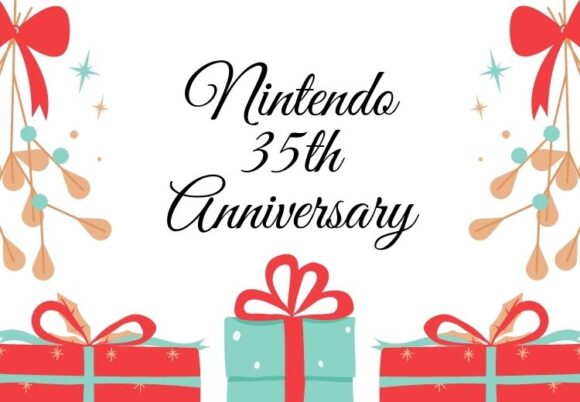 NINTENDO 35th ANNIVERSARY
Nintendo Has Entertained Families for Years
Chances are you have MANY memories of our friend Mario. He has been a household name for generations and a way that parents can connect with their children. What better way to relive your childhood memories than playing the classic video games with your children on the retro Nintendo Gaming System.
I'm old enough that I can remember my brother getting a Nintendo when they first came out. We played PacMan and Mario for hours! What are some of your favorite memories of playing Mario? Let us know by leaving a comment below! I can't wait to read them.
Nintendo Over the Years
Nintendo was founded in 1889 by a gentleman names Fusajiro Yamauchi. Originally the company produced handmade hanafuda playing cards. After years of toying with various lines of business, Nintendo distributed its first video game console, the Color TV-Game, in 1977. It gained international recognition with the release of the Nintendo Entertainment System in 1985.
The iconic Game Boy we all grew up on is now in color and can be played with friends and siblings through the Nintendo Switch. The gaming consoles we spent hours blowing into the games or using a q-tip with rubbing alcohol to get it to play has been replaced with the new (and hard to find) PlayStation 5. Games and discs are now digital and can be purchased and played within minutes without even leaving home.
Believe it or not, there's a Video Game Museum just outside of Dallas, TX. It's a fun place to spend the day to relive your childhood, show the kids the gaming systems you grew up on and even play a few rounds of Duck Hunt and other various games....like the Oregon Trail!
FUN FACTS ABOUT NINTENDO
As I was researching for this article, I learned a few things about Nintendo that I never knew and figured you'd be just as interested as I was!
Mario was known as "Jumpman" in the game Donkey Kong before he made his Mario debut!
The name Mario actually was inspired by the landlord who owned the warehouse in which the American headquarters of Nintendo was based - Mario Segale.
Super Mario Bros 3 was released in Japan in 1988. It wasn't released in American until February 12, 1990!
April 21, 1989 the Game Boy was released in Japan. It hit the American market just 3 months later.
Did you know there was a Game Boy Printer and Camera? It's true! They both went to market in 1998 along the release of the Game Boy Color.
Seemingly I thought the Nintendo DS system was released previous to the November 21, 2004 date. In it's first month of sales, the Nintendo System DS sold 1.2 million units in America!
Remember all the rage behind the Wii? The Wii was released in America on November 19, 2006. The Wii sold out within hours. The Wii Fit wouldn't be launched until 2008!
Nintendo and Carrera Celebrating Marios 35th Birthday
Another memory I have of my childhood is racing slot cars with my brother and Dad. So when I saw that Carrera had released a Mario Kart Slot Cars set, I knew we had to have one.
Carrera Slot Cars feature your Mario Kart favorites, from Mario and Luigi to Yoshi and Peach. With holidays right around the corner, families can come together and build customizable tracks, race each other at high speeds, all while enjoying the nostalgia Mario brings. My youngest has been playing with ours for hours. It's been a great way for her to spend time with her Dad while he also relives a part of his childhood.
If you are looking for a gift idea the Carrera Slow Cars featuring our friend Mario is recommended for ages 5 and up, kids and adults alike will get countless hours of fast racing fun! What's even better is this battery operated 1:43 scale Carrera slot car racing system is compatible with all Carrera GO!!! cars and track accessories allowing you to customize and expand up to 32.8-ft for even more racing fun.