Old Fashioned Cake Recipes
Post contains affiliate links. Purchases made through links provide us with a small commission. As an Amazon Associate I earn from qualifying purchases. Please refer to our disclosure policy for more information.
Old Fashioned Cake Recipes such as the classic Pig Pickin Cake, the simple Carrot Cake, or the Old-Fashioned Butter Cake are time tested desserts that families have been enjoying for decades.
Old Fashioned Cake Recipes
Do you have a favorite cake that you remember either your Mom or your Grandma making when you were younger? For me? I think it was any of them that they made. More than anything it was just because they were making them is why I loved them so much.
Whether you have fond memories of family get togethers or of Grandma letting you help or letting you lick the frosting spoon, there is just something about seeing vintage cake recipes or photos of old cakes that really bring back fun memories.
If you love comfort food that's food for the soul, make sure to check out our Old Fashioned Country Recipes roundup. You might just find a familiar favorite or two in there to make as well.
What is a Vintage Cake?
A vintage cake is an old-fashioned, retro style of cake. It can be anything from the classic sponge to a more modern design, but it's always made with love and care. Vintage cakes are perfect for any occasion, whether you want something sweet for your bridal shower, birthday party, or anniversary celebration or for any reason at all.
What are 5 of the Most Common Types of Cakes?
Even though there are several different types of cakes, these are the ones that are the most common.
Butter
A butter cake is a rich, moist and tender cake that uses butter as the main ingredient. The batter of a butter cake contains flour, sugar, eggs, milk or cream, leavening agents such as baking powder, vanilla extract, salt, and sometimes cocoa powder. Butter cakes are usually baked in an oven at 350 degrees Fahrenheit for about 25 minutes.
Sponge
Sponge cake is a light, fluffy cake made with eggs and lots of butter. It's neither too sweet nor too heavy like other cakes. It's just right. Sponge cake can be served plain or with any number of toppings including fruit, whipped cream, frosting, jam, chocolate sauce, or ice cream!
Angel Food
Angel Food Cake is one of the most popular cakes in the United States. It's a delicious cake for any occasion and a favorite of many. The cake was first created by an Italian immigrant, Angelo Gussoni (1885–1953), who opened his own bakery in New York City in 1927. He named it after his daughter, Angelina.
During World War II, the cake became popular because of rationing, which made other cakes scarce. In 1944, Angel Food Cake became the official cake of the U.S. Armed Forces.
Pound
A pound cake, also known as a "pound cake" or "pound cake", is a type of cake that originated in the United States. It is made with butter and sugar, and typically contains eggs, flour, baking powder, salt, vanilla extract, milk, and sometimes nuts.
Chiffon
A chiffon cake is a thin, light, and fluffy sponge cake that's soaked in syrup. It's often referred to as French Sponge Cake, but it's also called "Sponge Cake". The name chiffon comes from the French word for cotton, which was used to describe the texture of the cake.
What is the Most Popular Cake?
Simply put, chocolate. The most popular cake is a simple chocolate cake topped with either chocolate frosting or vanilla frosting. Another way to enjoy this decadent cake is by just sprinkling powdered sugar on top. It's easy to make, it tastes great, and it's perfect for any occasion.
The Most Popular Cakes of Different Decades
Even though there are a variety of popular cakes during each decade, these are the ones that we have found that were the most popular during that time.
1940s
During the 1940's, a very popular recipe was the War Cake. This was also referred to as the "Poor Man's Cake" and also referred to cookbooks as a "Depression Cake".
1950s
The German Chocolate Cake, according to Woman's Day Magazine, was the most popular cake in the 1950's.
1960s
Taste of Home rated the Black Forest Cake, full of chocolate and cherries, the top cake of the 1960s.
1970s
So, in the 1970s, the most favorite cake was the Carrot Cake. This one really surprised me as to the reason why. Head over to Mashed to learn why this unique cake became such a favorite among the masses.
What is the Secret to Making a Moist Cake?
It's actually quite simple. Do not overmix the batter. As with anything you are making, the more you overmix or over work the batter, it's not a good thing.
Is it Better to Bake a Cake at 325 or 350 degrees?
Is it better to bake cake at 325 or 350 degrees? While it's better for most cakes to bake at 350, some cakes like Bundts, will do better at 325. If you're baking a Bundt cake, I'd recommend the higher temp.
The best way to find out is to try both and see which one works best for your particular cake. You can always adjust as needed.
Old-Fashioned Cake Recipes
Pig Pickin Cake
This light and moist cake will be a hit at your Summer togethers! This old-fashioned cake recipe, which is full of mandarin oranges, pineapple, and whip cream, has been around for generations. Whether you call this a Mandarin Orange Cake, a Pig Pickin' Cake, a Pea Picking Cake, or a Pig Lickin' Cake, your family will call it delicious!
Check out this recipe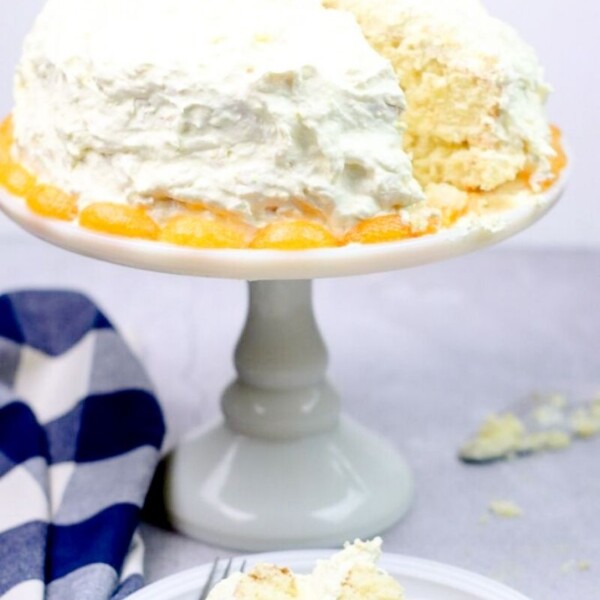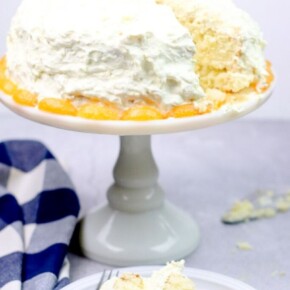 Recipes to Make Poke Cakes
Coconut Poke Cake
If you have a coconut lover in your family then THIS is THE recipe you need to save! This Coconut Poke cake is not only topped with coconut, it also has a creamy layer of coconut cream pudding! If you are looking for a poke cake that is light, creamy, moist, and full of all of the great flavors of Summer, then this is it!
Check out this recipe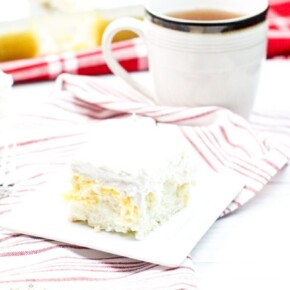 Patriotic Recipes
Red White and Blue Bundt Cake
Now that it's Summer, it's time to start planning all of those fun get-togethers! And of course, when friends and family get together, there has to be amazing food to go along with the great conversation! When you are planning out your dessert menu, this Red White and Blue Bundt Cake checks all of the boxes. It's semi-homemade, moist, easy to make, and it's delicious! If you are looking for a patriotic cake that everyone will love, this is it!
Check out this recipe
Red White and Blue Trifle
If you are looking for an Easy Summer treat that is full of ripe berries, that is no-bake, and is perfect for Memorial Day and 4th of July, this is one to save! Our easy Red White and Blue Trifle, made with store-bought cake, fresh berries, and topped with cool whip, is delicious, and a perfect dessert to share with your family and friends. If you are looking for a fun Patriotic dessert to take to a get together, this is it!
Check out this recipe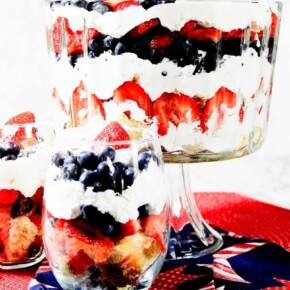 Related Posts: