Post contains Amazon Affiliate links. As an Amazon Associate I earn from qualifying purchases. Please refer to our disclosure policy for more information.
Do you ever open up your pantry and think, "Man, this really needs to be organized"? Or how many times have you opened the pantry door and had something fall out and hit you on top of the head? If you can relate to either of those statements, then our post on Organizing a Pantry along with our free Pantry Checklist is a post you need to bookmark!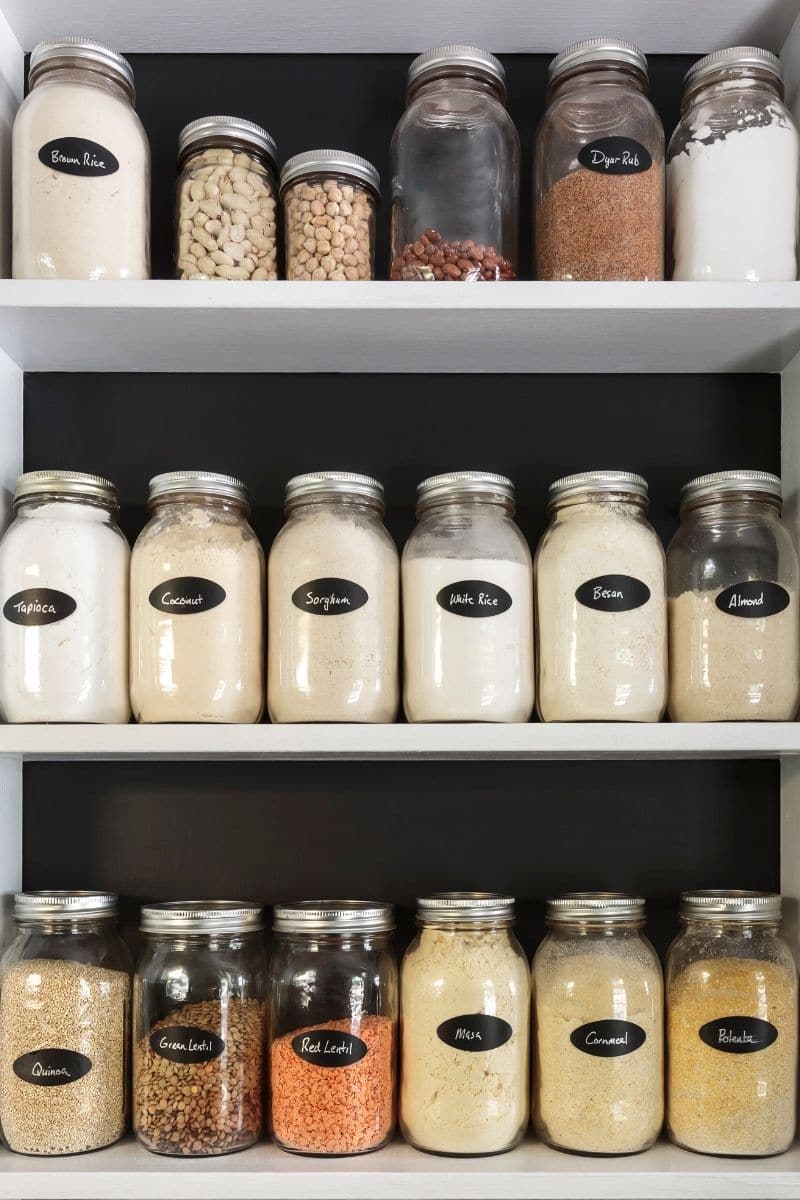 I totally understand how hard it is to keep your pantry organized. Sure, it a perfect world, once you organize it, it would stay that way.
However, when you have multiple people in the same home getting into the cabinet or area where everything is stored, things will become organized. Then before you know it, things are a mess, unorganized, and it can become overwhelming.
That's why we have put together some easy tips to help you set up and keep a pantry system that is organized.
Keep in mind, getting this set up and organized isn't going to happen in one day. It's going to take time to not only plan but to get the supplies that you need, and then implement.
But don't worry, this can be done and before you know it, your kitchen space will be nice and tidy and ready to go for meal cooking and planning out your weekly meals. And yes, absolutely, make sure that you order pizza the night you are all done because you are going to want to enjoy the completely organized system for at least one night. And you definitely deserve a night off!
Ready to get started?
Jump to:
Decide on What Type of Container System You Will Use
If you don't already have a container system and place and you just need to reorganize it and update it, you will need to decide on what type of system you want to use.
Do you plan on using glass jars with lids? Clear plastic containers with lids? More shelving?
Making this decision first is a crucial first step in getting your pantry organized.
Get Started
Now comes the not so fun part. Cleaning. Clear off a spot on a nearby counter or the kitchen island.
Next set up a sorting type of area. Make different sections, such as, "Keep" "Will I Ever Use? "Do I Need? and "Expired".
Now sort all of the items in the pantry into these sections. For the expired, you can also just set a trash can at the end of the counter and throw the expired items in there as you discover them.
First, take everything out of the pantry. Look at what you have and ask yourself, "Do I need this? Will I ever use this?" If so, can you store it in another place?
After everything has been removed, take a moment to look at that cleaned out space. Doesn't that look beautiful?
Next, start to clean. Either use your favorite multi-surface spray, disinfecting wipes, and/or vacuum. Mop the floor of the pantry too. Let everything dry.
Now with the food you have decided you will definitely need, start putting it into the food containers you have or that you bought. Make sure to label it so you know what's inside. That way you don't mistake the baking soda for the powder or the salt for the sugar (it happens and don't ask).
Ready for the fun part? Putting the stuff back in. You may realize though that you don't like how things look and that's okay. You can totally rearrange it to work and look just how you want to it.
Something to keep in mind is you can arrange your shelving so that everything goes together. Like for example. All of the baking supplies go on one shelf. All of the snacks/cereal/breakfast items go on one shelf.
If you have an actual door for your pantry, don't forget to pick up an over the door spice rack. These racks are great for not only spices but small packs of Jell-O, first aid supplies, and small things you don't want to get lost in the closet.
Another great option for storing rolls, biscuits, and breads are baskets. You can usually pick them up at your local dollar stores, thrift stores, or even use up some of the ones sitting around your home that are stuffed in closets that no one is using.
Checklist
Another easy way to help stay on track while you are meal planning and to prevent overbuying is to use a Pantry Checklist. Using a checklist is also a great way to keep track of the inventory in your pantry so you don't buy multiples.
When buying fresh items at the store, make sure to put the new items at the back of the shelf and move the new to the front. That way you are always using the older stuff first.
Also, try to keep your pantry maintained. I know it's hard to do after a few weeks, but even if you schedule in a bit of time each week, you find it's easier to do than you think.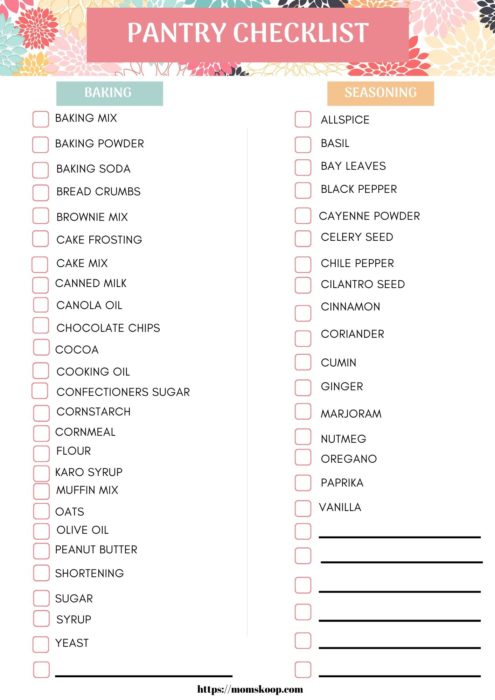 To print this printable, download it, by clicking on the Free Pantry Checklist.