Post contains Amazon Affiliate links. As an Amazon Associate I earn from qualifying purchases. Please refer to our disclosure policy for more information.
A Portable Homework Station is a must for school night homework! With this station, everything will be in one location and ready to tackle that homework! Or you know, that last minute school project!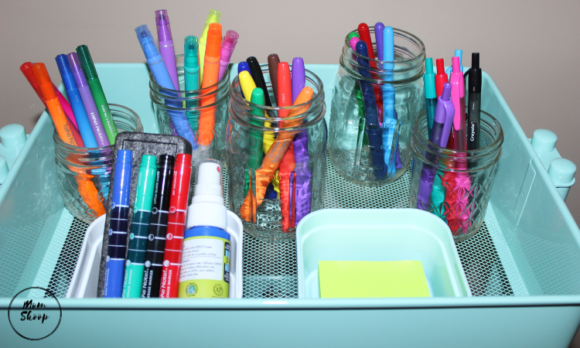 How many times have you heard, "Mom, where's the crayons"?
I have heard those questions and others countless times as a parent when the kids have homework assignments to do. One of my goals this school year was to organize our homework area.
My oldest does the majority of her homework in her room, however, my youngest as all of hers at the kitchen table. Yes, that space works great however, that means all of the supplies are in multiple places throughout the house. So that is how the idea of creating a stress-free Homework Station came to be.
When I was thinking about what type of storage container I wanted, I first thought about why I wanted a homework station and what I wanted the storage area to solve.
I wanted the school supply station to be:
1. Easily mobile
2. Have all of the supplies in one place
3. Full of school supplies they will actually use
4. Affordable.
My first goal was finding the right storage container. I knew it needed to be easily transportable, but I wasn't sure what I wanted until I saw this rolling cart.
As soon as I saw the cart, I knew that would be what I was looking for. Since the cart has wheels it makes moving the cart from room to room, a piece of cake.
Once I bought the cart, now was the time to put everything together for our school homework station.
Jump to:
Supplies Needed
1. A cart with wheels
2. Small plastic tubs, baskets, or mason jars.
3. Sticky notes
4. Gel pens like these from Crayola's Take Note! line
5. Felt tip pens
6. Permanent markers
7. Erasable highlighters
8. Highlighter pens
9. Dry erase markers
10. Scissors
11. Glue sticks
12. Pencils
13. Coloring pencils
14. Crayola crayons
15. Notebooks
16. Loose-leaf filler paper
17. Flashcards
Depending on what age your children are, their homework supplies may differ a bit. This particular station is a combination station since I have both one in high school and one in elementary.
Once you have all of the supplies you need, the next step is deciding how you want your cart to be organized.
As you can see with our cart, I put all of the pens, markers, highlighters, and dry erase markers on the top shelf. I also added note pads to that shelf so if I need to send a note to their teachers, the paper is right there.
On the second level, that is where I put the scissions, glue stickers, pencils, coloring pencils, and crayons.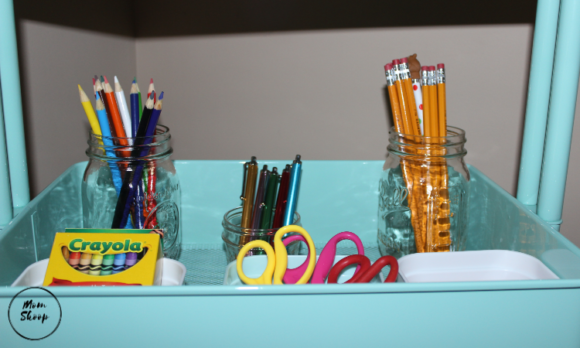 On the last shelf, that is where I am keeping all of the notebooks, paper, and the flashcards my youngest uses.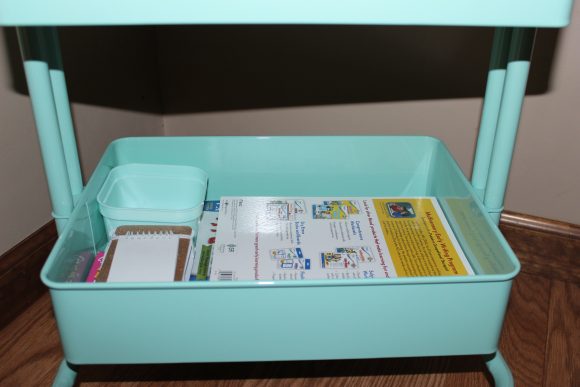 As far as storing the homework cart, I am keeping it in my home office until the kids have homework and need it. Then I'll bring it to the kitchen homework space so they can use it.
This post was previously a sponsored post in July 2019 by Crayola.
The Take Note! Products we used in this post, which were provided by Crayola were:
Take Note! Erasable Highlighters
Take Note! Washable Gel Pens
Take Note! Dual-Ended Highlighter Pens
Take Note! Permanent Markers
Take Note! Dry Erase Markers
Take Note! Washable Felt Tip Pens
Shop This Post
DIY Homework Station